A bowl of gazpacho is as cooling as can be on a hot summer's day. And it is as easy and quick as well!
We don't get much really hot and humid weather here in Maine. But, in August, when the Bermuda highs head up the eastern seaboard of the U.S., it gets down right unpleasant! As most of us don't have air conditioning, ways to keep cool are at a premium. One of the coolest meals for this time of year is gazpacho- make it in the cool early morning, and finish it in the afternoon.
Originating in Spain, there are many variations on what is essentially chopped up salad. And like clam chowder there are red and white versions! The red is based on tomatoes, the white almonds. How one prepares this soup depends strictly on one's individual likes- finely chopped or chunky? With bread as a base, or not? Olive oil or not? Onion or chives? And of course the balance of tomato to other items all make this a work in progress.
Below is how we make ours. It is just a jumping off point for people to experiment with. I like it rather chunky, my husband likes his very finely chopped. We have reached a compromise!
BRICK HOUSE FABRICS
Gazpacho Soup
2 ripe tomatoes
1/3 red pepper
1/3 green pepper
1 large cucumber
1 garlic clove
Stock, tomato juice, or water
Salt/pepper/paprika or Aleppo pepper
Herbs
Chives
A Lime
Peel and seed the cucumber if the seeds are large. Chop it into chunks and pulse in a food processor until finely smashed up; or chop finely. Put the cucumber in a large bowl. Do the same with the green pepper, and add it to the bowl. Add salt. Hand chop the tomatoes until very finely chopped. One is supposed to seed them, but we never do. Add them to the bowl, and hand chop the red pepper until very fine as well. Chopping by hand prevents a froth from forming. Slit the garlic, and add to the mixture with lots of freshly ground pepper, and some paprika if desired. Cover it, and chill it.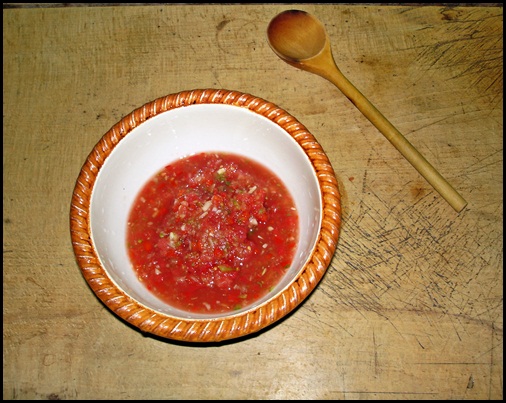 Later on thin it with stock, tomato juice, or water. Just before eating add a squeeze of lime to each bowl, ladle the soup into the bowls, and garnish with chives.
For experimenting:
try adding some olive oil, vinegar, and fresh herbs.
Serve with crusty bread.