Which came first? The chicken or the egg? As far as fabric patterns go, that is a no contest question- the chicken! Take a look at some of the many chicken patterns we have had! Sadly, many are out of print.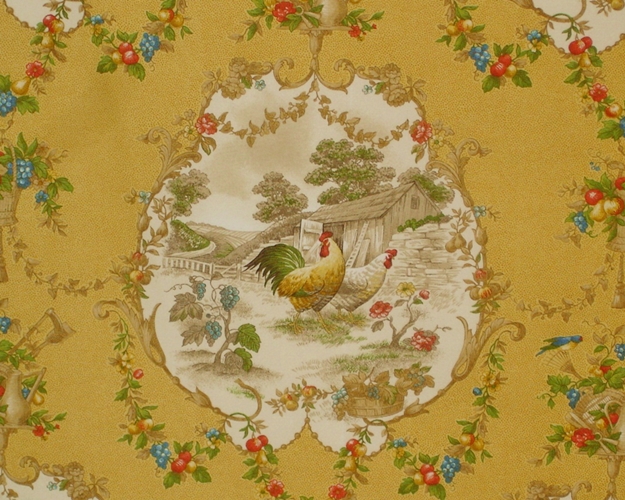 When Brick House Fabrics first started we ran across a bolt of a Covington Fabric. It had a printed ticking stripe of red, on beige background with golden scritchy marks, rather like bits of straw, with a line drawn rooster in soldier blue. We called it the Chicken Ticking Stripe!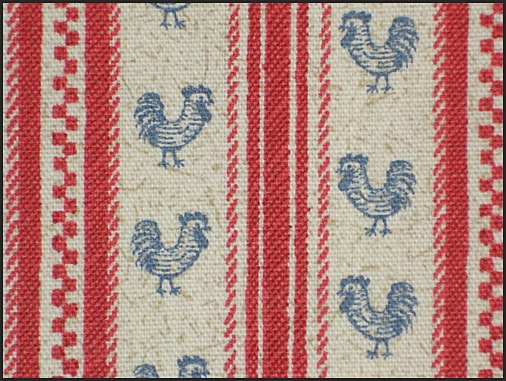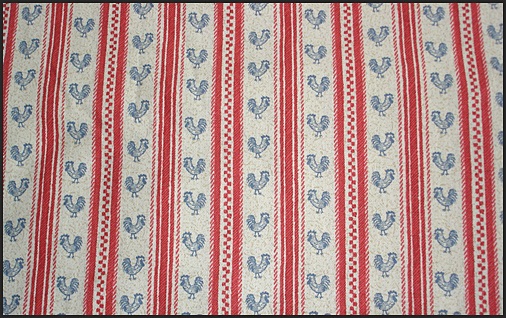 Little did we know that this seemingly simple fabric would have the universal appeal that it did.  This fabric was  shipped literally around the world.  I remember it going to Scotland, Poland, and Albania. It was also shipped to India, Israel, and everywhere in between. A lady in Rhode Island did a couch in it. People just loved it. But, like all fabrics it did come to an end, and it was a sad day when the last piece was finally shipped out.
Covington had with another rooster fabric. This one was scenic toile, with a French country look. It was available in charcoal on cream and French blue on buttercream. It was woven as a matelasse, and had a deep cottony feel.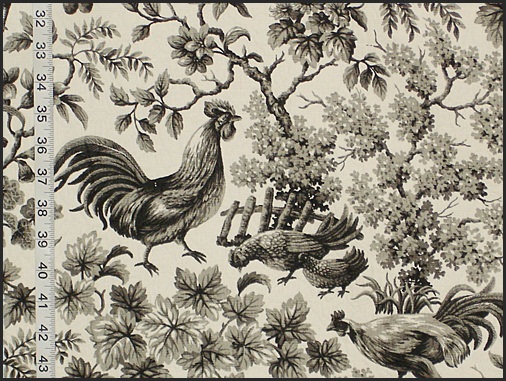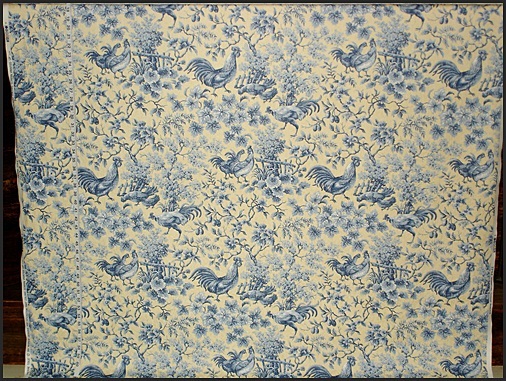 The same pattern was also done in a lace.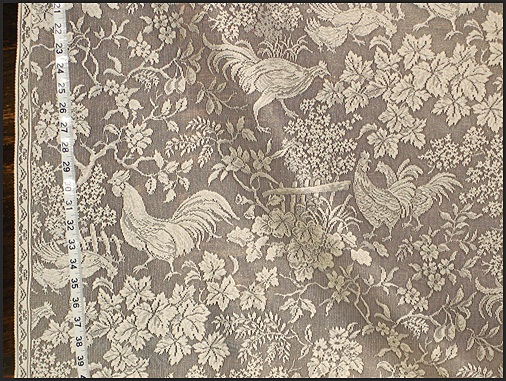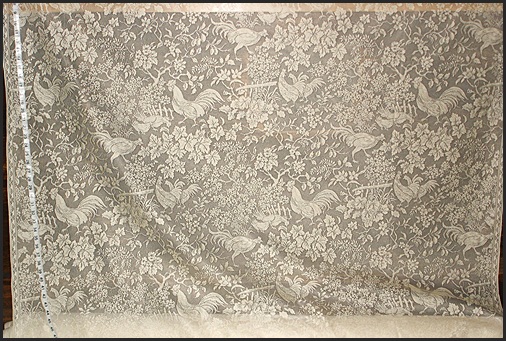 This chicken toile lace fabric was one of the most popular chicken fabrics ever! Everyone who decorated with roosters or chickens had to have it! While used for curtains, it was also used for over-lays on quilts.
Around this time we began to realize the power of the chicken, the universal love of roosters and chickens, and that people often decorated not just kitchens, but whole houses, with chicken and rooster fabrics. Below are some of the chicken and rooster fabrics we have had in the past.
________________________________________
Waverly's very popular French look chicken toile fabric, La Petite Ferme, came in a multitude of colors, from black and white to almost every other combination one could think of!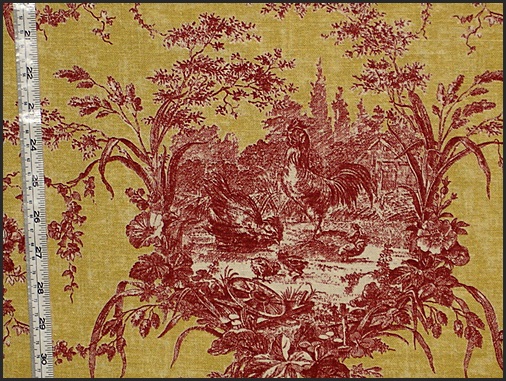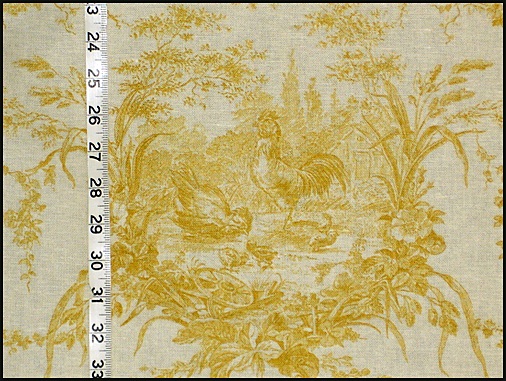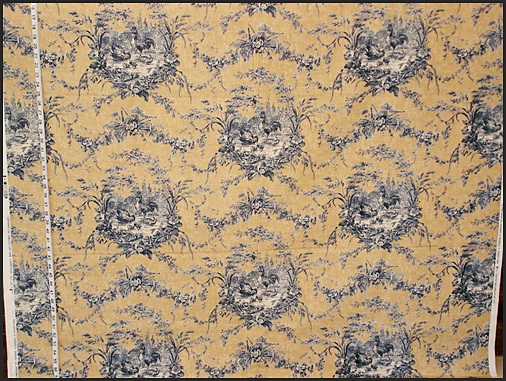 Waverly's Saison De Printemps was also very popular. This combines a large colorful cock and seasonal motifs, surrounding a medallion with a blue toile vignette of rooster and hen. It is a busy, colorful, pattern!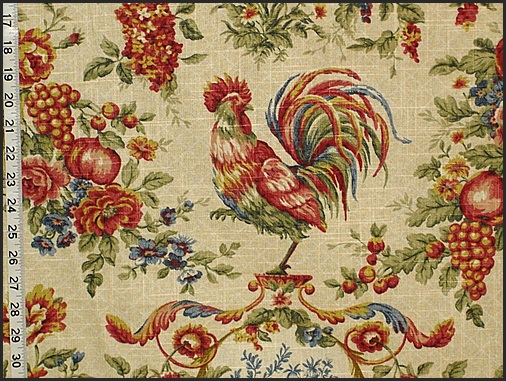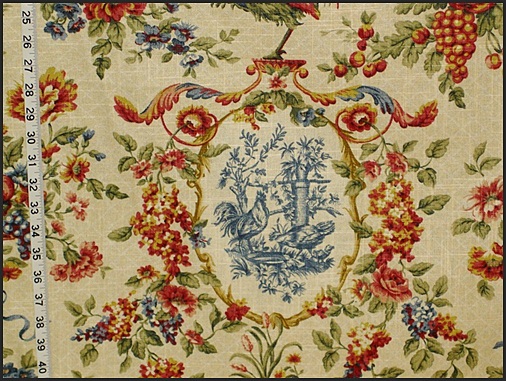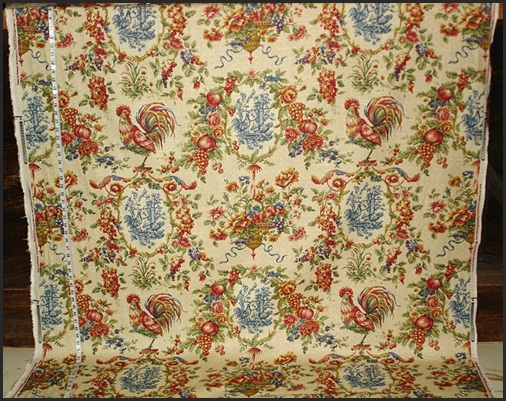 This also came in a red background.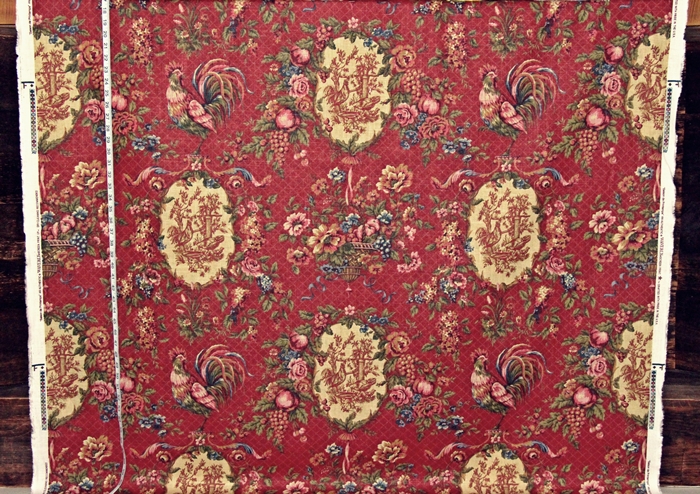 Another Waverly rooster fabric had the opposite design effect of Saison de Printemps. The black and white and gold rooster fabric was very tailored.  The small gold frame around the squares softens the look.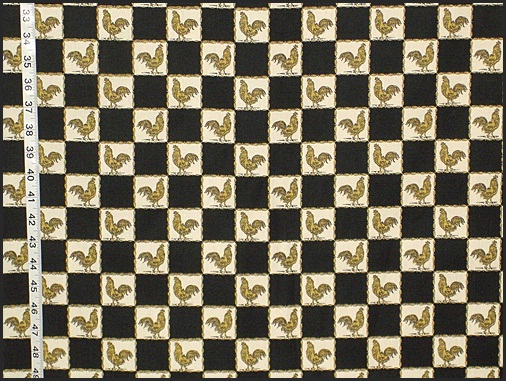 A totally different rooster fabric came from Premier Prints.
Slightly funky, slightly retro, not for everyone,
it had its own unique charm!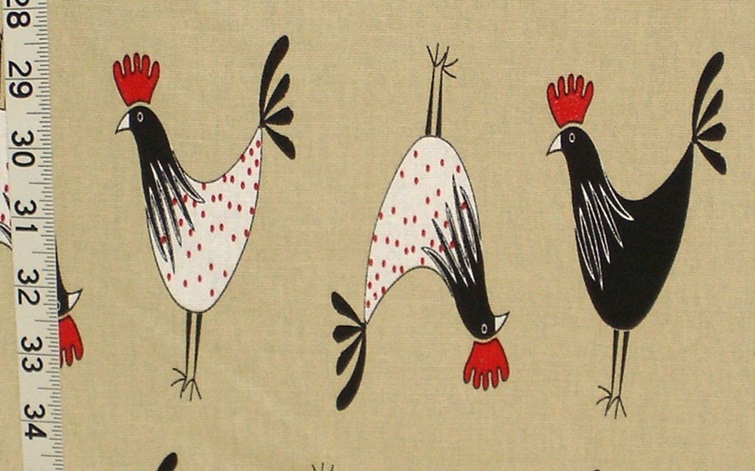 Black and red roosters create a fun pattern.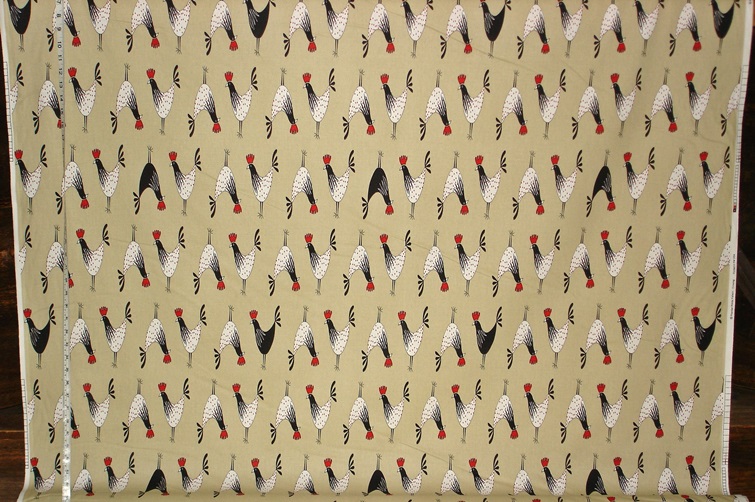 P.Kaufmann and Braemore are known for their chicken and rooster fabrics. And over the years they have produced some very imaginative designs!
Going back to the late '70's or early'80's, is this vintage, very retro, rooster chicken fabric. This was found on a buying trip in a warehouse- a fun find!
It was done in harvest gold, avocado green, and copper, matching the colors of the ice boxes and stoves that were popular then. The scrolling grape vine is also reminiscent of kitchen decor at that time.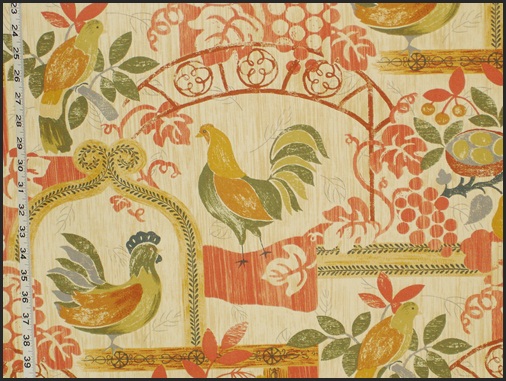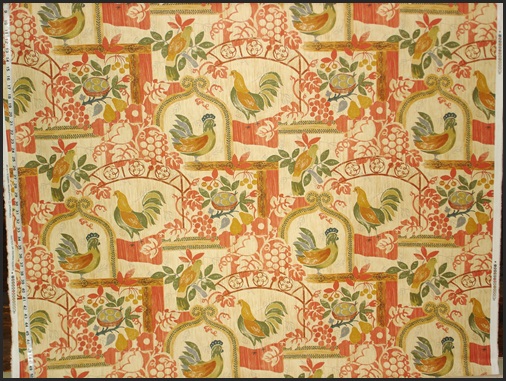 Later rooster fabrics took on a French look, and many of them were done as toiles. This French look chicken toile fabric has a colored cock and hen set against a simple toile background. The vignette is framed with a colorful lattice of vines with seasonal flowers and fruit.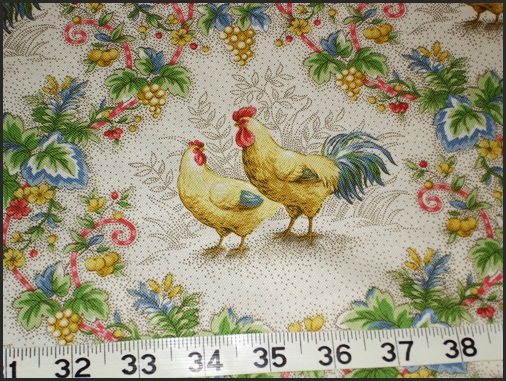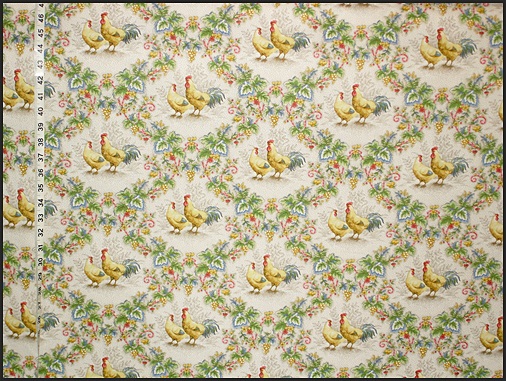 Looking very Provence,
with the wide stripes and intertwining border around the chickens,
is another P.Kaufmann fabric.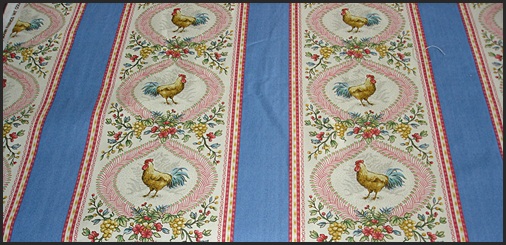 One of the most popular chicken toile patterns by P.Kaufmann was a French looking toile fabric. It had a large medallion featuring a country scene with chickens. Surrounding this were garlands, swags, and flowers. Gardening tools, and small blue birds completes the country look. It was called County Time, and came in curry yellow, strawberry red, and a purple brown.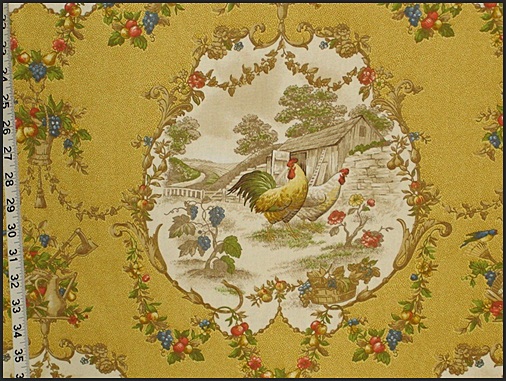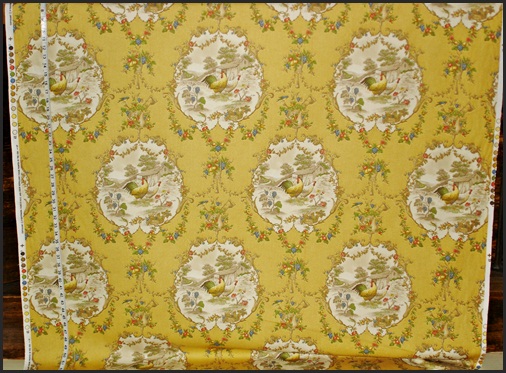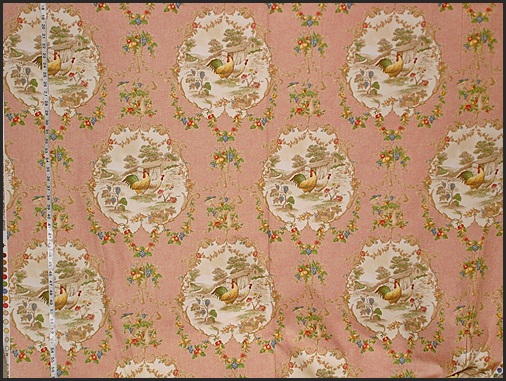 A companion fabric with small chickens,
on the same stippled background, was also popular.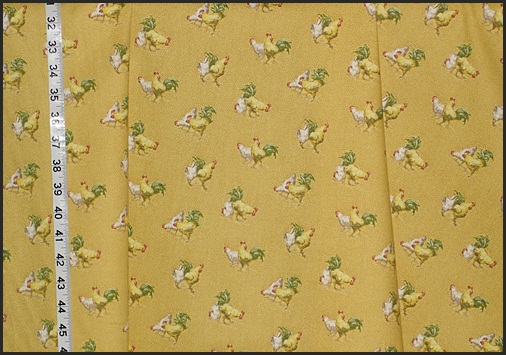 Leaving the rooster toile look for a bit, P. Kaufmann came out with this pattern of milk glass chickens. A whimsical delight, it still had a slight French flavor with the blue  wandering vine, and the stylized Provence flower at the vine's intersections.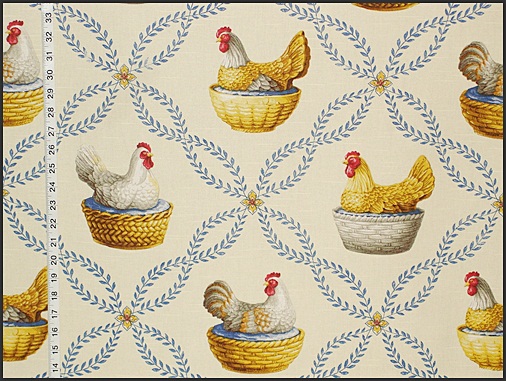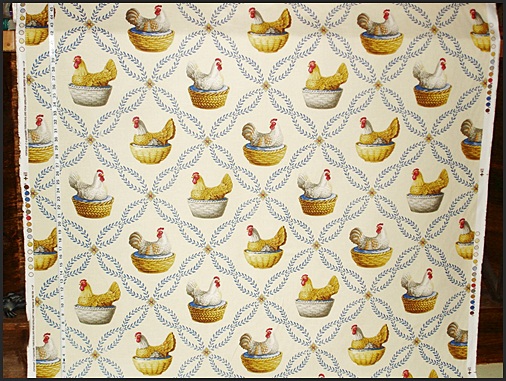 A later Kaufmann chicken rooster fabric left France behind. Aligned with the Farmhouse Style of decorating  it incorporated chicken wire into the pattern.  We called it the Chicken Wire Chicken! It featured a background with a toile design of a farm and pieces of chicken wire. Here and there are large colored hens and roosters, with very cute small chickens following them around. They look as if they are asking questions! It came in yellow, blue, and teal, and also had a small companion print.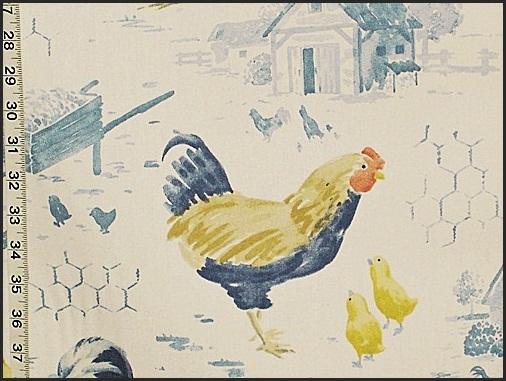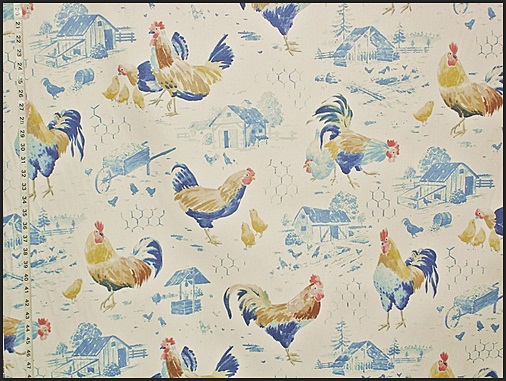 The blue chicken wire chicken fabric was the most popular color for us,
but the use of teal, olive green, and wheat
made the teal colorway very interesting.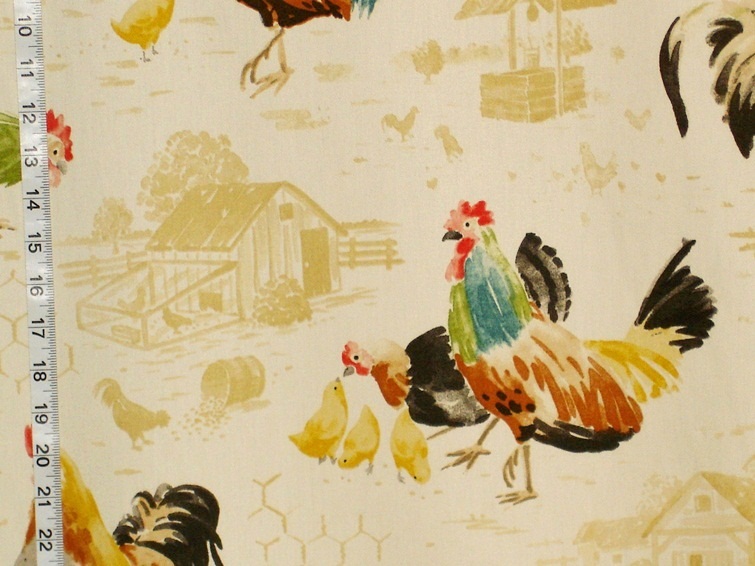 The third colorway was all yellow-
it was called "Yolk"!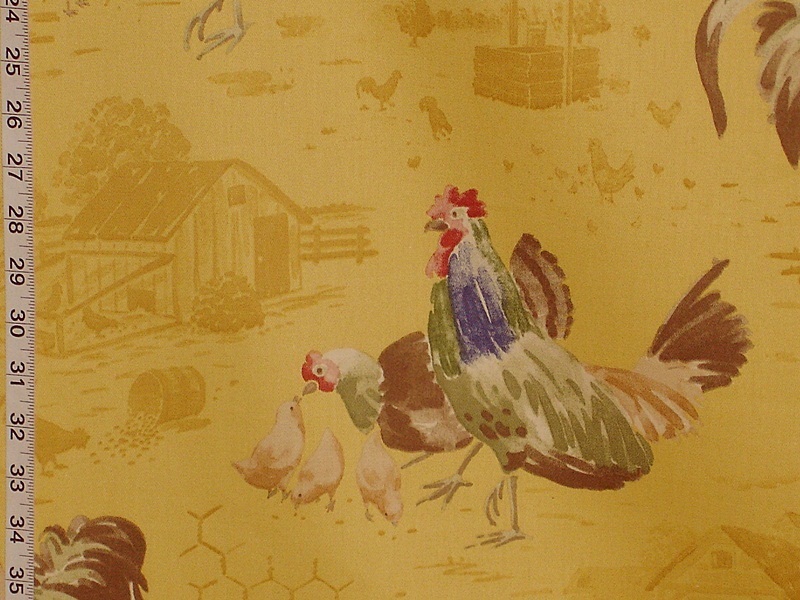 The companion print had small roosters, hens and chicks  with chicken wire.
The red color was called "Tractor".
Someone down there has a sense of humor!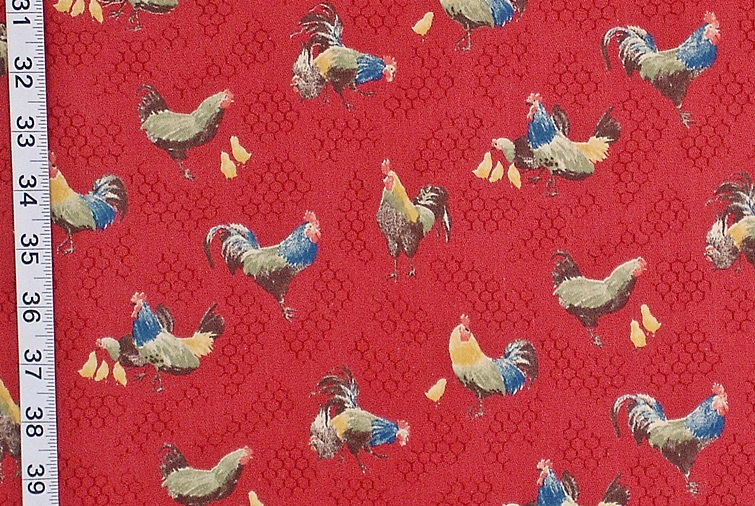 A rooster fabric found on a buying trip had a more country homespun feel. It was a reverse toile of pale tan design on black. A half wreath of grasses and leaves frames a small vignette with a rooster being followed by a single, very cute, small chick. A rustic barn is in the background.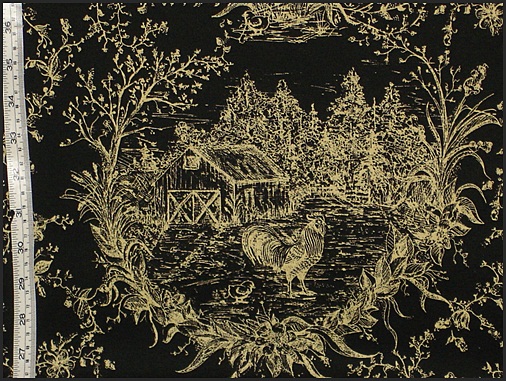 Kingsway had a chicken fabric that was perfect for the farmhouse decorating. Large roosters were positioned on a fabric that had been printed to look like denim!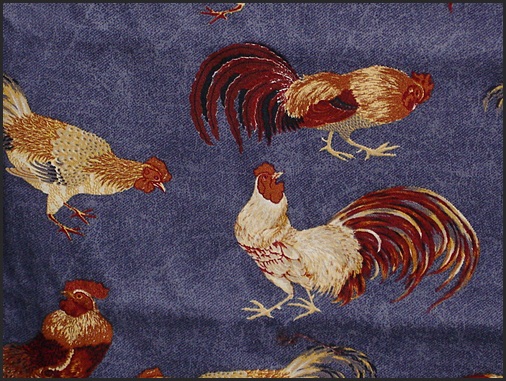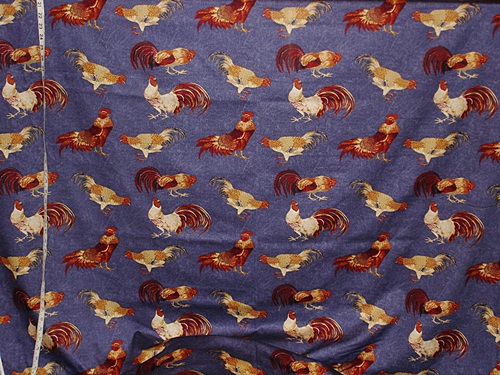 Waverly also had a fabric that incorporated chicken wire into the design. But, this woven pattern was not the normal country rooster fabric. The woven in chicken wire pattern was slightly raised above a background of narrow woven stripes.  The roosters were brocaded. All together, the combination of rich color, woven patterns, and brocaded roosters combined to make this a unique, sophisticated fabric.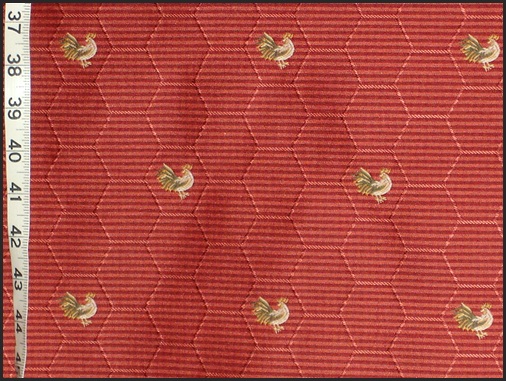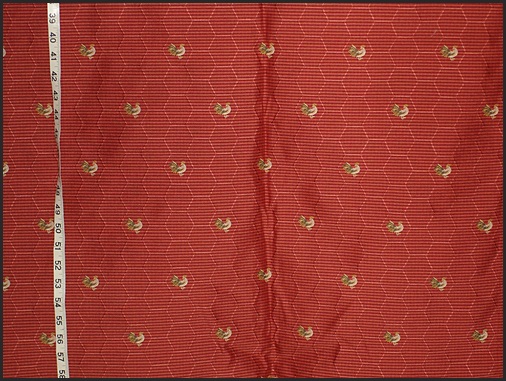 Another woven fabric had the appearance of a toile.
It had a black and beige design of large roosters.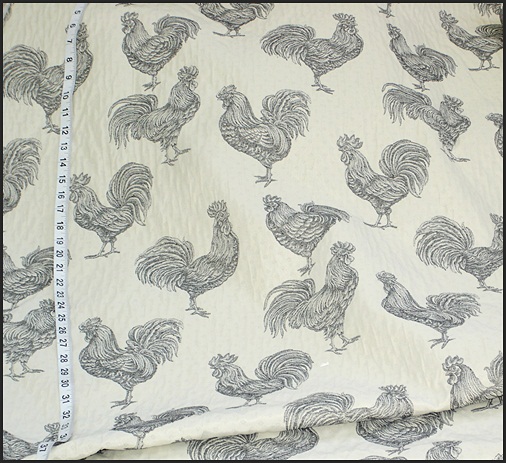 Another woven upholstery weight fabric had the look of a painting by an old master. Roosters and hens blend with the background of earth, stones, and grasses.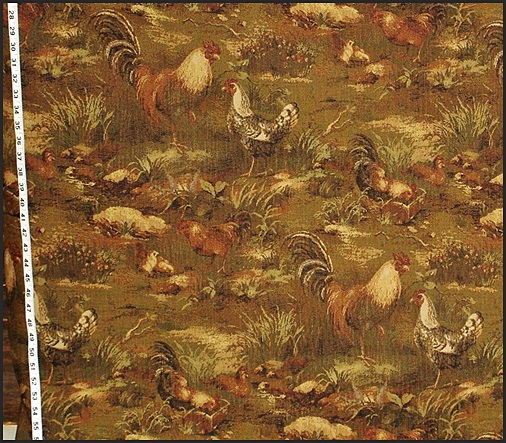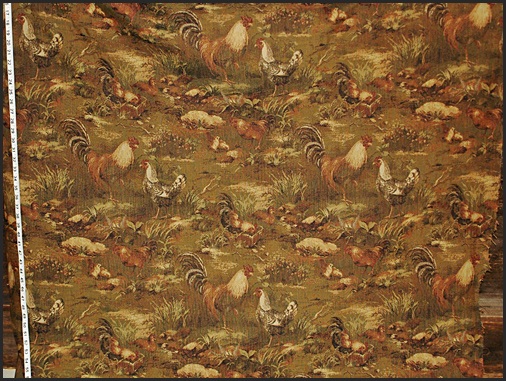 It seems that every company has produced a rooster or chicken toile fabric.
Stroheim & Romann's rooster toile had a French country look. A half wreath of flowers forms the base for a classic French vignette. This was a monochromatic fabric. The toile was a deep true green.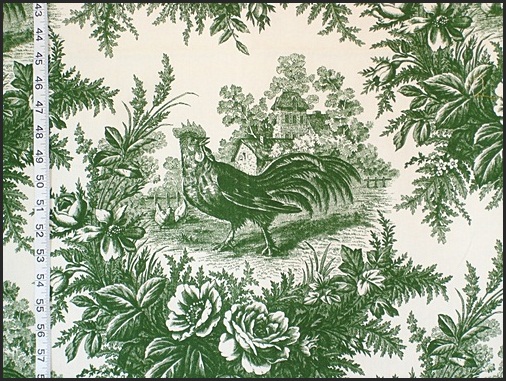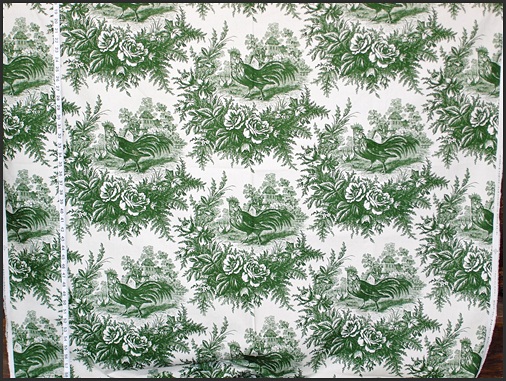 Pierre Deux's rooster toile fabric in blue has the effect of a scene at the edge of a river or pond. The oak leaf swags with acorns add structure, the circles with acorns and daisies add interest.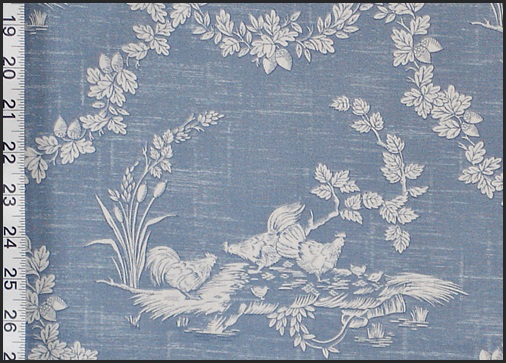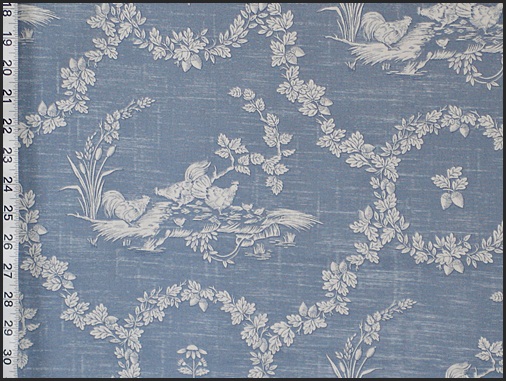 Schumacher also had a rooster toile fabric.
Based on classical elements this has many different motifs.
A handprint, it is filled with many details, and lots of color!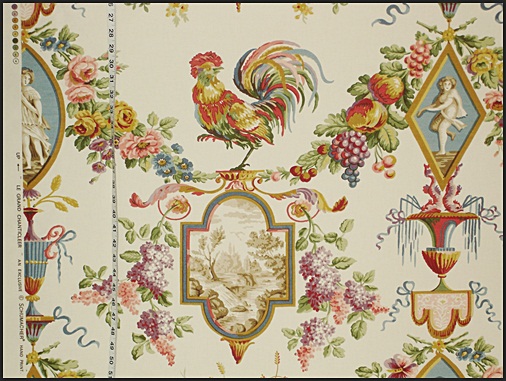 Schumacher's Rooster Toile
is filled with classical elements mixed with seasonal motifs.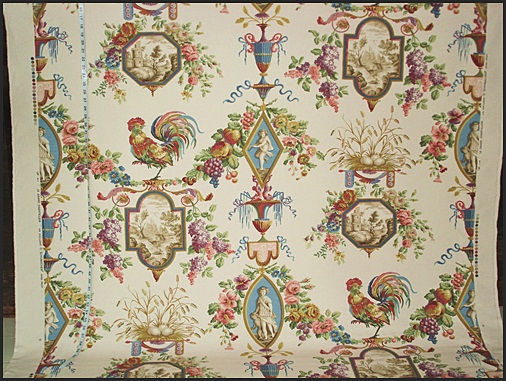 It really never struck me until recently, when some French rooster fabrics arrived, that none of the chicken fabrics incorporated into the pattern the egg! Roosters, yes. Hens, yes. Chicks, yes. But, not an egg in sight!
But one French rooster fabrics does have eggs! And feathers! Available in tan or purple, it is embellished with plaid and paisley details, for a unique look.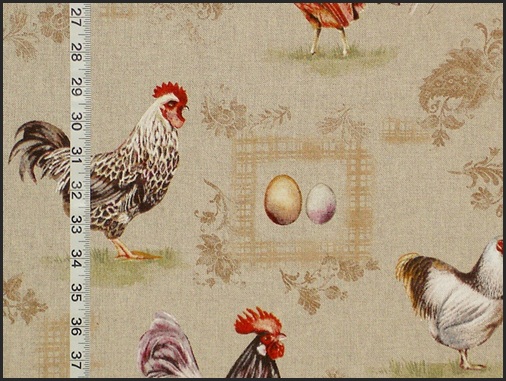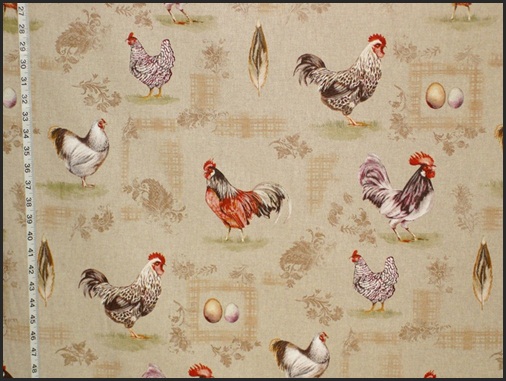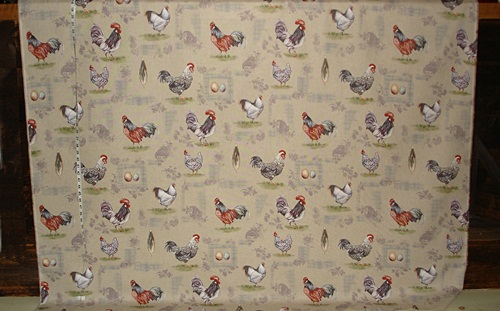 While the above are not all of the chicken or rooster toile fabrics we have had had, they show the range of chicken and rooster fabrics that companies have produced.
Today, chicken and rooster fabrics are as popular as ever. Whether for a country home, a French cottage, or even used in a sophisticated apartment- if you love rooster or chicken fabrics there is one for you.
We look for, and continue to bring in new chicken and rooster fabrics. So, check for current patterns in the
____________________________________________
Edited 11/10/2016
We have had many chicken and rooster fabrics since the original blog post. So, we thought it was time to add more patterns for people to enjoy looking at.
This older chicken fabric had the distinct look and feel.
The coloring, and design say "Provence"!
Stripes with sunflowers, wheat, and other flowers alternate
with stripes of small stylized flowers and stripes with roosters and hens.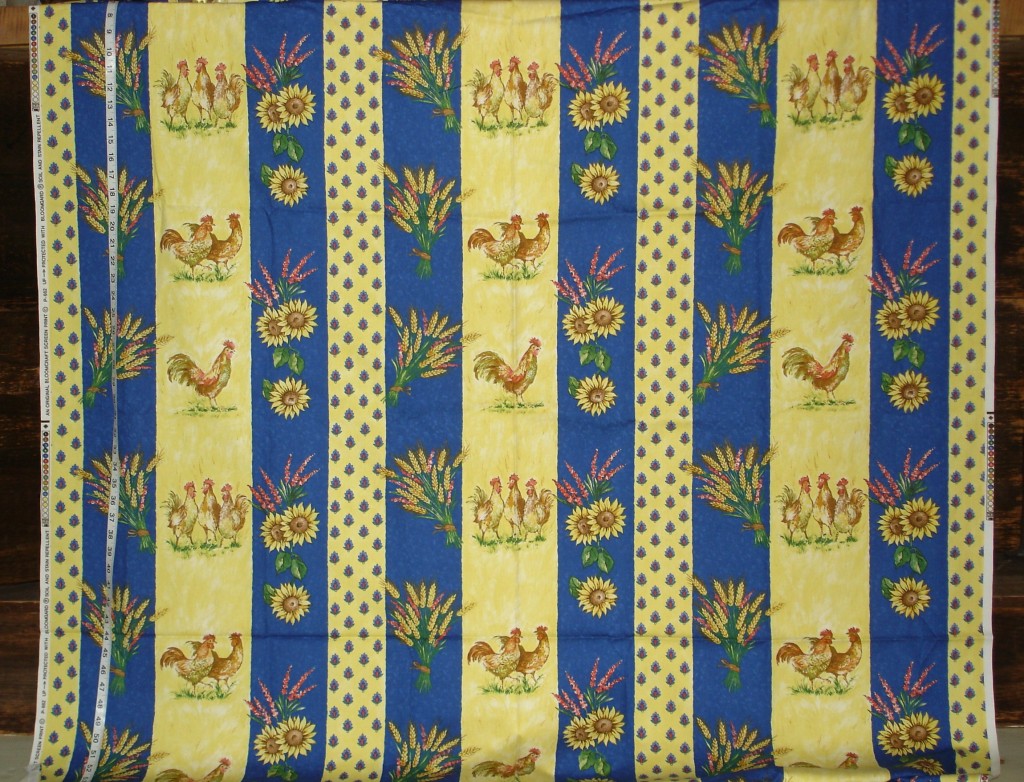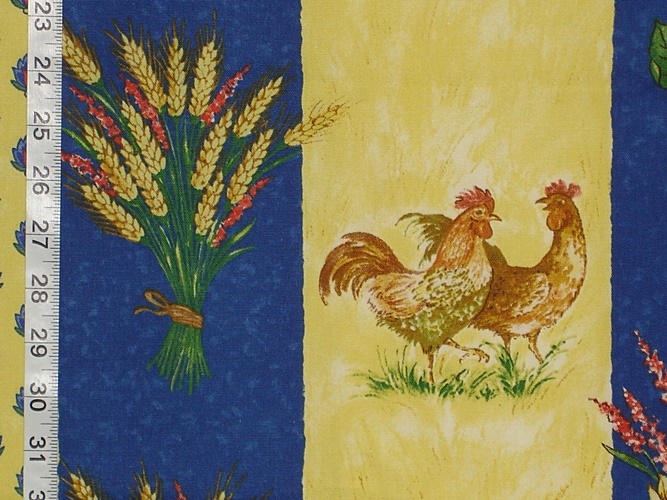 The roosters look as if they are discussing business,
while the hens are having a gossip session.
This was a fun, cheerful, bright fabric!
This woven upholstery weight fabric was rather unique.
The over-all pattern of flowers and vines held three surprises!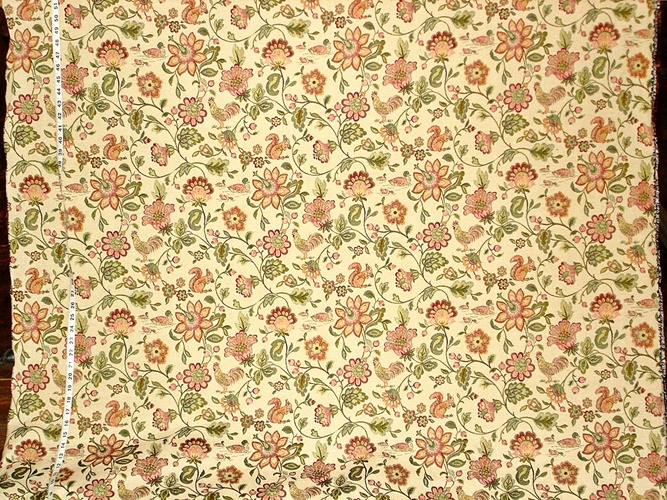 Hidden among the flowers and vines were
a rooster, squirrel, and swimming duck with babies!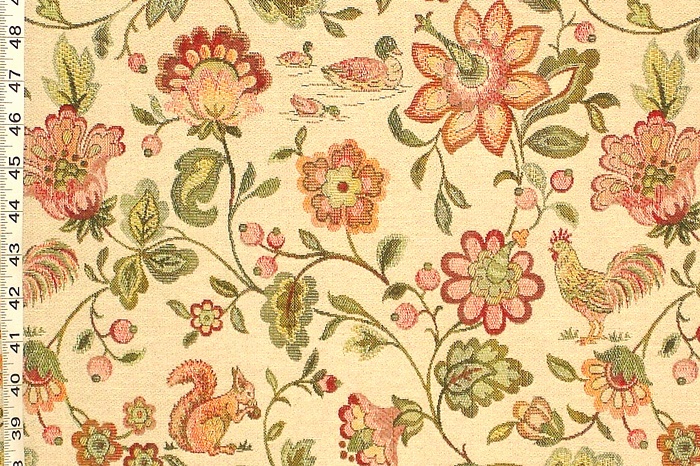 Another woven rooster fabric was this funky rooster fabric.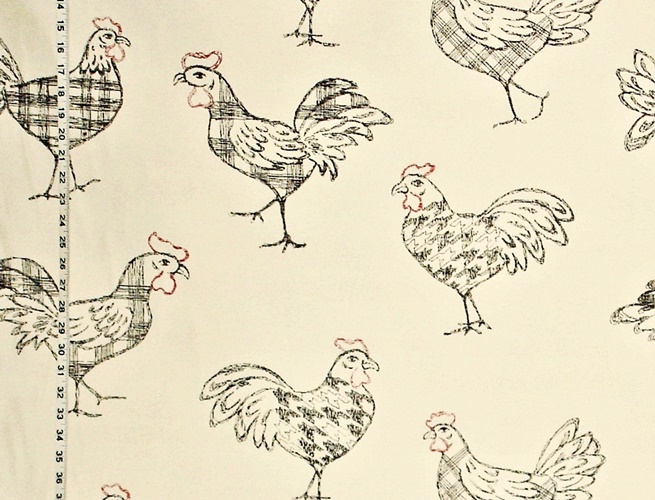 Plaid and stylized houndstooth roosters strut their stuff!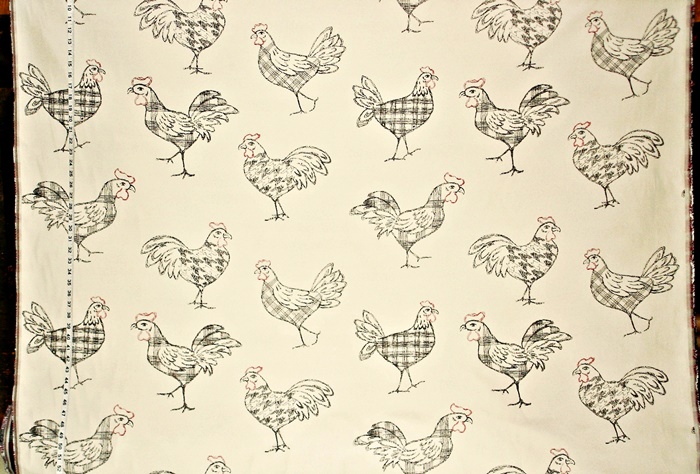 ___________________________________
MARCH, 2017
Rooster fabrics and chicken fabrics  just keep on being printed.
So- for those that wish to continue the journey of the chicken are some other patterns!
P.Kaufmann- the company that routinely brings us new chicken fabrics –
came out with this large as life pattern.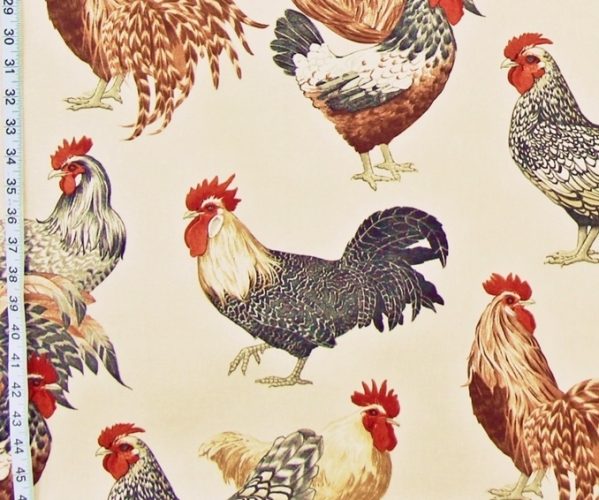 It also came in a bright red-orange!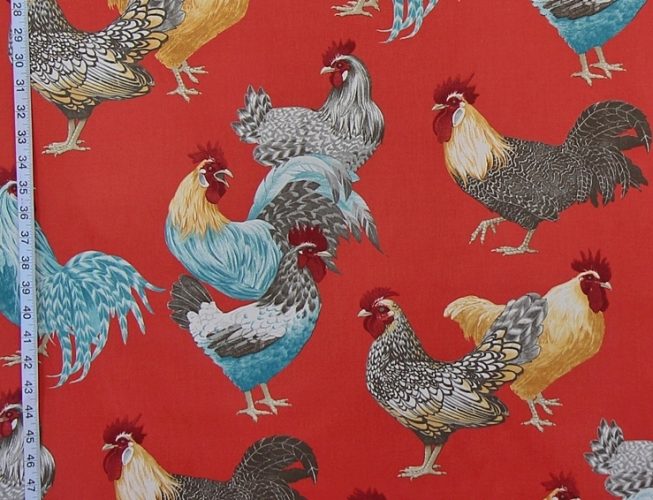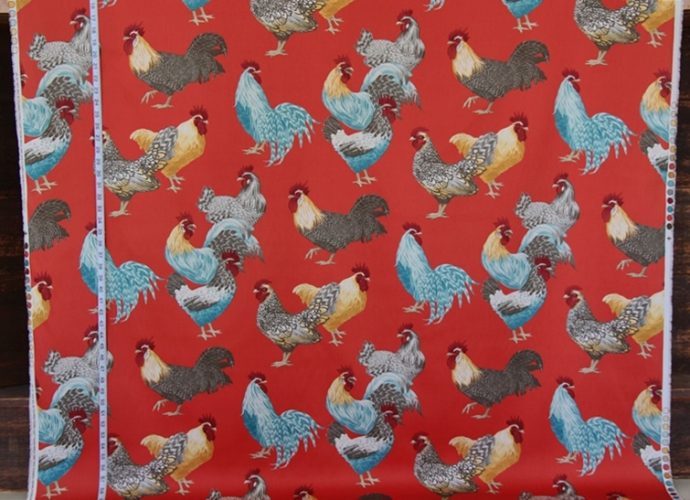 Years ago we carried a rooster document print fabric.
This had layers of French letters with scrolling architectural motifs
and large roosters.
We recently brought it back!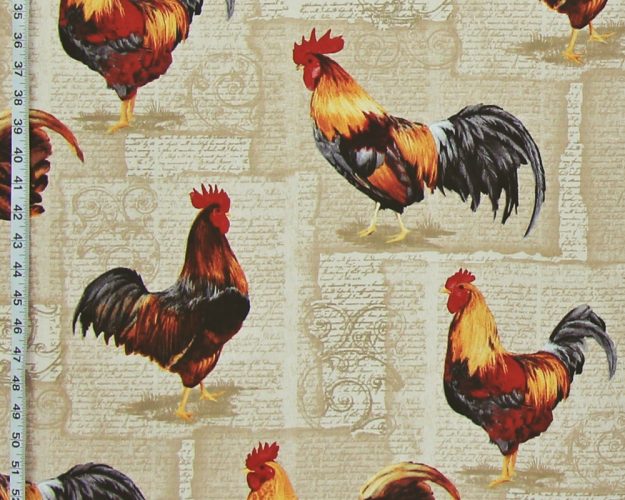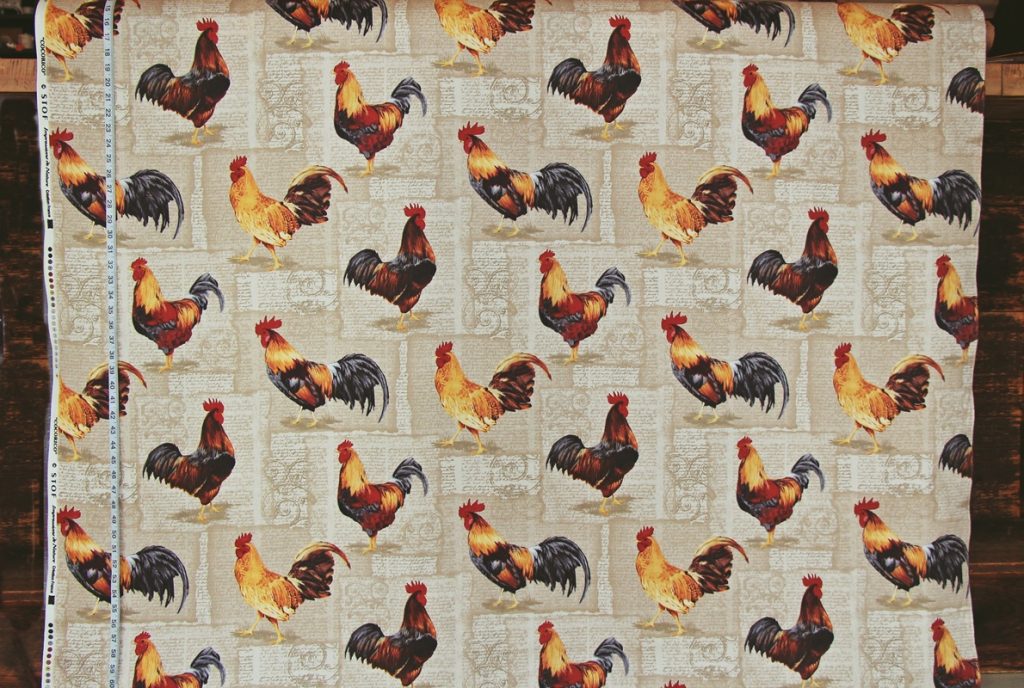 Available in two colors is this  retro chicken fabric that screams
"BREAKFAST"!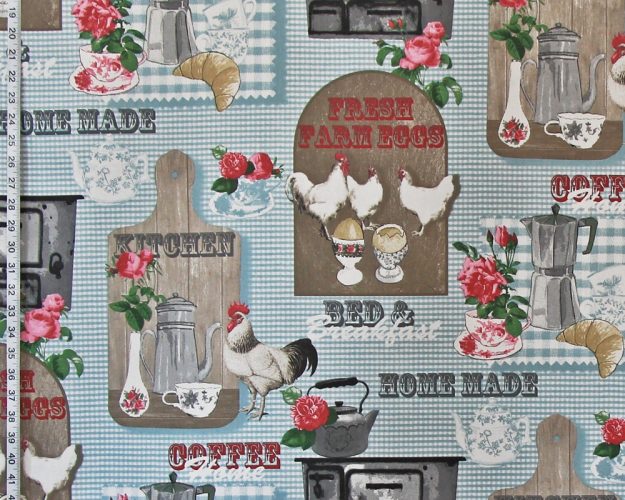 This is a fun interplay of vintage cooking items,
with a tea kettle, tea cup, and china-
all mixed with hens, chickens, roosters,  eggs ,  roses and gingham!
And the words say it all!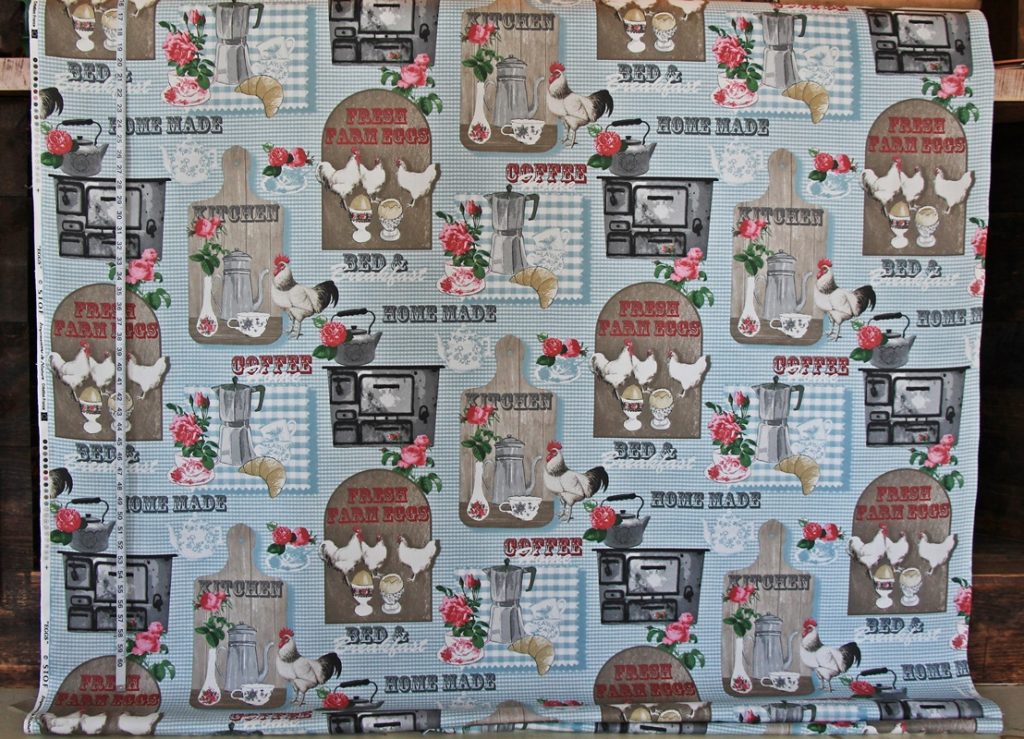 It also comes in a  tan and orange version.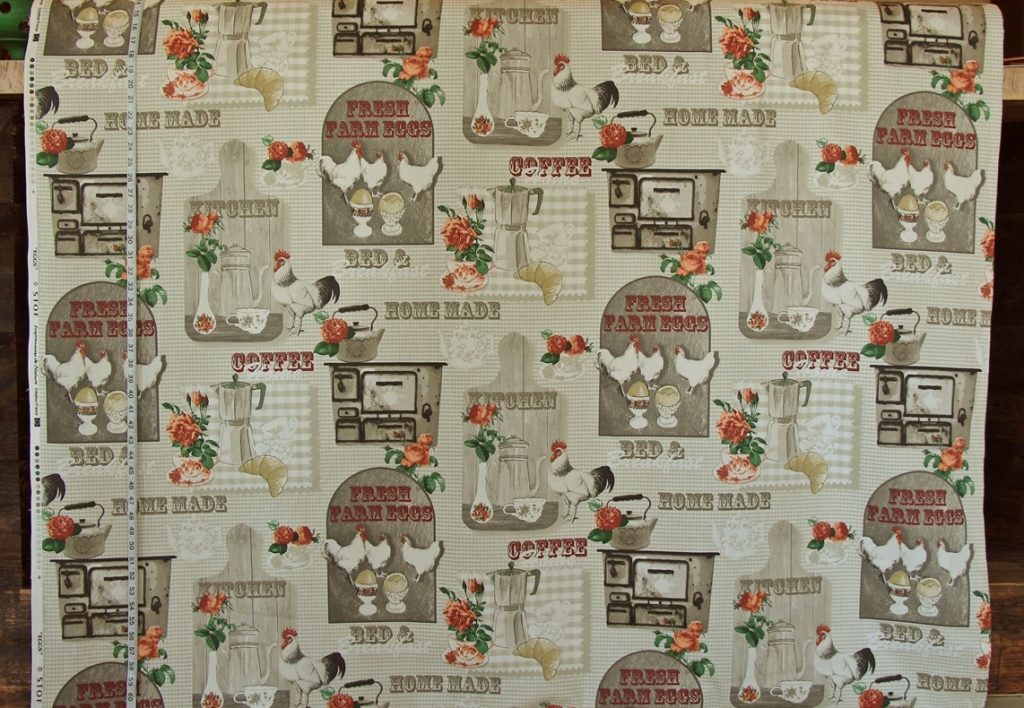 ___________________________________
Well, here it is- 2020!
And, chicken and rooster toile fabrics are in very short supply.
I do not know any American company that has printed any in quite a while.
But, thankfully, the French are!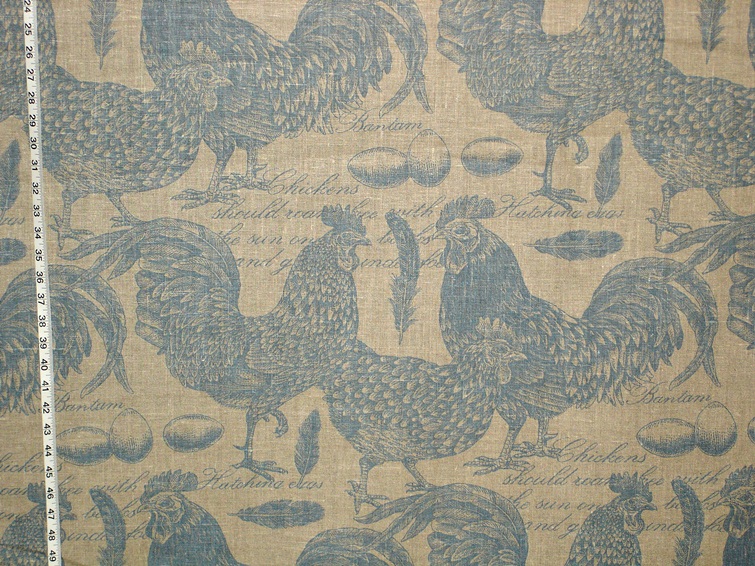 This is a very large pattern done in a turquoise blue
on a natural linen.
There are bantam roosters and hens, nearly life size,
with eggs, feathers, and writing.
The pattern fills the space,
but, despite that, this has a rather severe look.
There is nothing quaint about these birds!
This French fabric has a very classic look.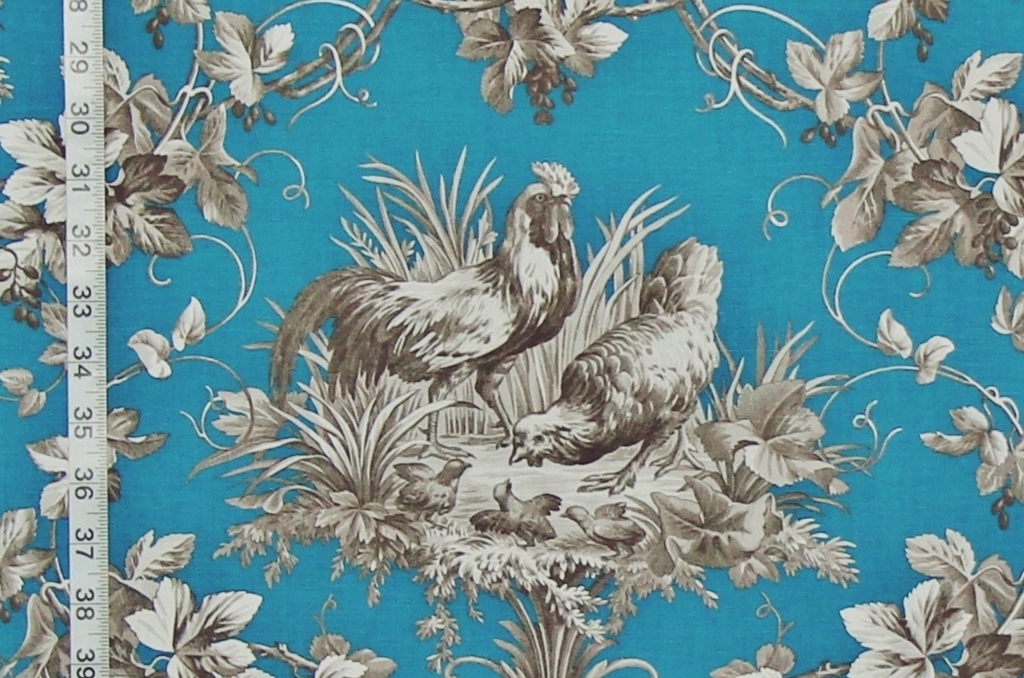 A rooster stands on guard,
while the hen seems to be conversing with her chicks.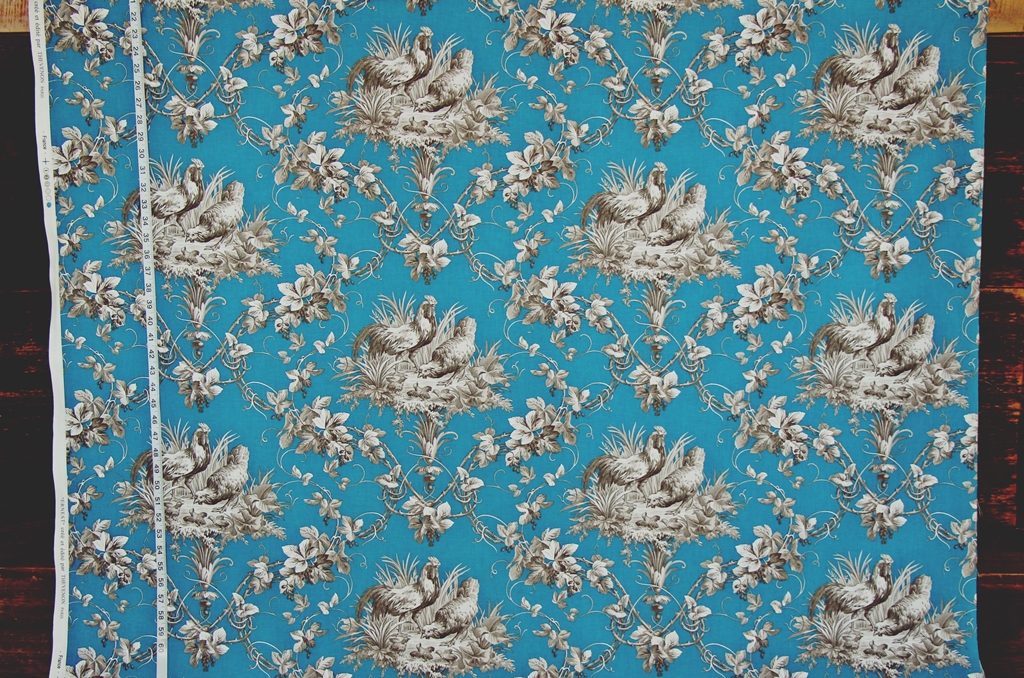 Though the pattern is traditional,
the bold blue coloring is not!
And, only the French would come up with this pink version!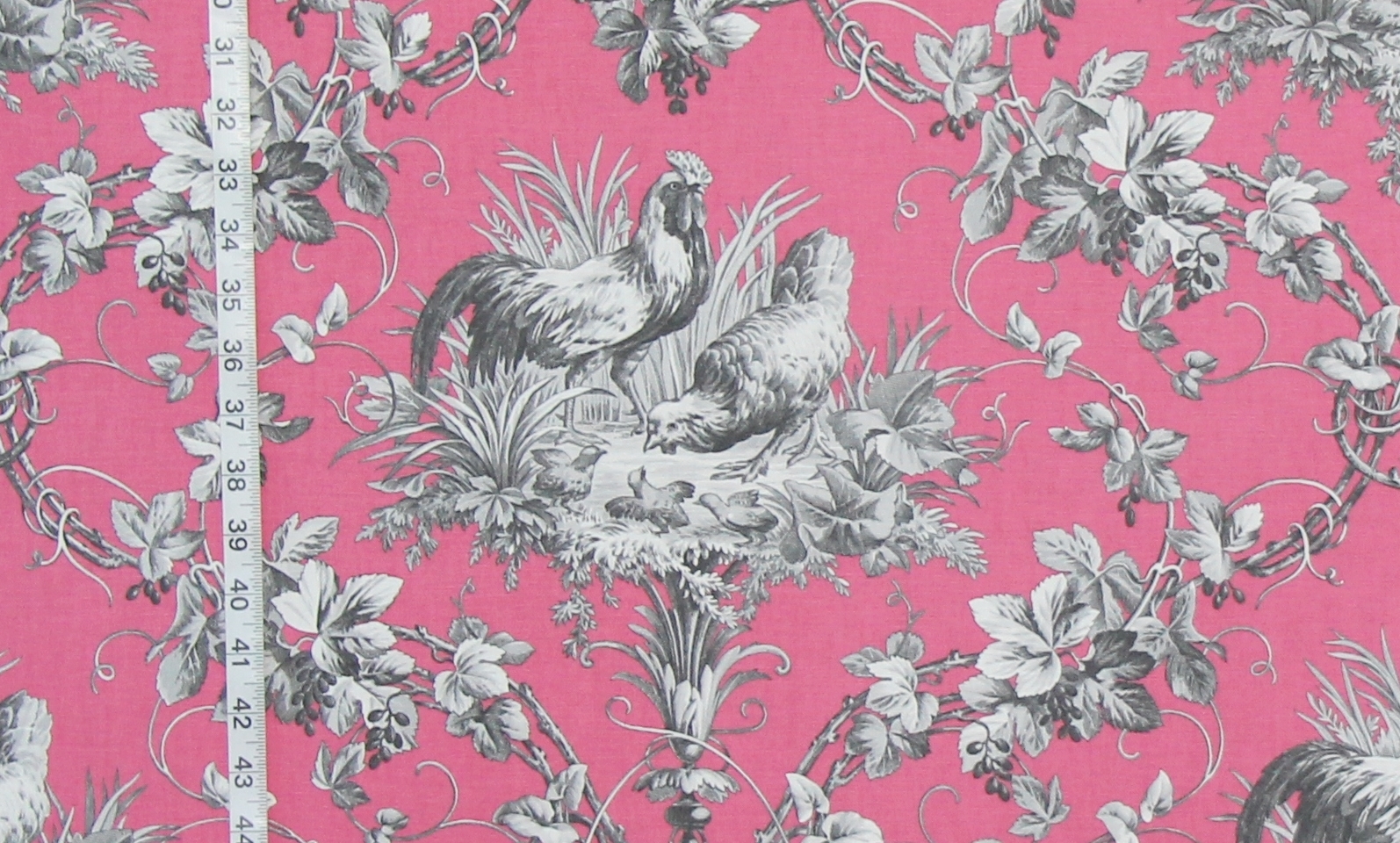 They did make a more subtle grey version as well.
Origin: Saturday, 18 February 2012 23:07
September 23, 2021
It has been a while since I updated this blog post. Last year, with Covid, very few patterns came out, and even fewer were of novelties. But, I was going through some things, and suddenly thought, there have been some patterns that I did not include.
So, here they are!
Starting with a pattern from quite a while ago
is this Lace Rooster Chick Fabric.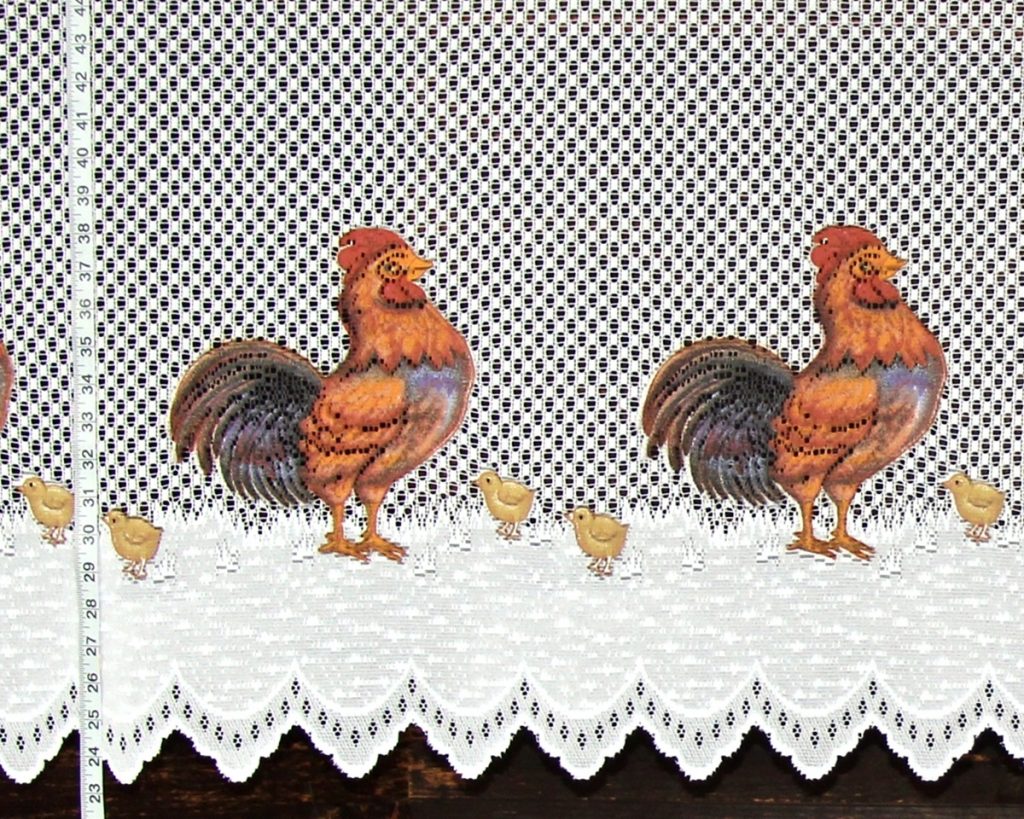 This was unique- it was a cafe lace.
Brashly colored roosters are surrounded by
small chicks.
It was colorful and fun!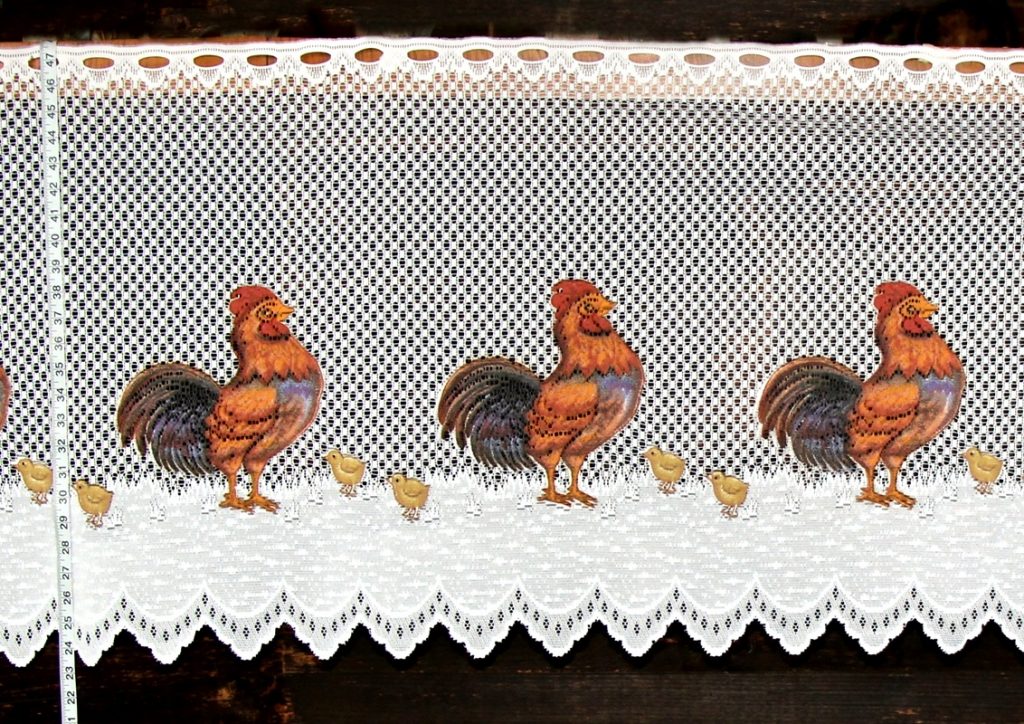 This farmhouse fabric incorporated a lot of country themes,
in a patchwork of images backed by red gingham and ticking.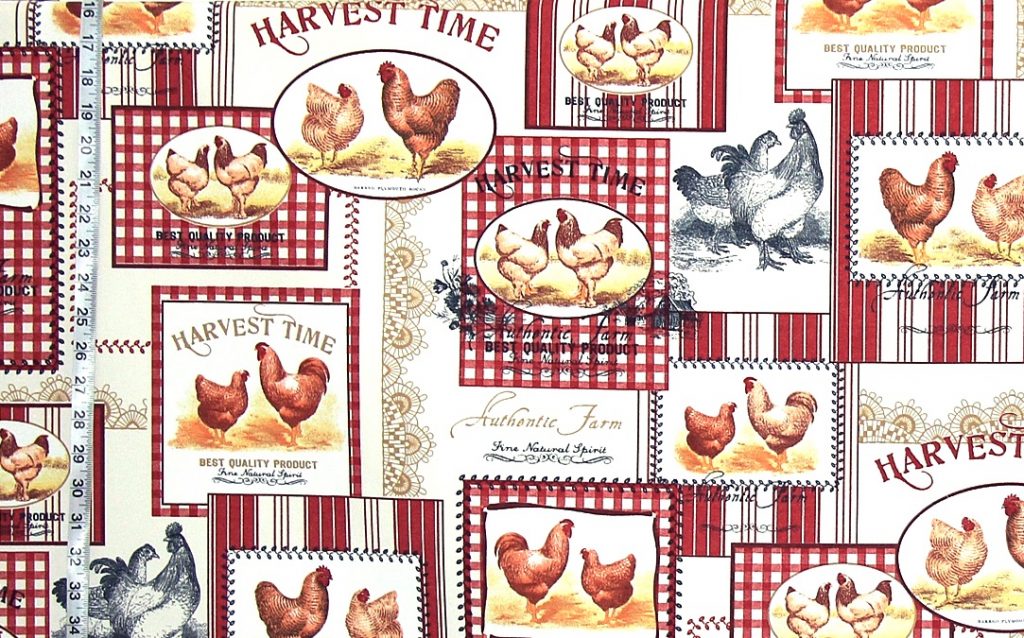 One thing that sets it apart is the scale of this.
Many of the fabrics of today have a very large scale,
this is different in that it is not large sized.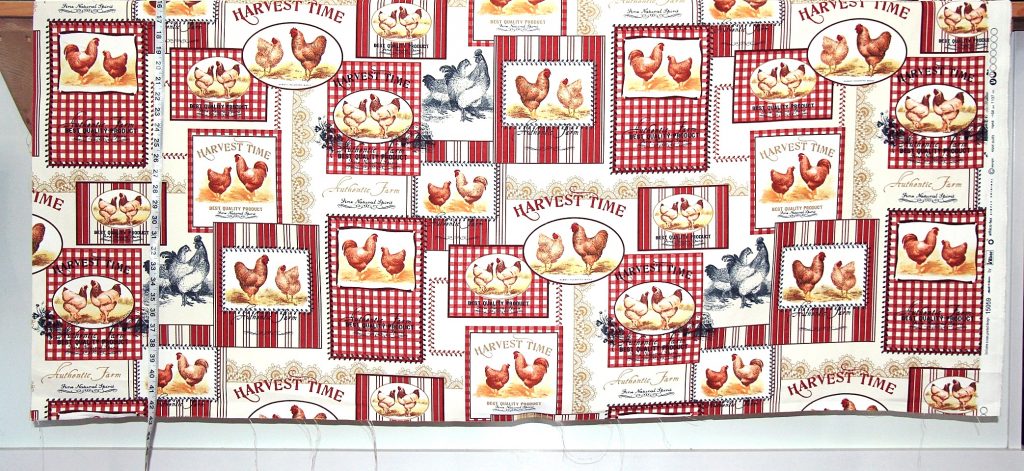 Another small pattern is one that amuses me-
we call it "The Peeps".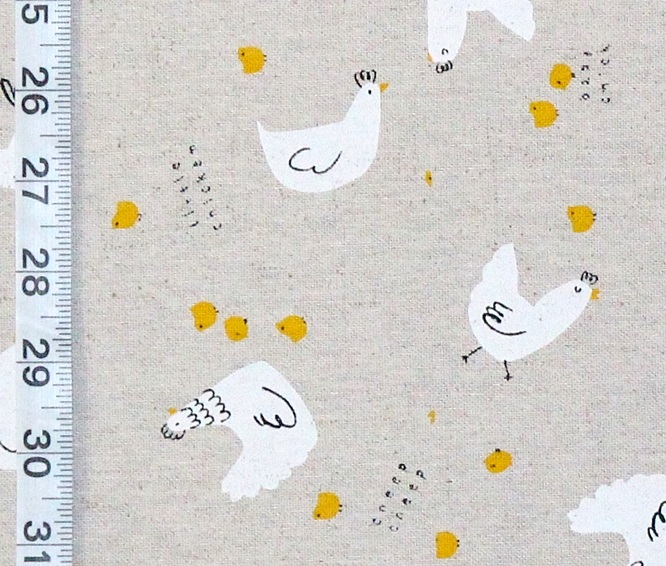 Small peeping chicks and chickens
cover this fabric.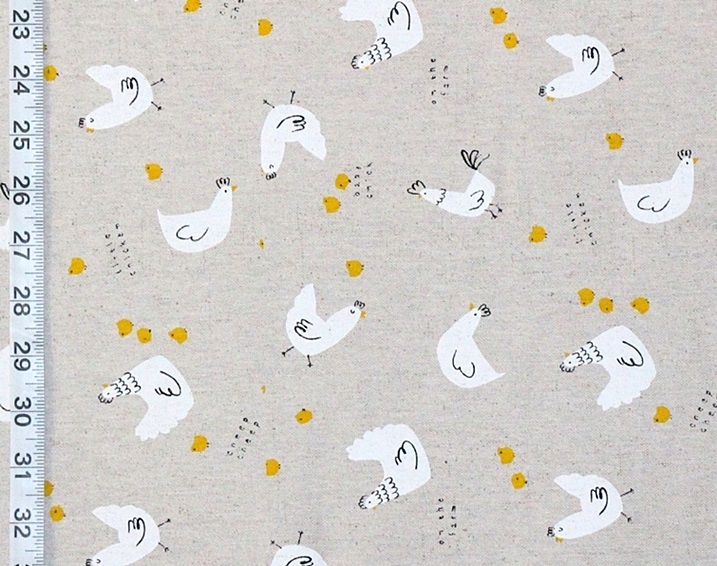 Here is another fun fabric.
It is funky, and fun,
and totally different from any other chicken or rooster fabric
we have had.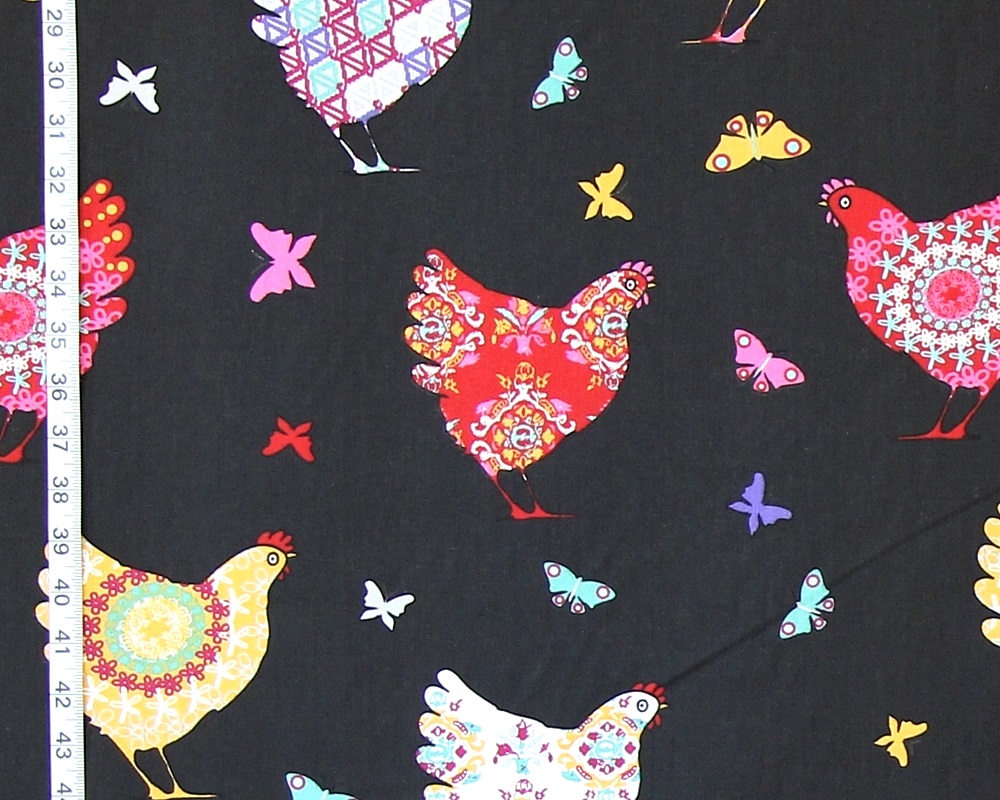 This sings with color and pattern,
and the black background makes them pop.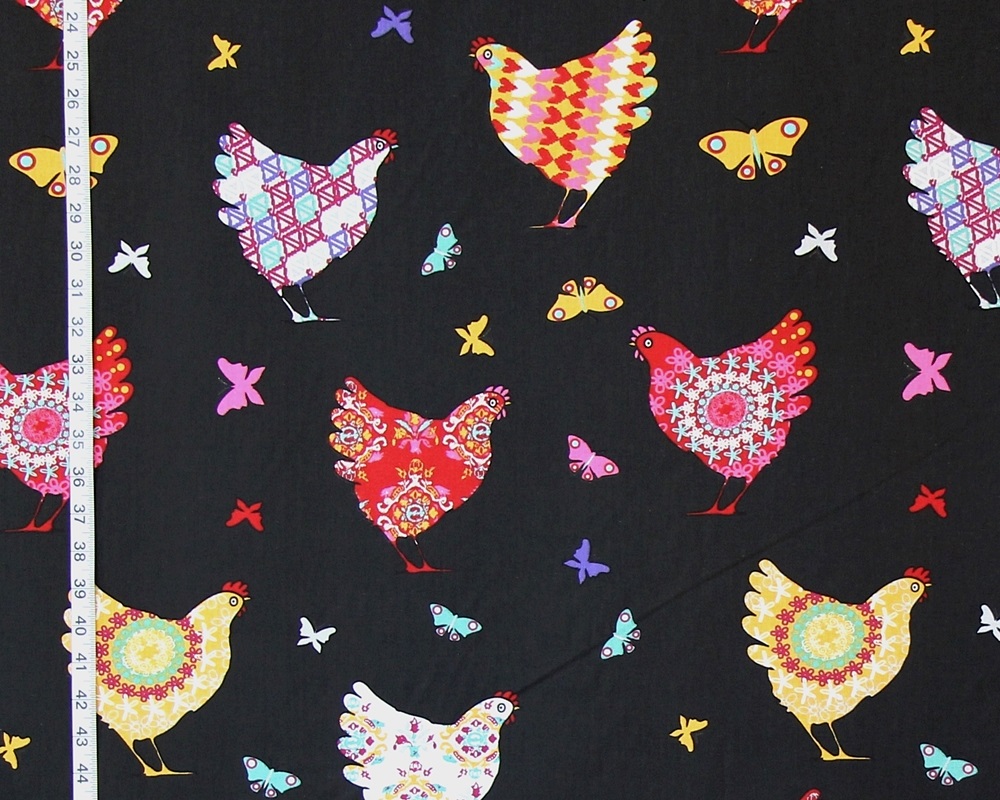 JANUARY 7, 2022
Well, I just looked through this post.
And, I realized a few rooster chicken fabrics had been left out.
And, since the last Rooster Chicken Fabric blog update,
there have been a couple of new patterns.
So, I am updating them now!!!
For those of you rooster and chicken toile lovers- enjoy!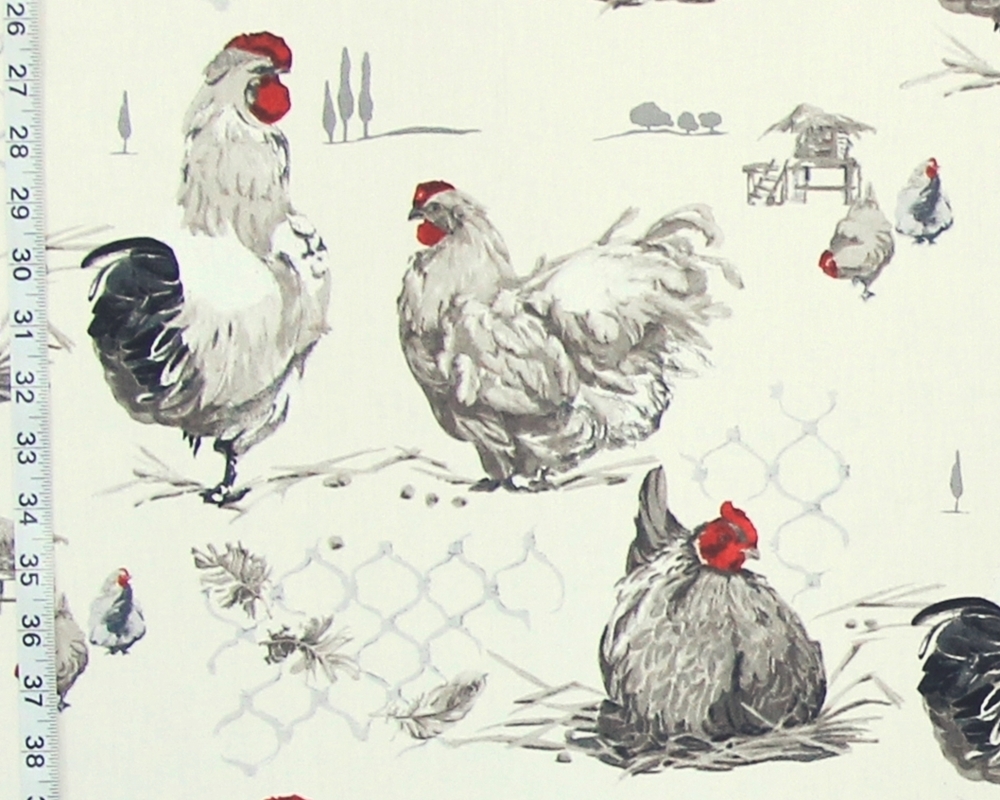 This French chicken toile fabric was done in neutrals,
but the red cock's combs and caruncles and the black tail feathers punctuates the pattern.
The chicken wire with feathers caught in it amuses me.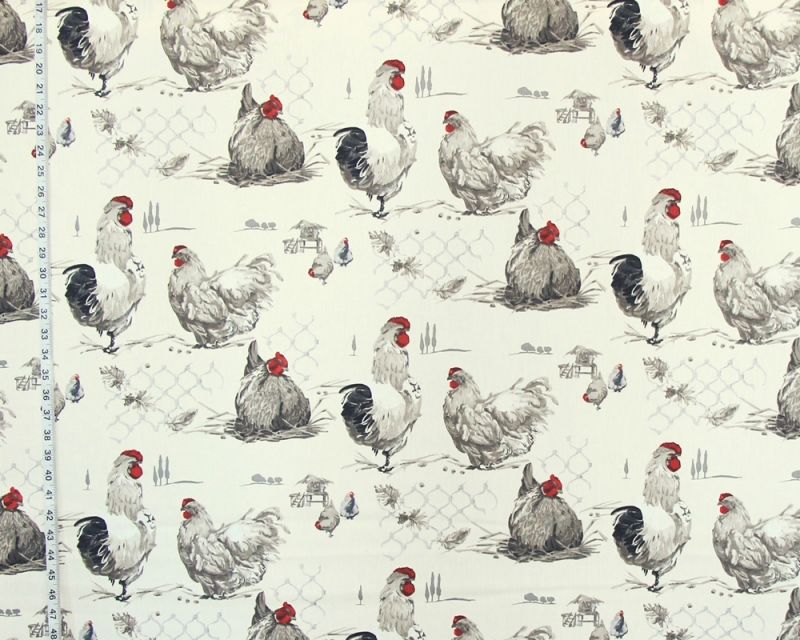 This red toile fabric features roosters and chickens,
but, is actually more of a scenic toile pattern.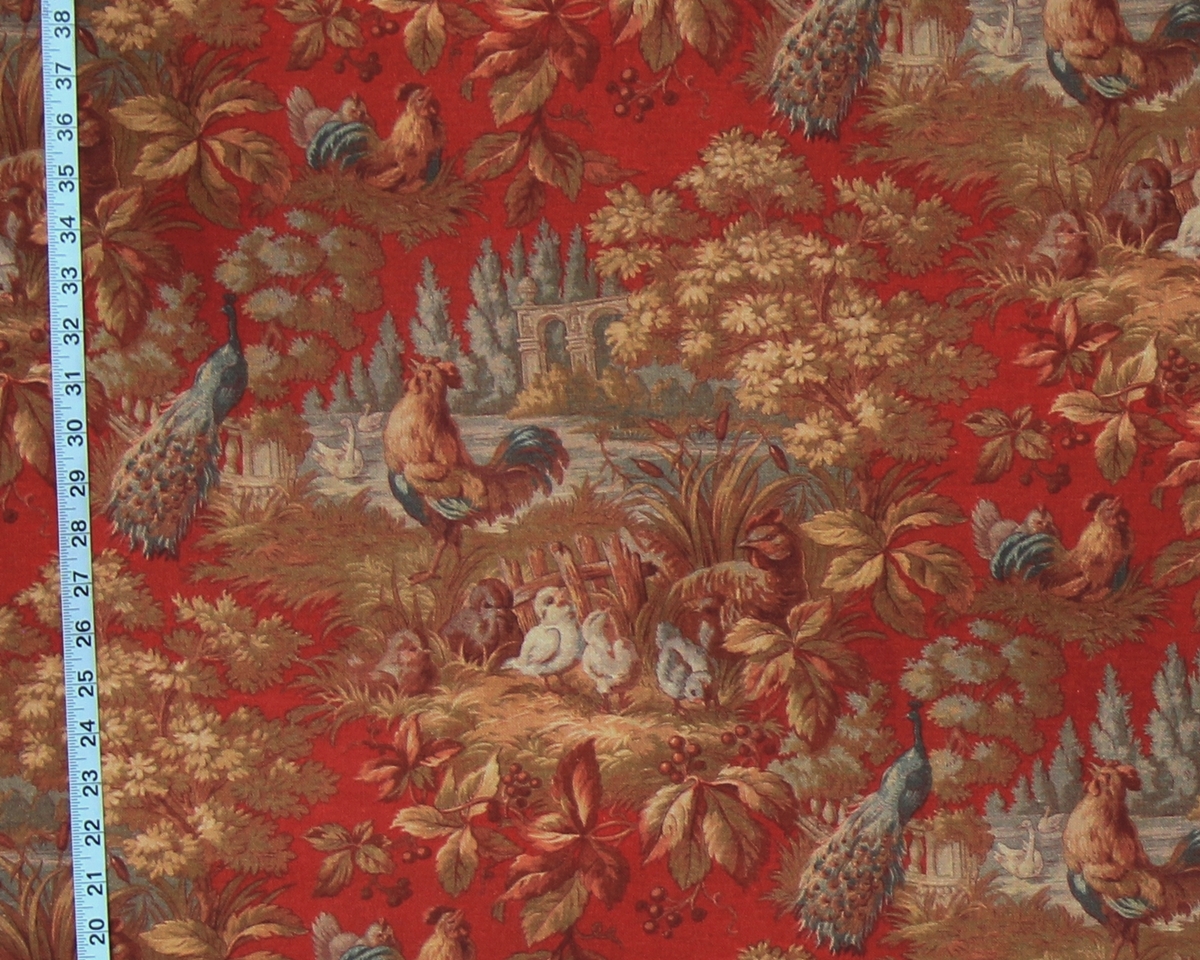 The background has a pond with swans,
and an architectural ruin.
The peacock on the balustrade adds to the
feeling of an estate.
The coloring on this is truely exquisite-
the soft greyed blues and sage are a wonderful contrast to the reds and golds.
I like it that the chicks are more than a single color.
The background is a tonal red.
Depending on the light it can appear more red,
or even have a salmon undertone.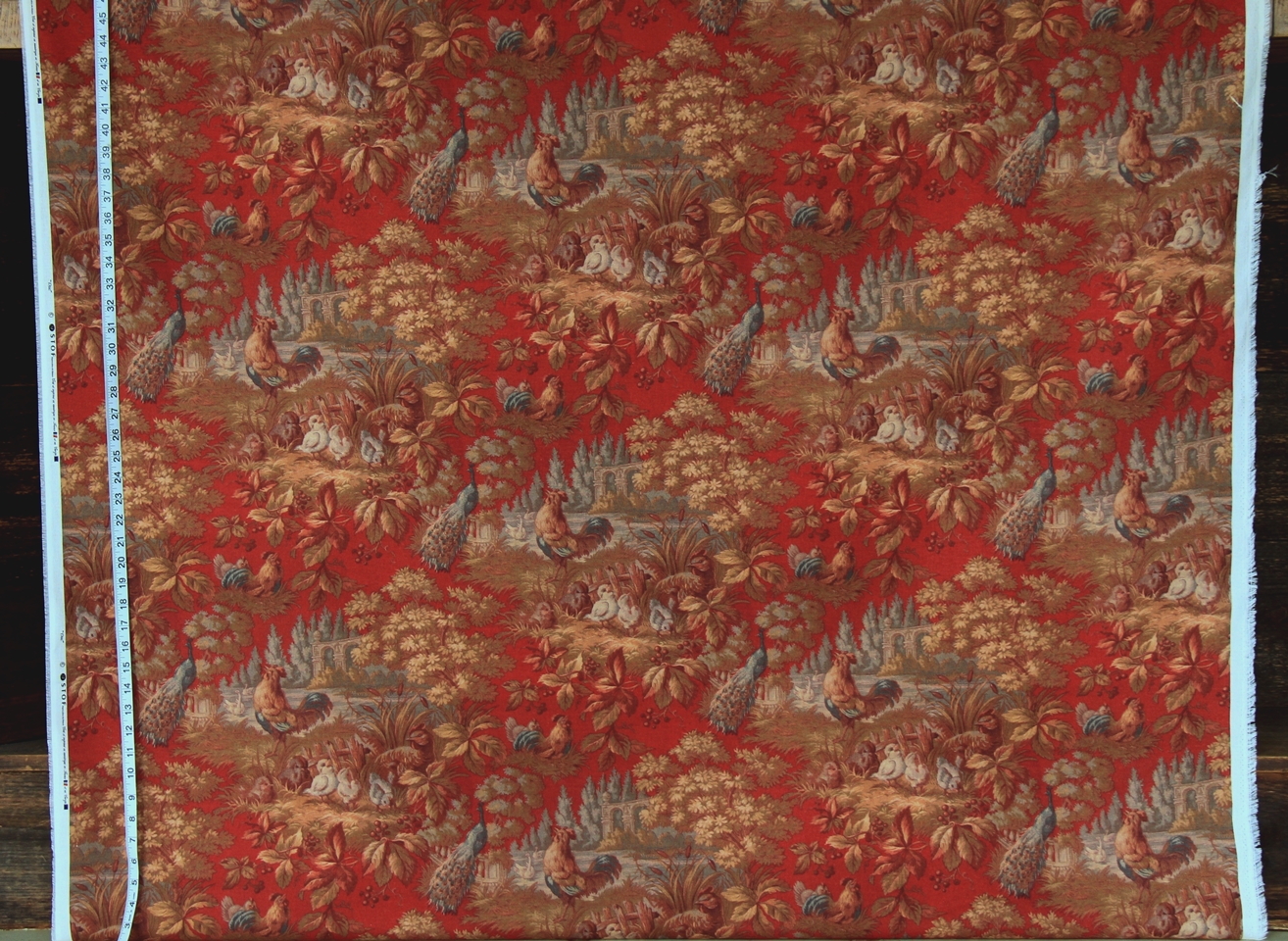 I suddenly realized a fabric that we have carried for a long time had been left out of this
blog post on chicken and rooster fabrics!!
This has different roosters shown with the name of the breed,
with French writing along side.
The small barns and trees gives depth to the pattern.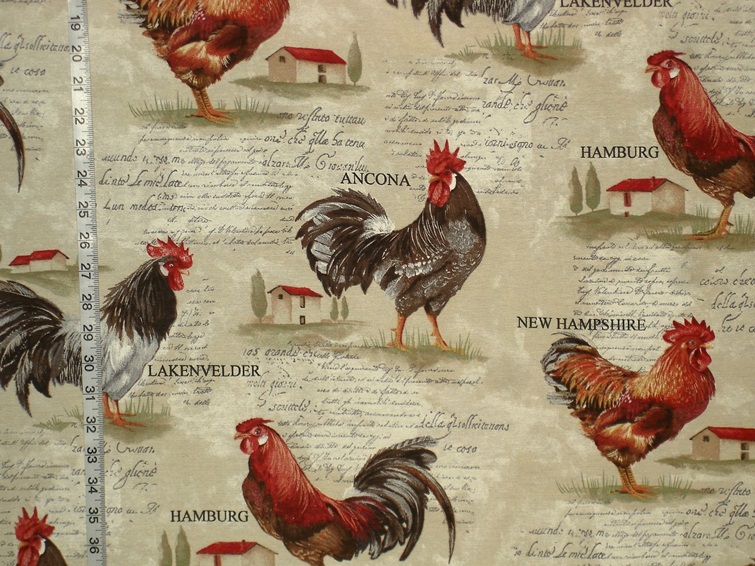 This Roster Toile Fabric is done in fall colors.
It is interesting as the colored roosters are rendered
as an out line drawing in about one third the size,
as a background.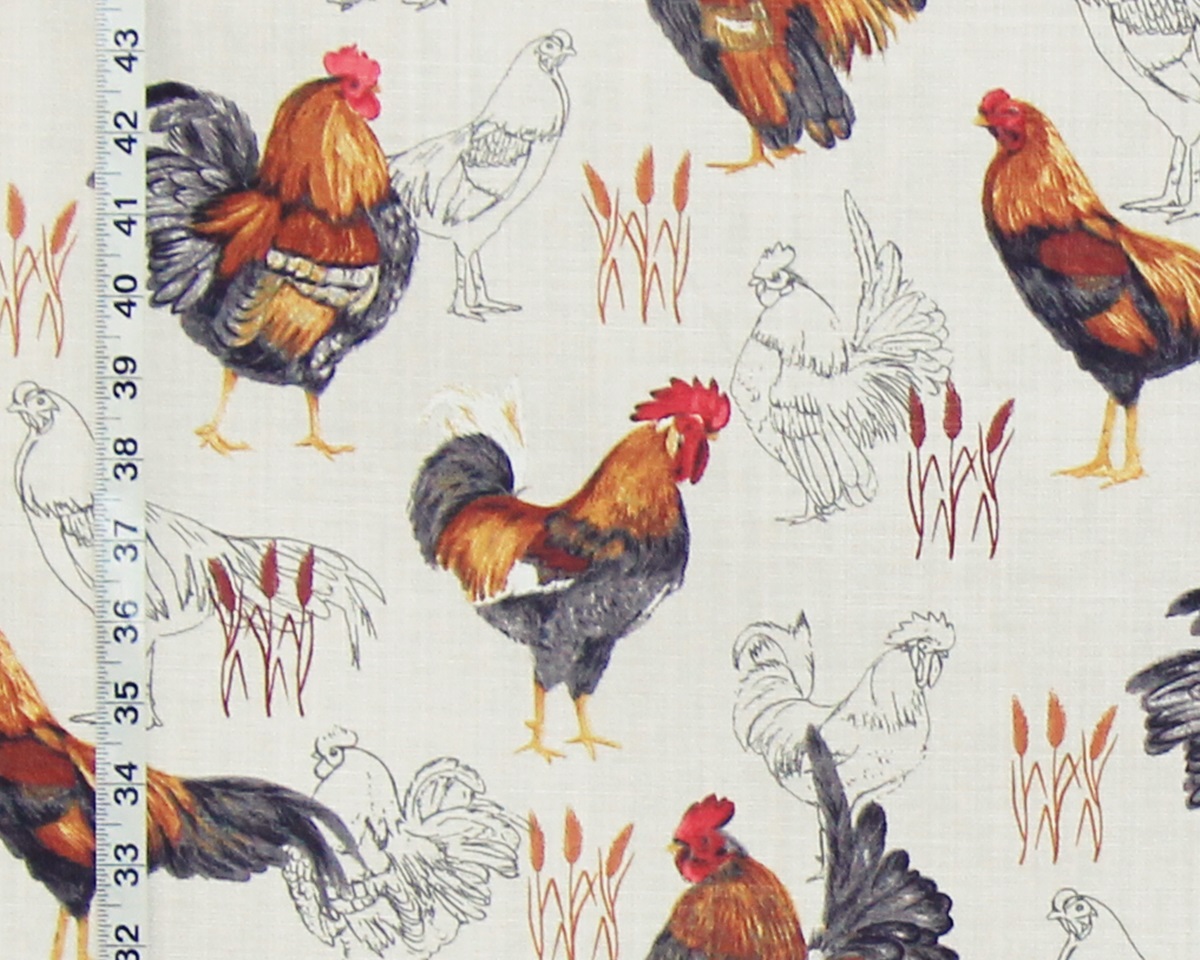 Please see all of the currant rooster and chicken fabrics in the
ROOSTER CHICKEN FABRIC category. 
Save
Save
Save