Well, this month is odd… every date will begin with 11 and end with it: today being 11/6/11! There was a hard frost last night. This morning was windless, with large leaves drifting off of the trees.
SUNDAY- November 6,2011
This week the weekly special is
the tropical parrot bird of paradise lotus fabric.
This is a bright, cheerful pattern with bold coloring.
It is sold in a large increment of 59″ to get all design parts.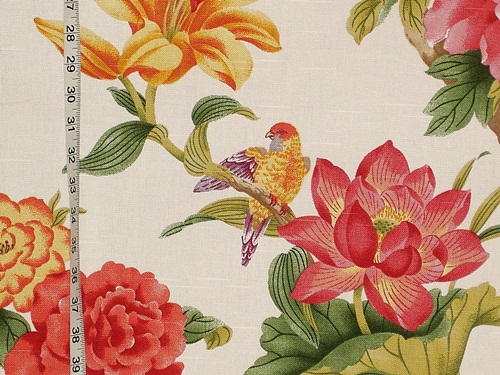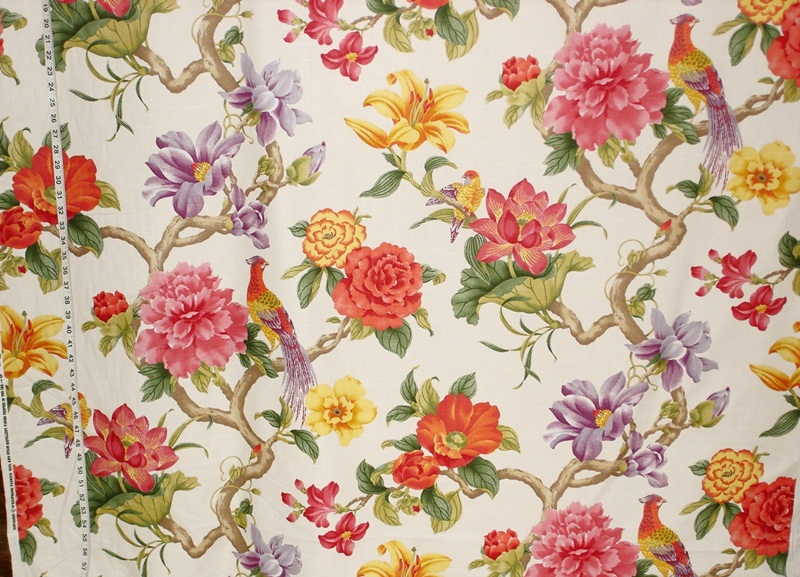 This can be seen in the
Tropical Fabric category
For those that have not been reading: the new Ocean Fabrics have been listed. These are a mix and match group of five patterns, in two colorways- red and blue. There is a coral fabric, a coral sea fan fabric- with documentary print, a seashell fabric, a coral and seahorse fabric, and a fabric with antique urns and coins from a ship wreck. Most are in the Coral Fabric category, and the shell in the the Shell Fabric category. Two of the fabrics are back ordered: the seahorse in red and we also have it coming in lime green.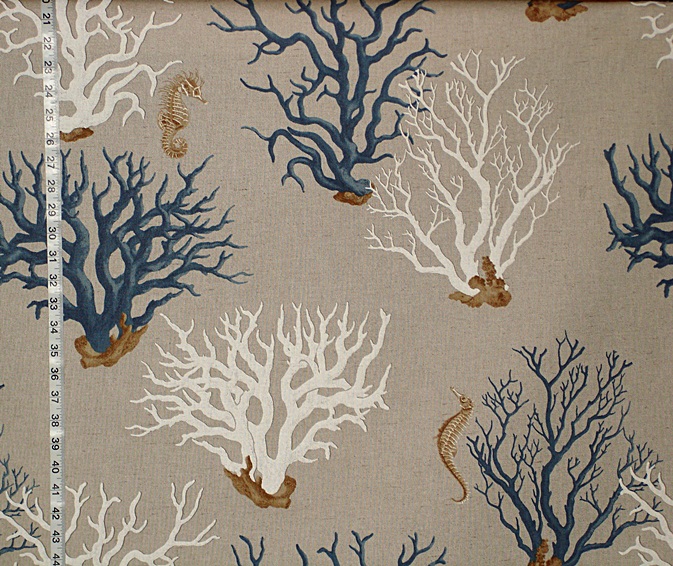 TUESDAY- November 8, 2011
JUST LISTED:
Medieval fabric with English and Germanic documentary script, done as a toile. This is an intriguing pattern with coats of arms, heraldic shields, griffins, lions rampant, and eagles! This screams baronial castle!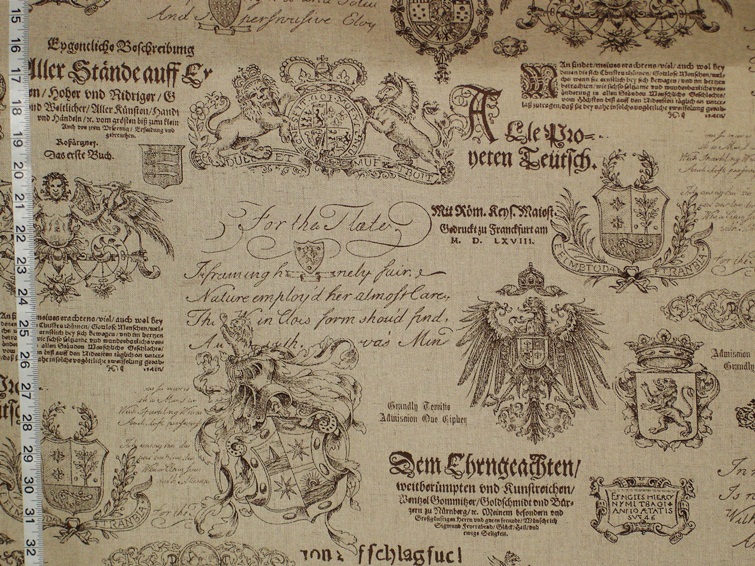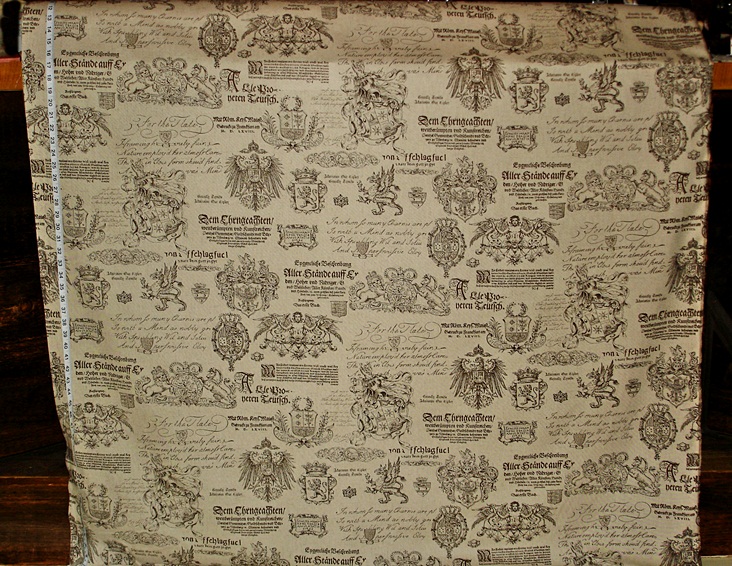 The new Medieval fabric can be found in the
Medieval Fabric category
CHRISTMAS IS COMING
The weather is continuing to be fine. So much to do at this time of year! The days just fly past! It is hard to believe that Christmas is coming within two months! This year most people seem to be making cushions for their friends and family, though tote bags continue to be popular as well.
So, think about what a person loves, buy some fabric that would interest them, and make a pillow for a gift!
Right now the hottest colors are neutrals and red! I mean red like has not been seen since the late '70's! Bright, strong red. I see it in lipstick, sweaters, suits. And men are wearing it as well!
What do we have for red?
Well, the reds that spring to mind are the berry red Laura Ashley toile.
This always makes me smile:
the lady fishing just looks soo comfortable!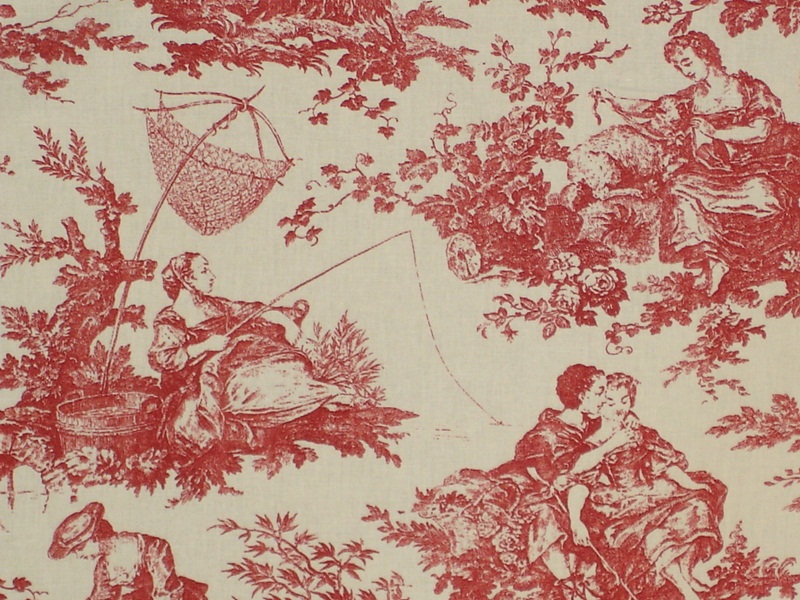 For a strong true red
the red toile with birds and passion flowers is just right!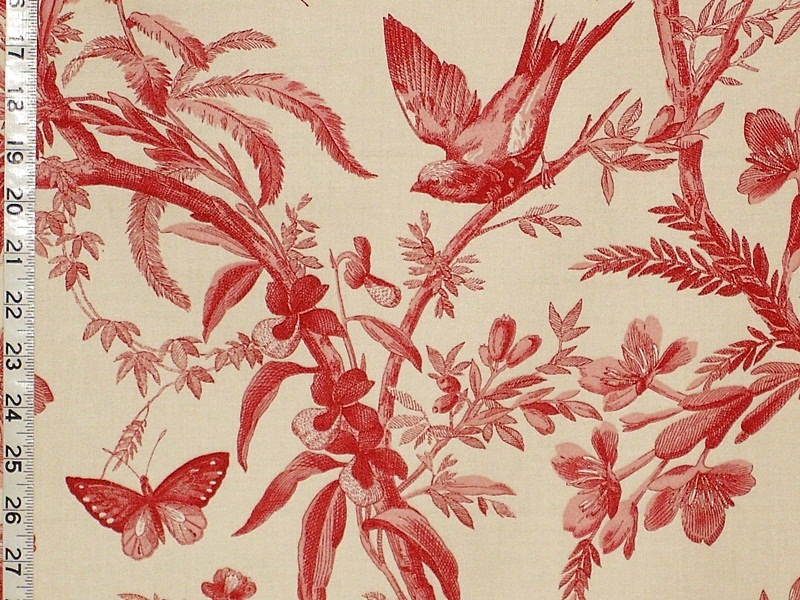 Moving toward a true scarlet is the
red waterlily fabric.
This is a most surprising fabric with softly colored autumn leaves and birds with brilliant white waterlilies on a swath of scarlet!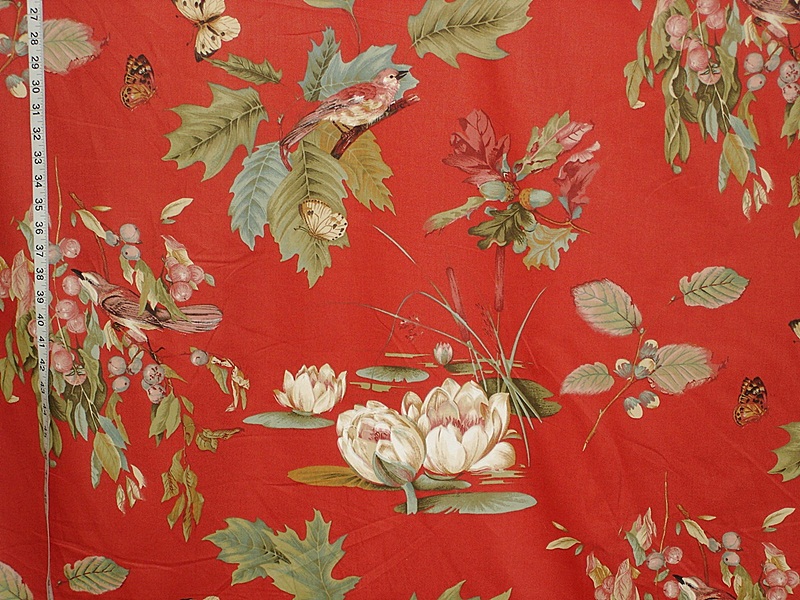 These and other red fabrics from
deep Victorian red peacock feather fabric to paler tones
can all be found in the
Red Fabric category,
on the right hand side of the page.