It is hard to believe the last week of October is here. But, it is. This fall was a very strange one in Maine.
This year, we had a very long, wonderful autumn. While there was one stretch of cold weather early on, for the most part there were long stretches of warm weather, with temperatures sometimes reaching the 80's F.! No one ever remembers this happening. Our growing season was fairly wet, which usually means for brilliant fall foliage. This year, the colors are drab. Many of the leaves on maples, turned brown on the trees, and dropped- damp, rather than coloring up, being dropped, and drying on the ground. Perhaps the warm weather was to blame for the lack of color… who knows? Be that as it may, the colors are very muted, but it is fall, the milkweed pods have broken open.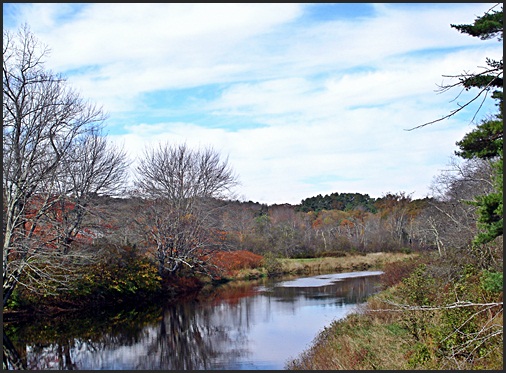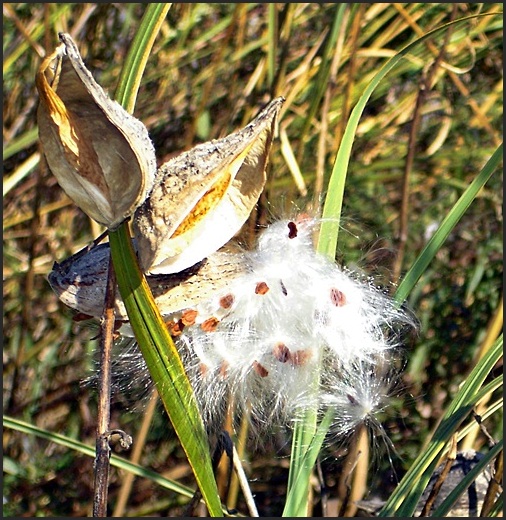 WEEKLY DEAL
The discounted fabric of the week is the
GREEN CORAL FABRIC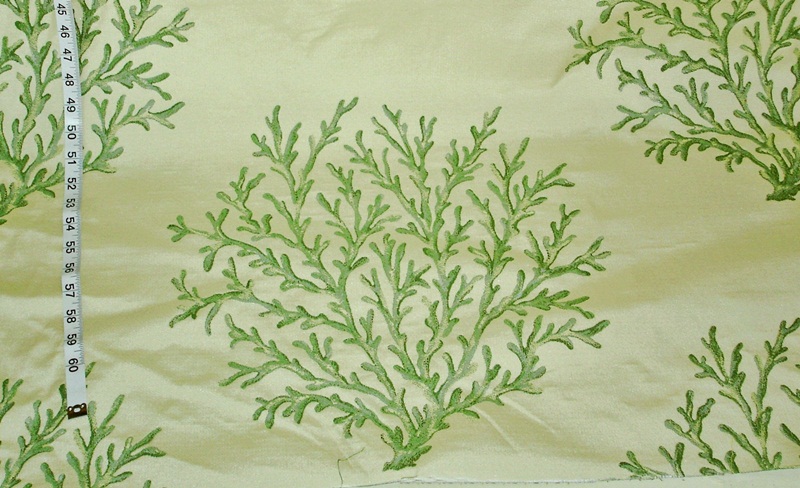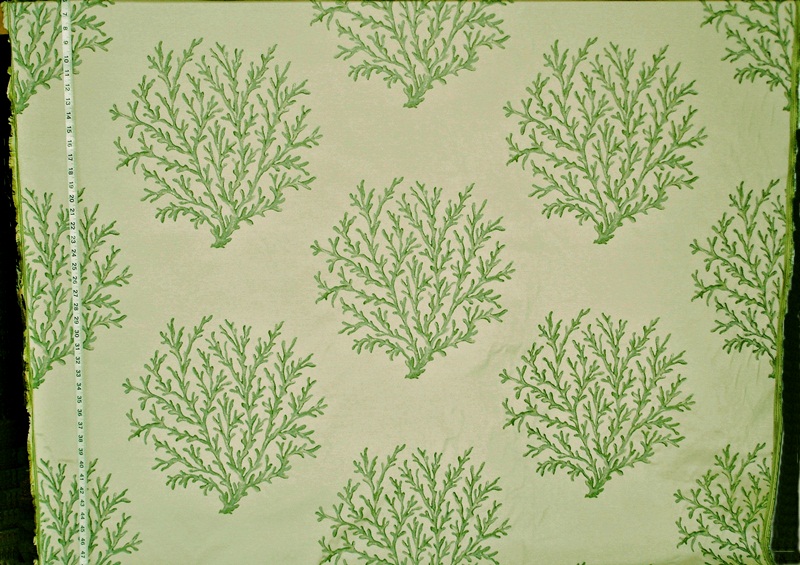 This is a woven upholstery weight fabric.
It is an Italian fabric that has been discontinued.
See it in the
Coral Fabric category
WEEKLY GOALS:
We found out at the end of last week, that some of the long awaited new fabrics will not be here until after December 1st. So, we are going to start adding what we have, in groups, by genre. This week we will be starting with the spectacular bird prints, and moving into the new travel fabrics after that. They will be showcased here as they get listed.
We will be finishing the blog post about the trip to New York, adding pictures. That is in the Sewing Notions, Maine Musings.
New recipes are also coming!
MONDAY- October 24, 2011
Once in a while a fabric comes along, and it is, for a variety of reasons, fabulous. It may not be the most expensive fabric by a company known for high end fabrics. Sometimes it is just that the pattern, color, and the actual ground cloth combine to make a fabric that is just stunning.
We ran into this with some of the new imported fabrics, the bird and shell patterns especially just cause one to gasp.
The first one of these these to be listed is the large blue crane fabric. Reminiscent of an antique hand colored print by someone like Audubon, this just sings. The pattern has a lot of grey and so the colors tend to flatten out. But, if you like birds, and need something unique this may be for you!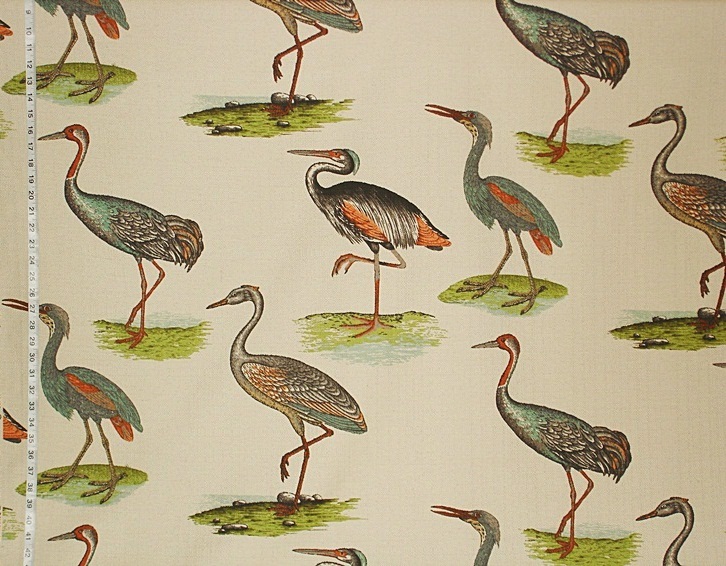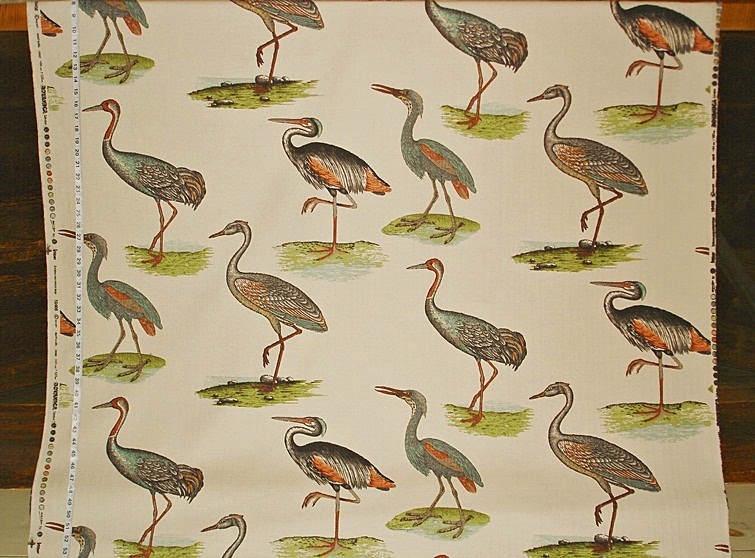 This large scale pattern
is also available in a golden yellow colorway,
for a lighter, clearer look.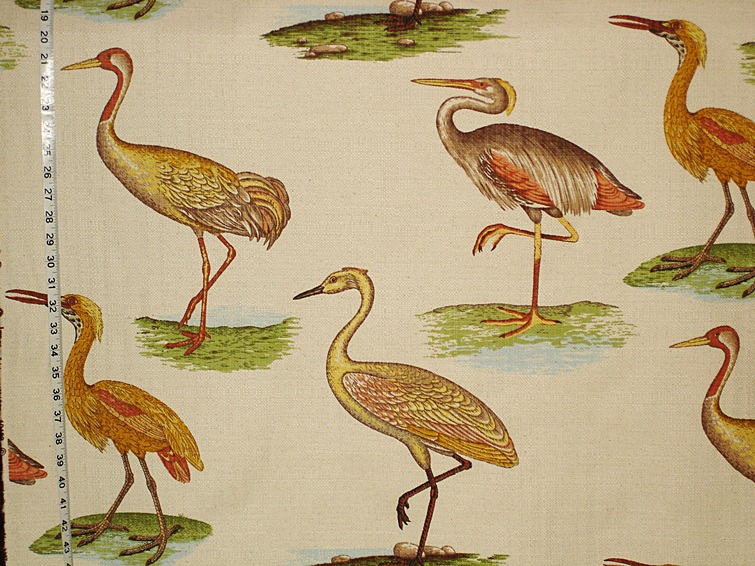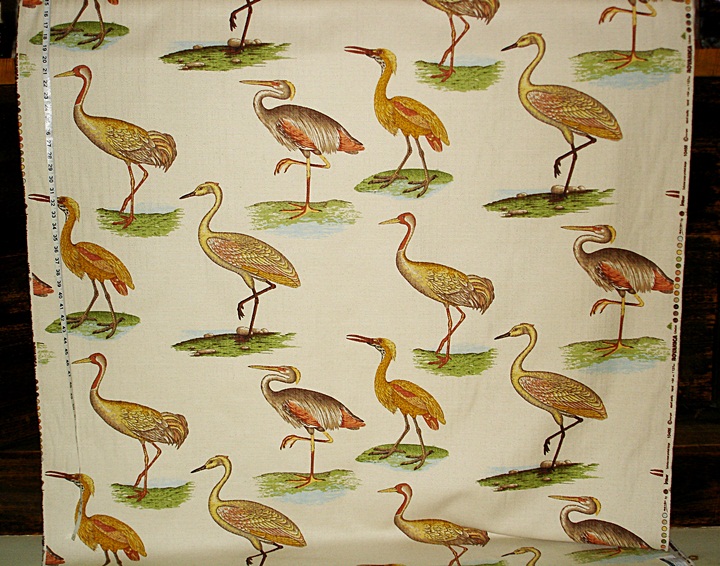 Both of these large bird fabrics can be found in the
Bird Fabric category.
There is one more of these bird fabrics. We will get it listed tomorrow. It is on the same ground cloth, which we will list tomorrow in the Upholstery Fabric category.
WEDNESDAY- October 26,2011
Snow is in the forecast! Will it happen? Will let you know tomorrow!
The next segment of the trip to Hudson and Albany, NY is up…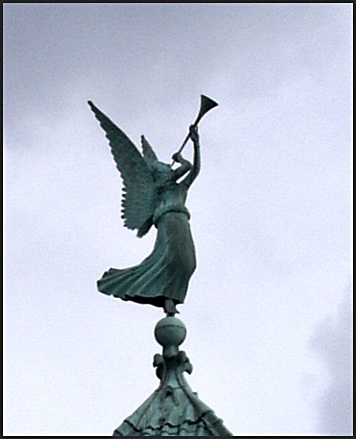 See
Maine Musings in Sewing Notions
We hope to finish it tomorrow!
JUST LISTED:
Vintage Italian Pottery Fabric
A fascinating fabric with lidded pots decorated in blue
against a background of the same pattern
but in a slightly different shade.
The effect is unique!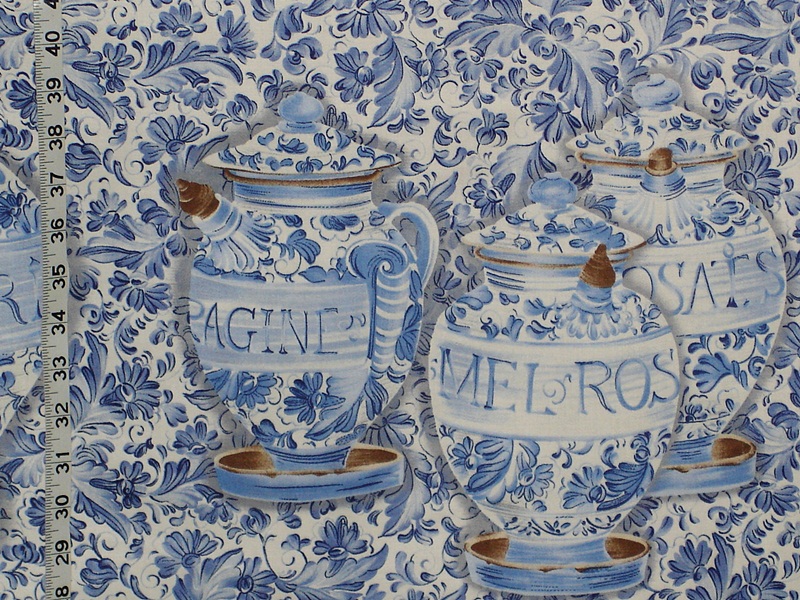 You can find this in the
Collectible Fabric category.
SATURDAY- October 29, 2011
Skies are grey, and it is cold! Snow is expected, and we are ready. I got out my old down coat (about 20 years old), and the boots. We have a 50 lb. bag of peanuts for the squirrels, and 25 lbs of black sunflower seeds for birds. The crows have been hanging around, eating left-overs from other birds, so we got a loaf of bread for them, in case everything is buried in the morning.
Went to Camden to get a sandwich for lunch. Cords of wood have been dumped in front of houses, ready to be stacked, at the hardware store a man order 3 tons of pellets for a pellet stove… I wondered where he would store it- that is a LOT of pellets. And trucks are seen with plows on the front… people are ready!
The third bird fabric has been listed.
This has several different birds, with their Latin names in script,
like an old print.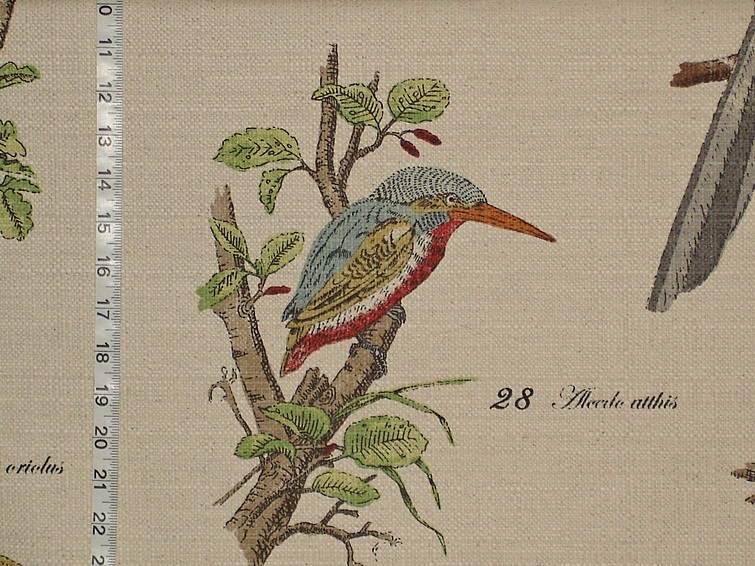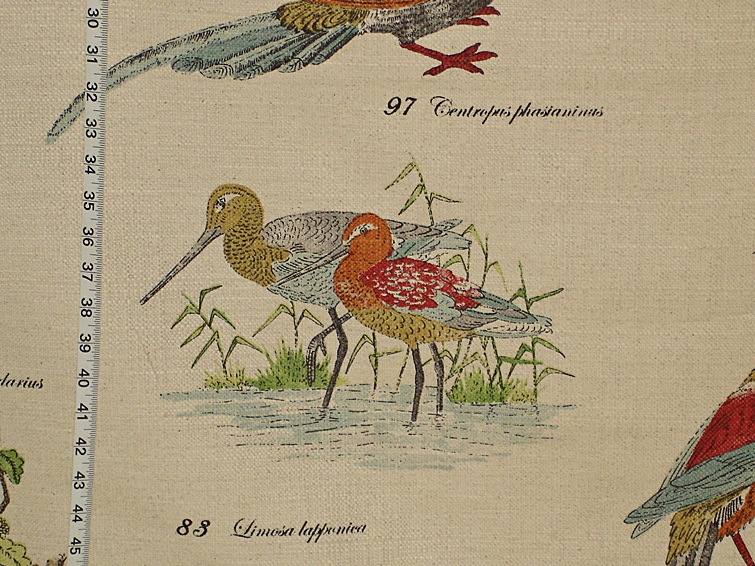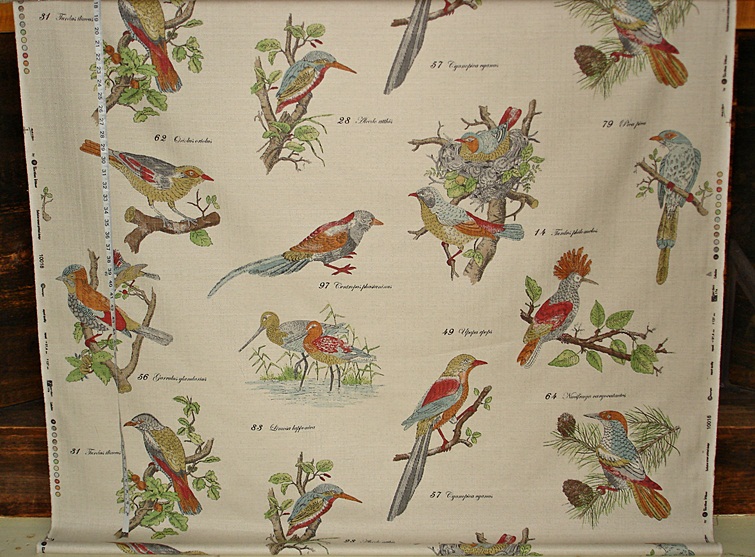 This bird fabric, with its numbers and script,
has a clean, fresh look.
It can be found in the
Bird Fabric category.