A well made cream sauce is a thing of beauty and a joy! For us it is traditional for our Thanksgiving dinner.
A cream sauce is a useful thing to know how to make.
And it is easy!
INGREDIENTS
1/4 c. butter- unsalted is best
1/4 c. flour
2 c. milk
2 c. heavy cream- not ultra pasturized
1/2 large white onion
3 cloves
1/2 – 1 bay leaf, depending on the size
Salt, pepper, freshly grated nutmeg.
Preheat the oven to 350 degrees F.
Melt the butter over low heat.
Whisk in the flour, and blend to make a roux.
Stir on low for 3-5 minutes.
Then remove from the heat to cool slightly.
While that is happening put the milk and cream into a pan
and over low, heat gently.
When the roux is cool and the milk is warm, slowly stir in.
Cooling the roux will keep it from lumping.
Stir as you pour, it will thicken alarmingly.
Keep stirring to until it smooths out,
and is well blended.
Take the onion, and stud it with the cloves, down near the edge.
so that they will be submerged in the sauce.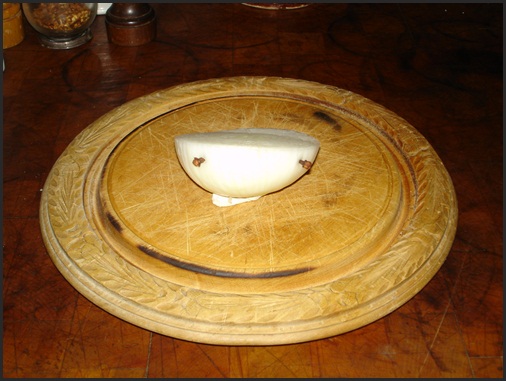 Make two slits on the cut edge, to let more juice escape into the sauce.
Add the bay leaf to the sauce, submerging it under the surface.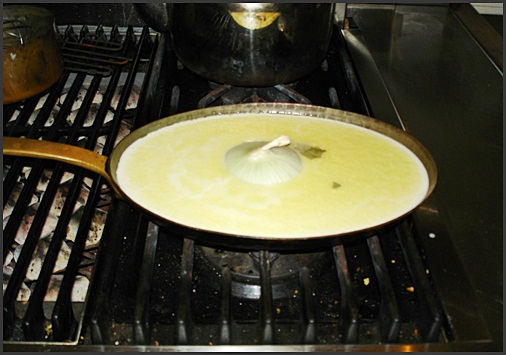 Put the cream sauce into the oven,
and let it cook for 45 min to an hour.
Check it every once in a while to make certain it is not boiling.
If it is turn down the oven.
When thickened enough to coat a spoon,
remove it and let it cool.
If it seems too runny, don't worry, it will thicken as it cools.
Put it in a cool, but not cold spot to age.
When ready to serve, reheat gently-
do NOT let it boil… it will break.
Remove the onion.
If you want it very smooth, strain it.
Season with salt, pepper, and nutmeg.
If the sauce does break, take some butter, and blend it with flour in a cup.
Slowly add some of the warmed sauce to the flour/butter
then add that back into the sauce and heat gently.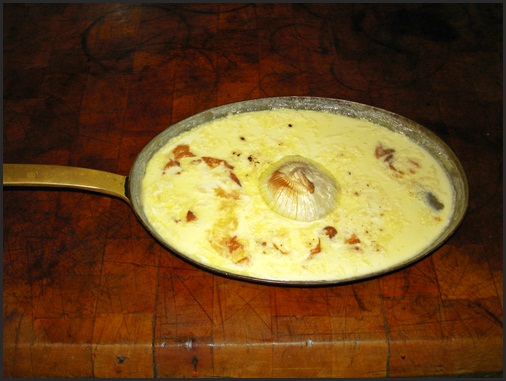 Serve with vegetables or use it as a base for other sauces.