Dog fabrics are far and few between.
But we thought it would be fun to take a look back at those we have had!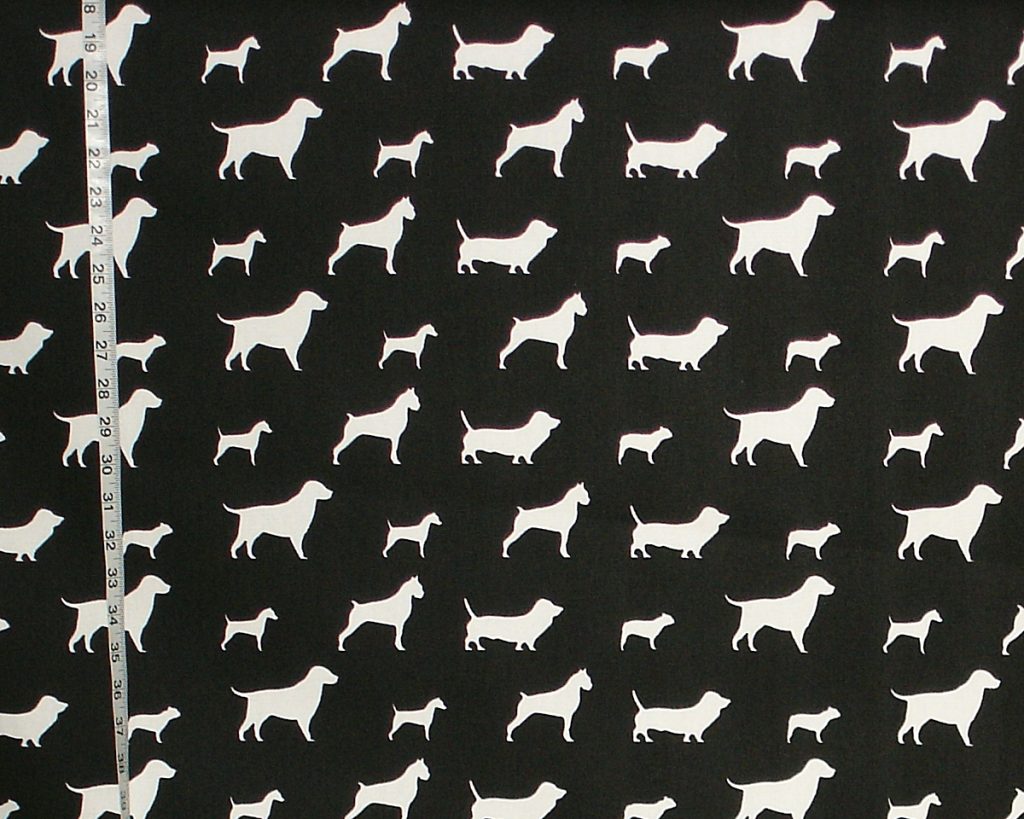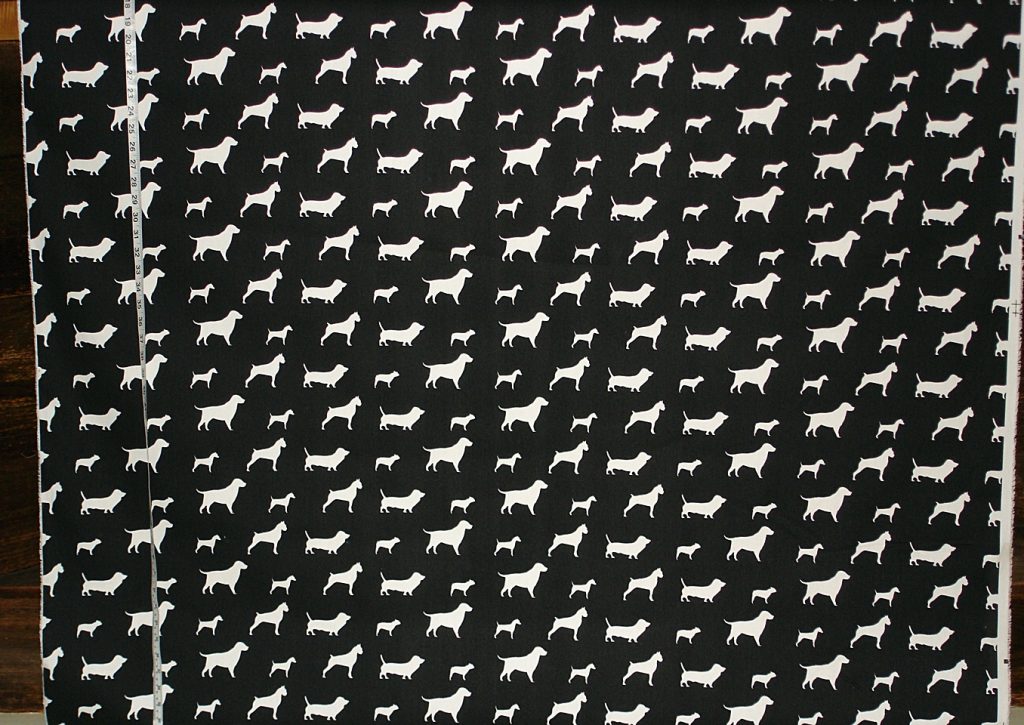 This black and white dog fabric was unique-
as it featured silhouettes of many dog breeds.
Another fabric that featured more than one dog
was this dog library fabric.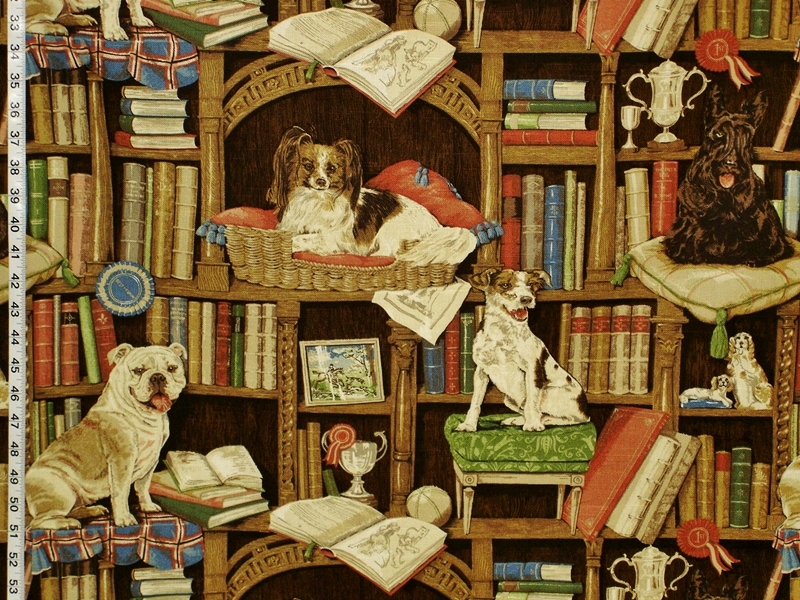 This was a P. Kaufmann fabric called Best in Show.
It featured dogs on chairs,  stools, and dog beds,
with ribbons,  medals, and cups
in a library.
This was one of those patterns where the more one looked,
the more one saw.
There are books open to pictures of dogs,
a picture of horses and hounds, and-
Staffordshire dog figurines.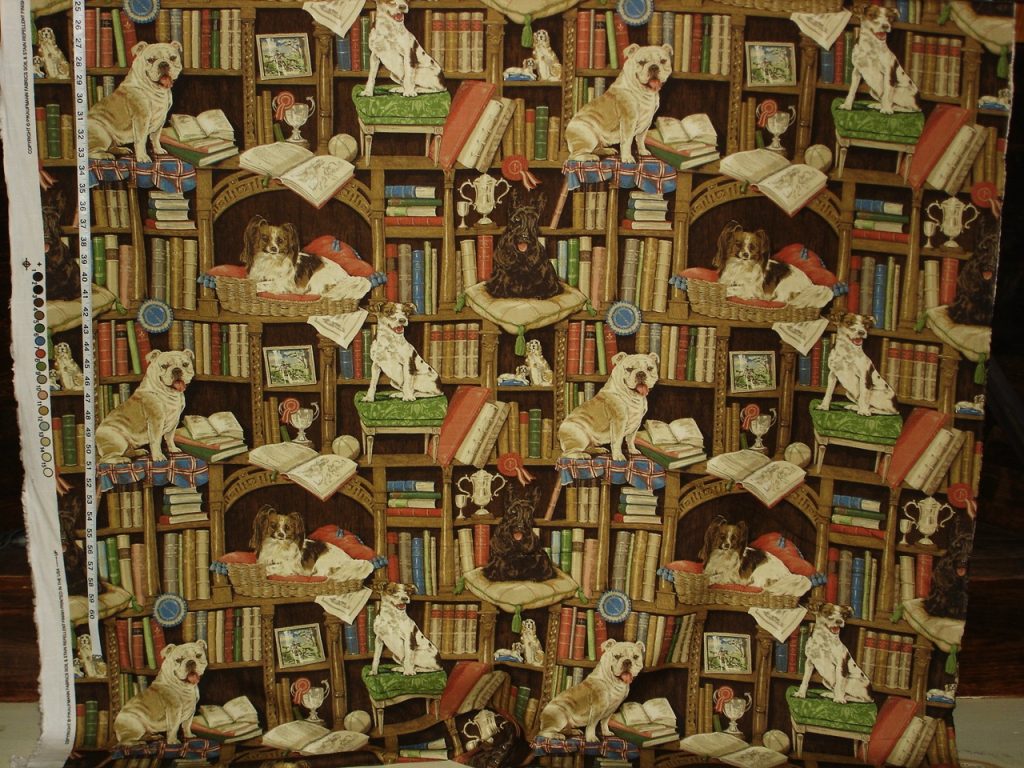 This  P.Kaufmann  fabric  featured a variety of dogs,
on furniture from the country from which
the dogs originated .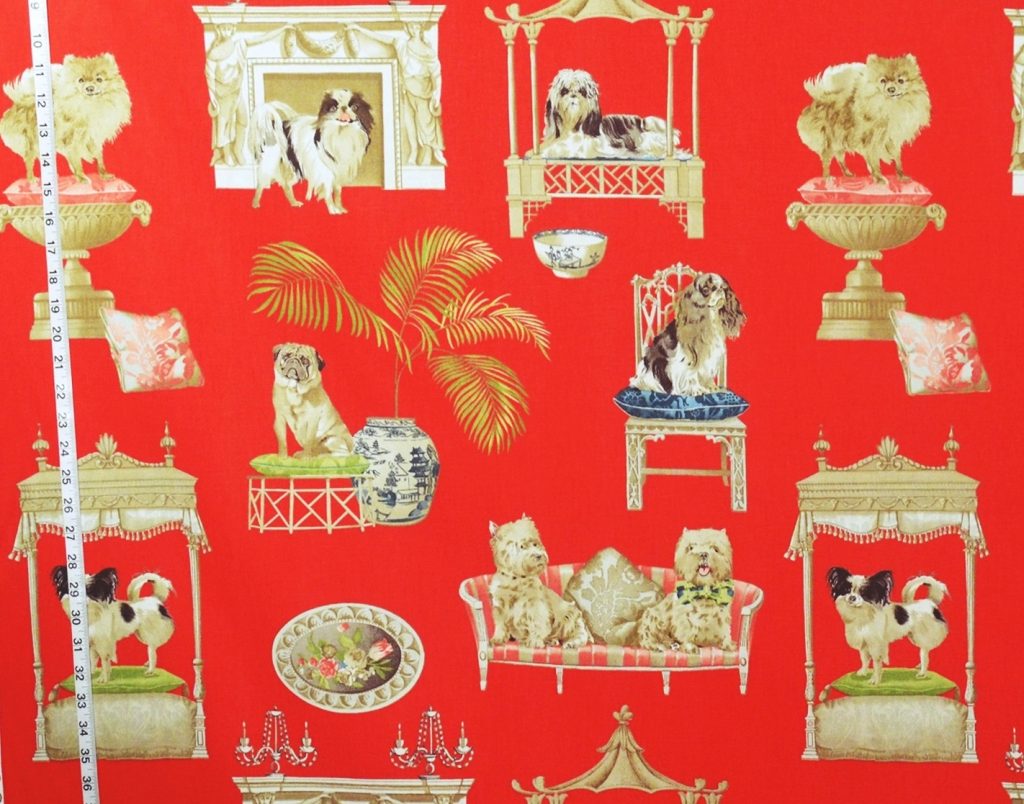 The red background was vivid!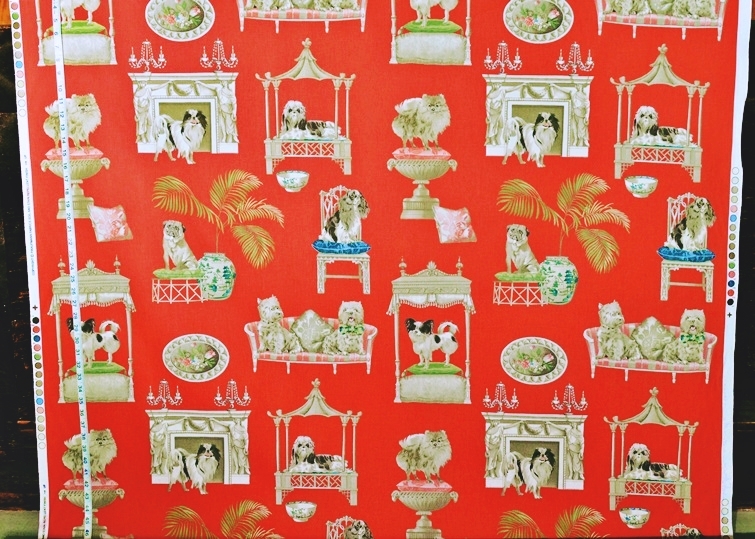 Many  dog fabrics feature two different breeds.
Scotties and a Pekingese shared space on this pattern by Kaufmann.
This was a cheerful pattern with the dogs on their pillows,
surrounded by wreaths of seasonal leaves,
on a background of background with bright blue stripes.
The stripe of red leaves adds even more color and interest.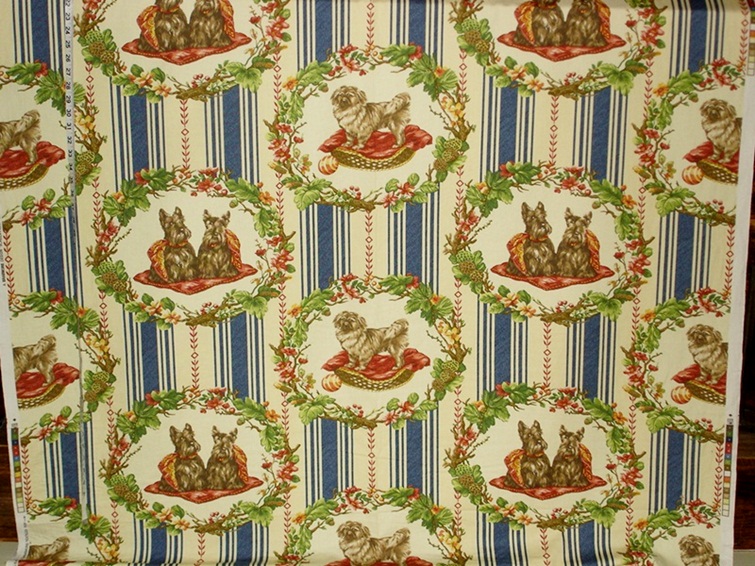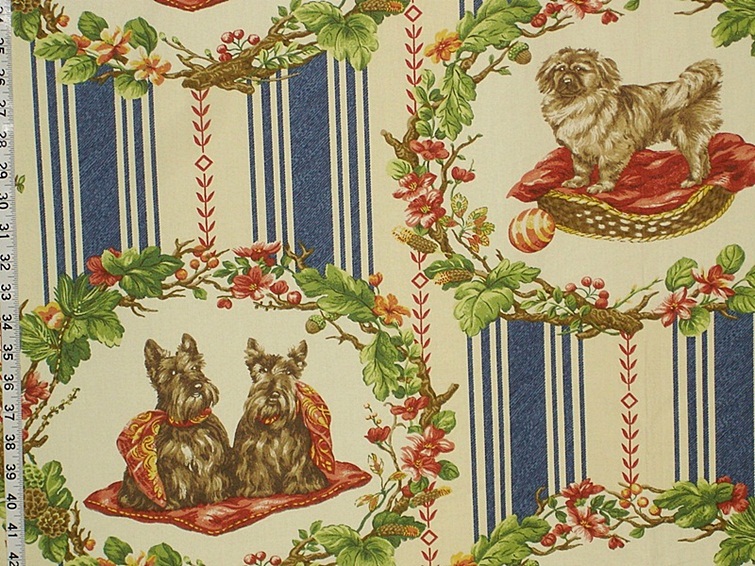 This dog fabric by Covington featured dogs and large bouquets of flowers
giving the effect of dogs in a garden.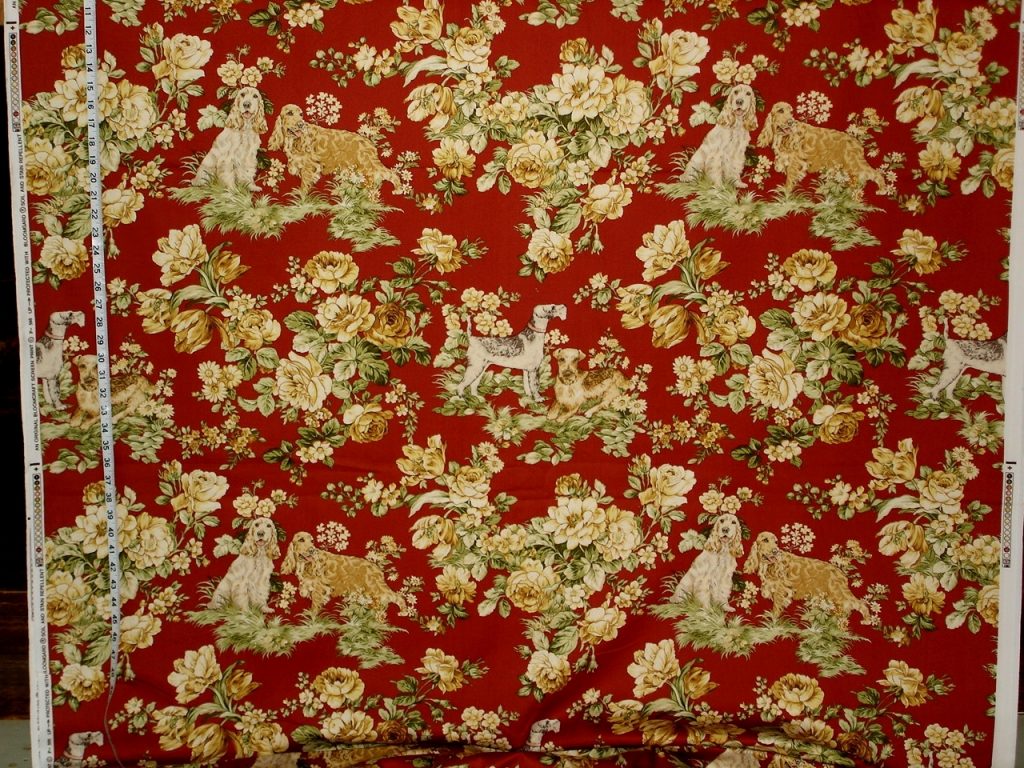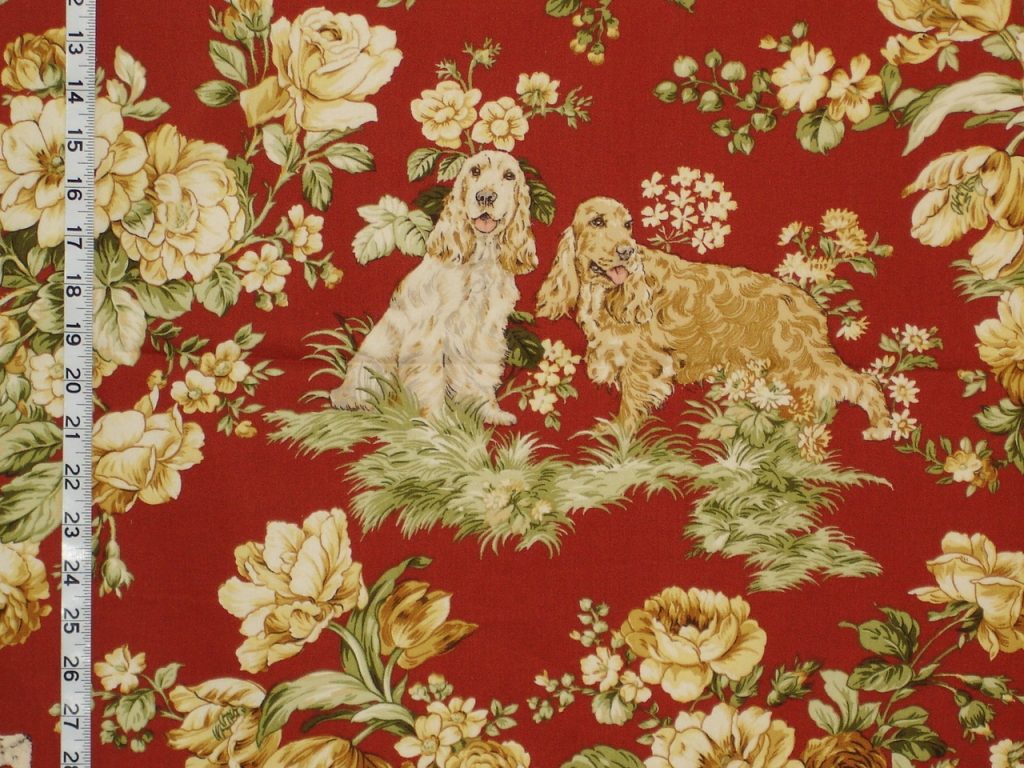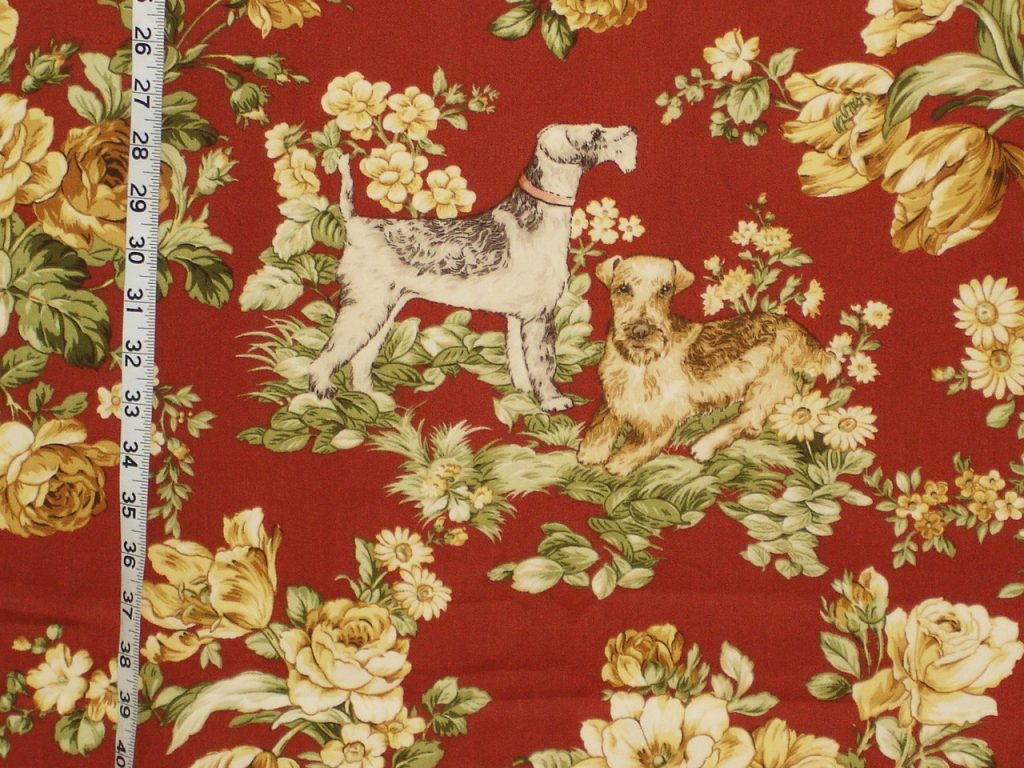 This Brunschwig & Fils fabric was richly colored,
with a classic look.
King Charles spaniels, Westies, and pugs
were framed by leafy vines.
The vines have a shadow print,
which added depth to the pattern.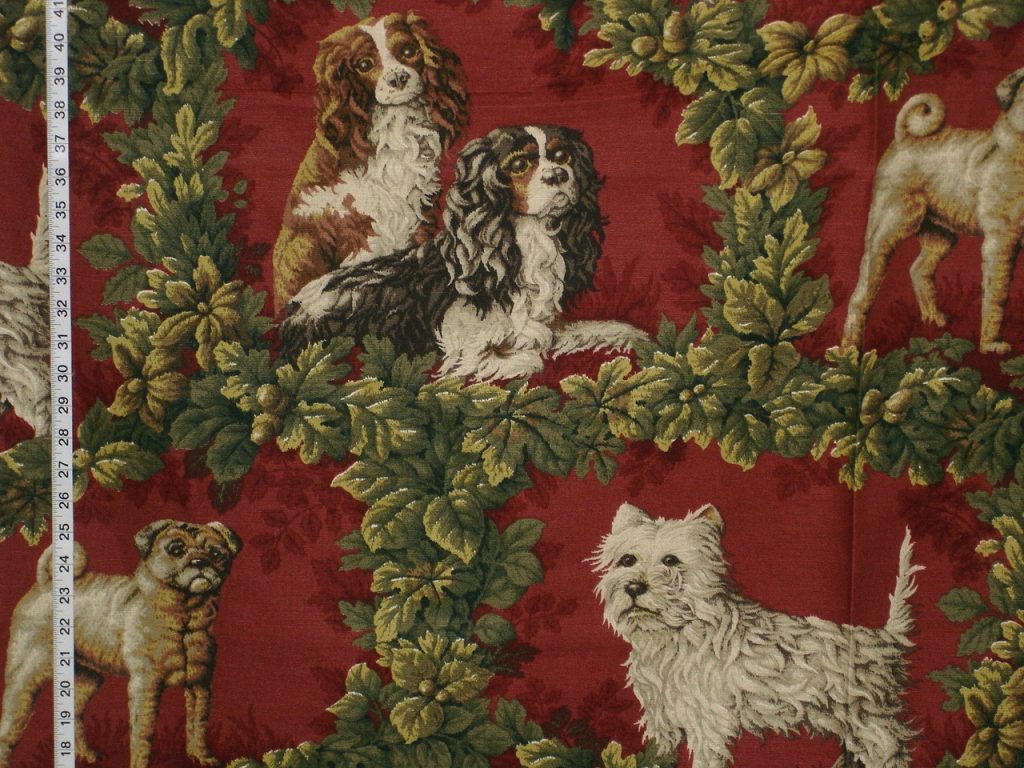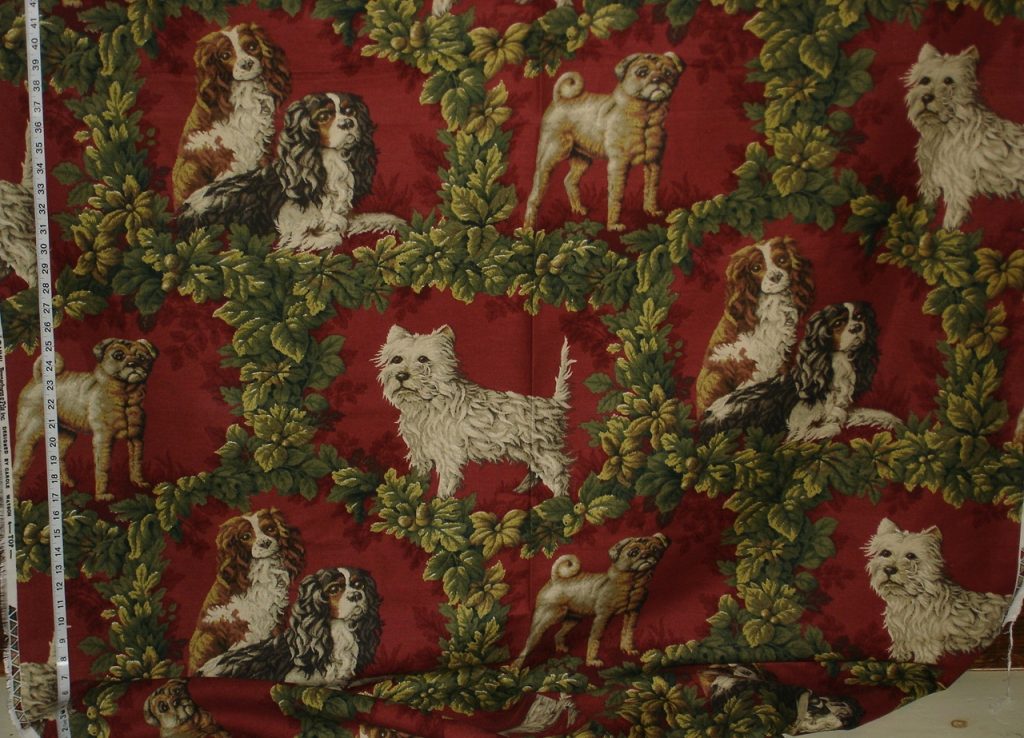 Many of the dog fabrics combined two genres.
This one features a dogs, ducks in flight,  with a horn,  and
a huntsman's leather pocket ona plaid background.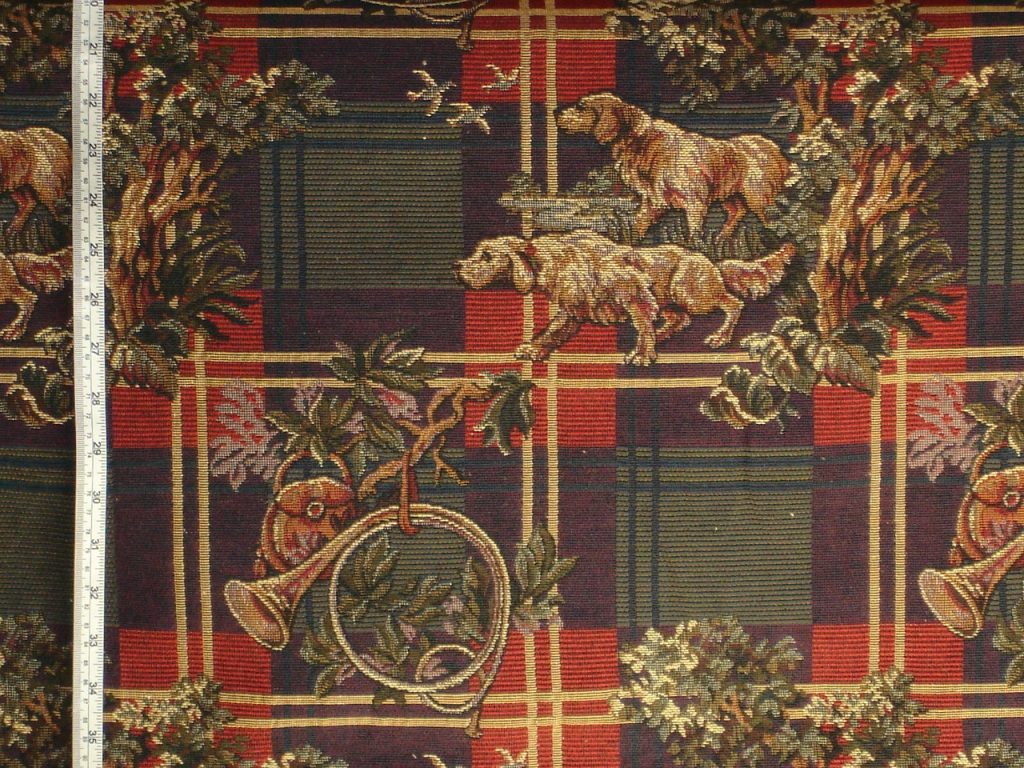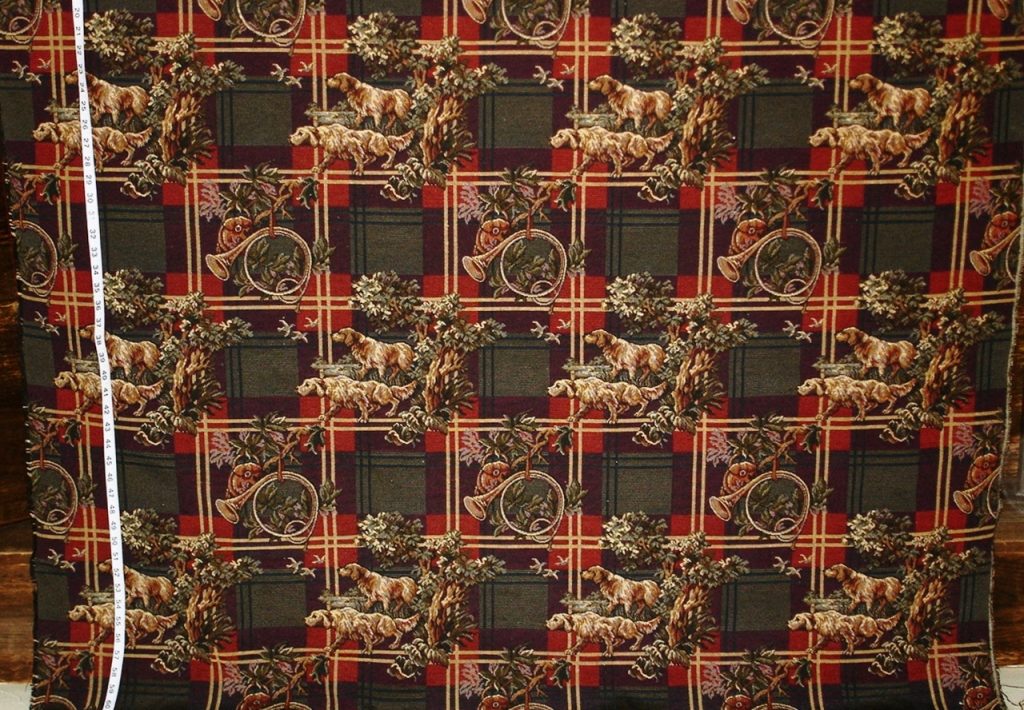 Schumacher did a dog duck fabric as well.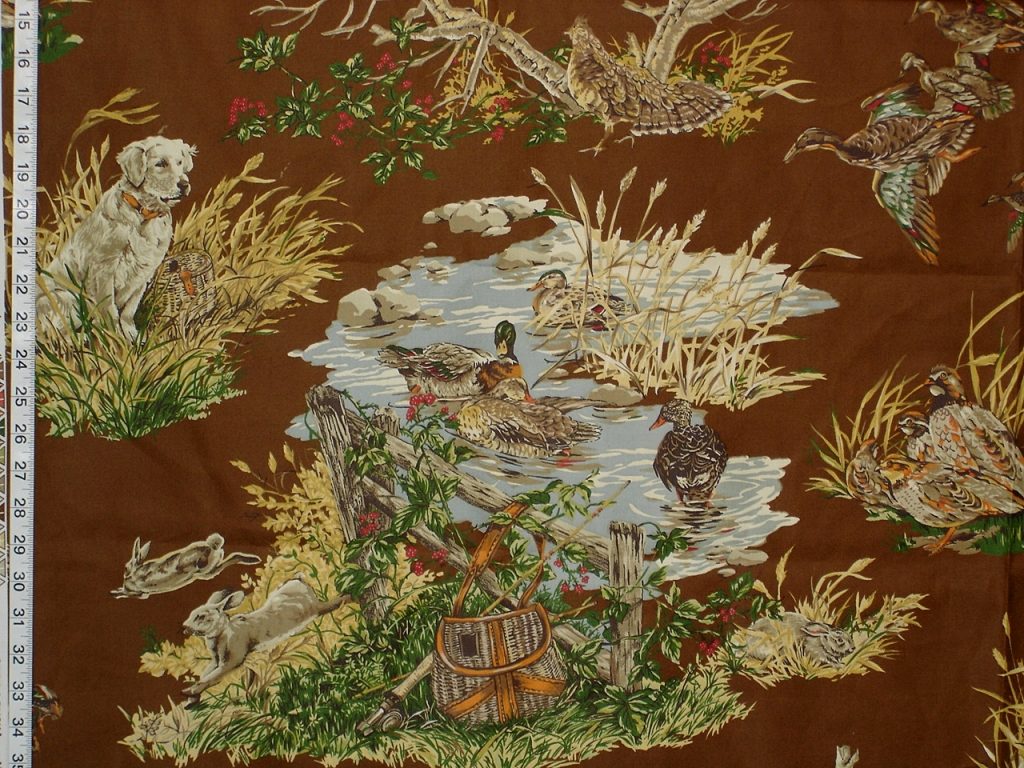 This fabric has a bit of everything that might interest a sportsman!
There are ducks, rabbits, quail, pheasant, rabbits,  and a fishing rod and creel!
And, a lab who seems mesmerized by the ducks !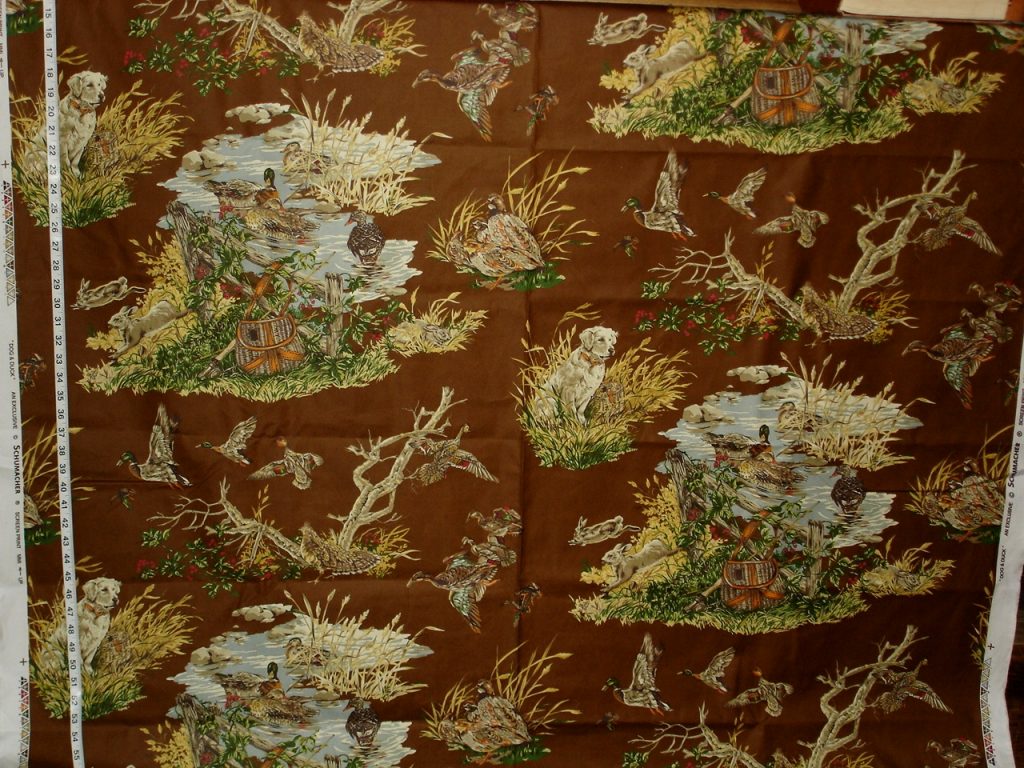 One of the most popular dog fabrics we had was a toile by P.Kaufman.
It featured dogs out and about on a fall day.
There were three vignettes.
While one shows the dogs surprising some pheasants,
another shows them staring at birds with a quizzical look on their face-
as if to say, "What are those? "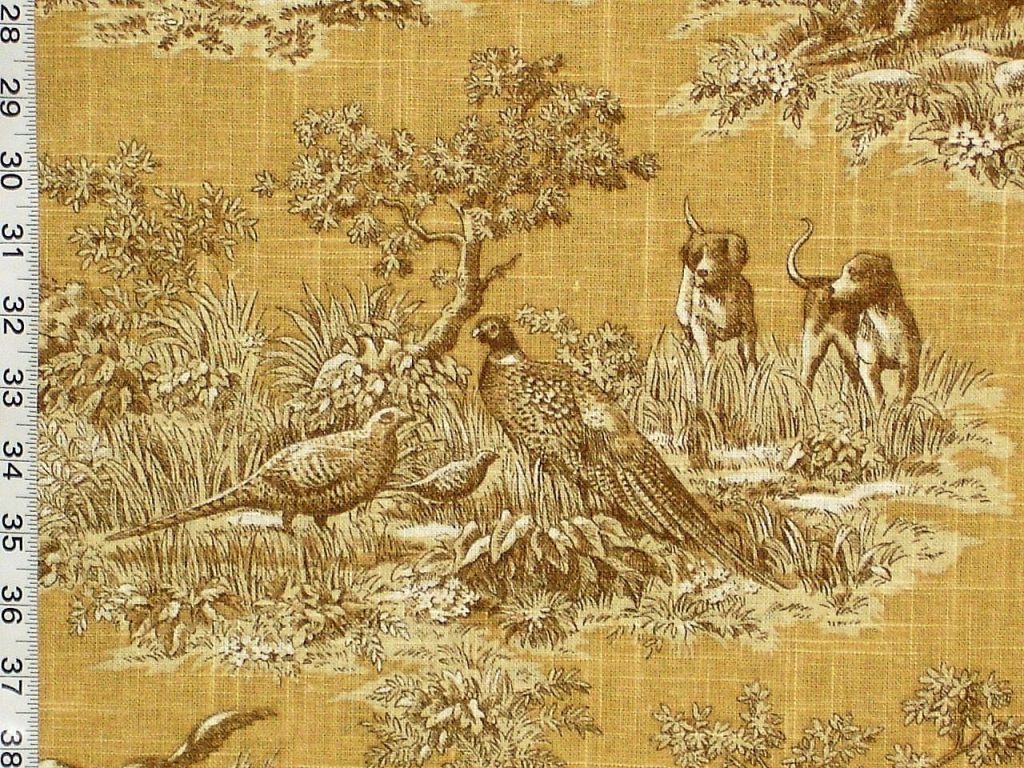 The last shows one tired out and  panting,
and the other still ready to go!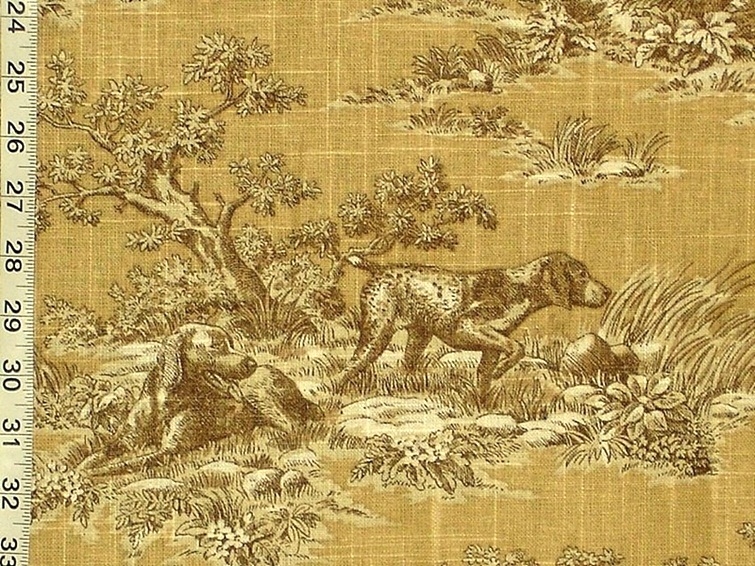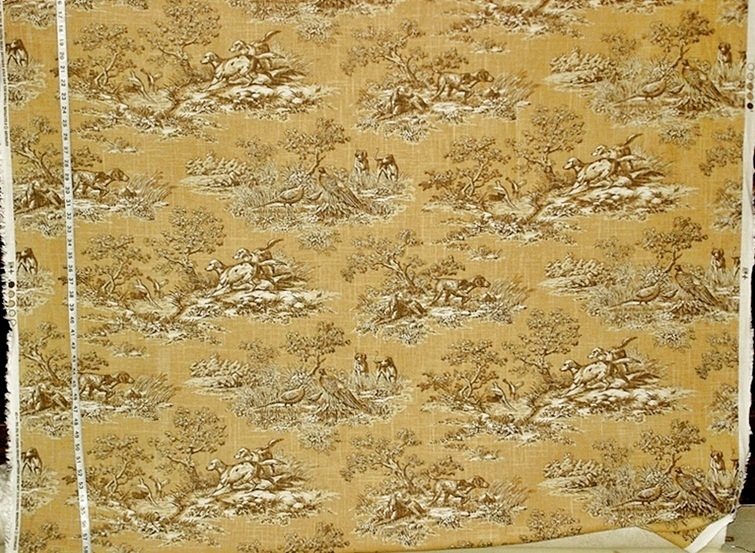 This also came in a salmon red tone and a blue.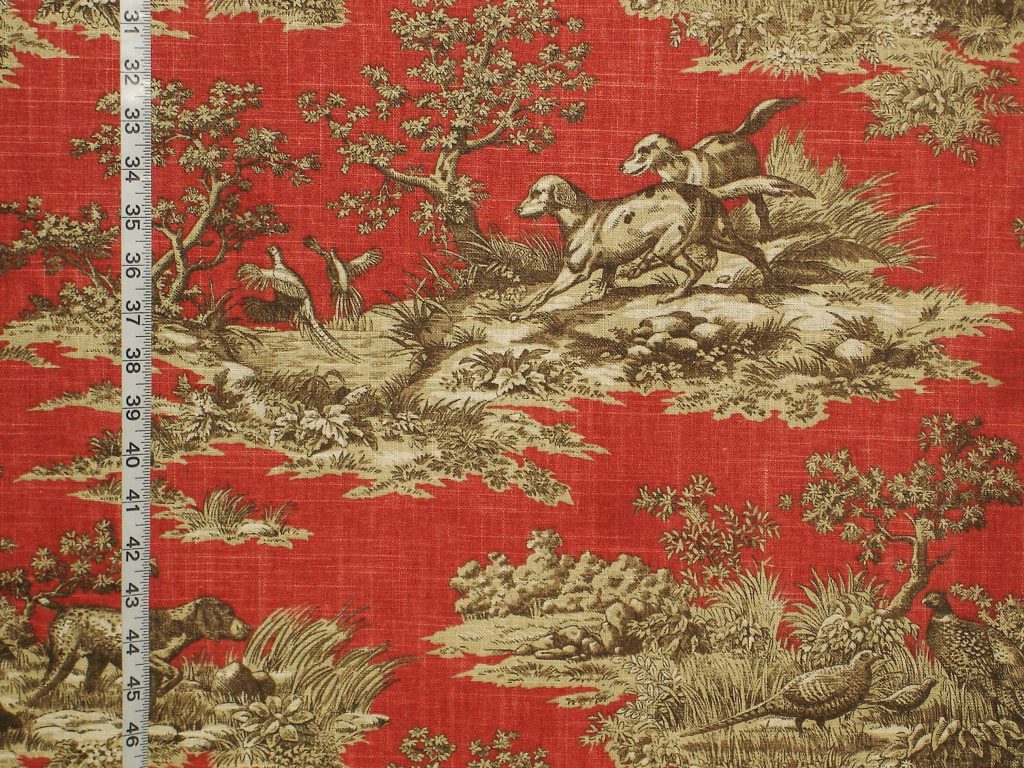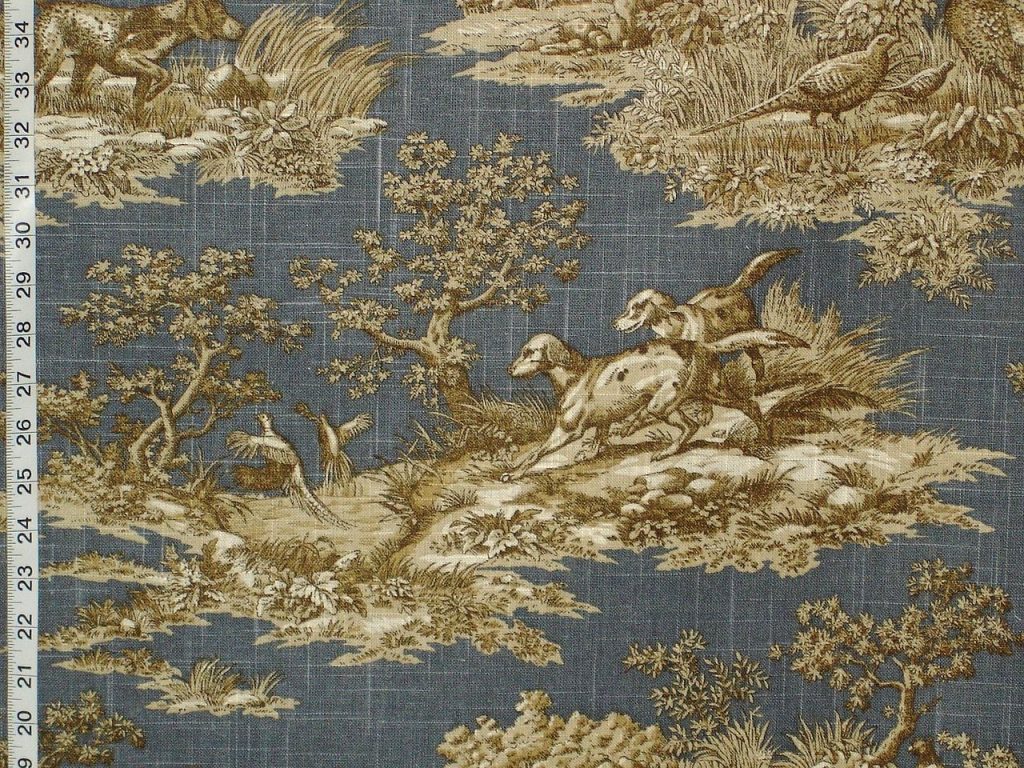 We do have more fabric patterns of dog fabrics, a
and we will be adding them to this blog post soon.
So, if you are interested in seeing them, k
please check back!
For all current fabrics with dogs,
please type "dog" into the search bar!
__________________________