This is just a short post about some things that are in very short supply.
The ones that are highlighted here are things we have carried for a long time,
but will not be able to get again.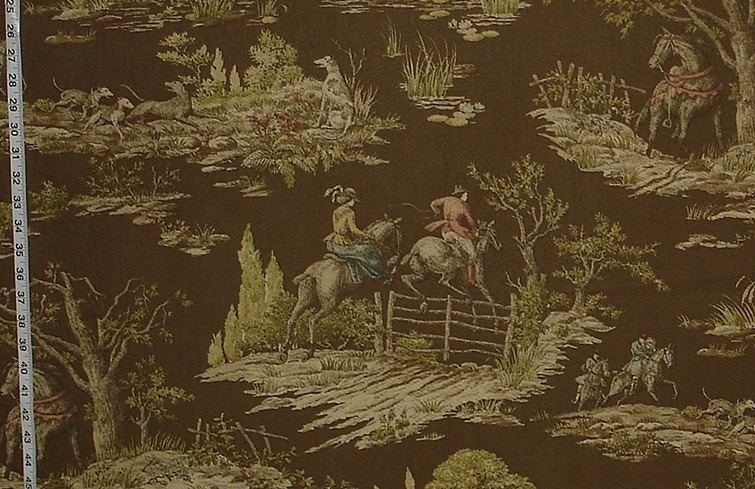 The Victorian horse riding  has an added detail of two men in a boat, fishing.
We have carried since it came out.
And, when it was discontinued, we bought all of it.
But, we are down to two pieces, each about 1 1/2 yds long.
Another horse fabric in short supply is the Red Horse Racing Fabric.
This has several horse scenes,
framed by a flowing vine.
There is a 10 yard piece,
and a few very short pieces.
See all the horse fabrics in the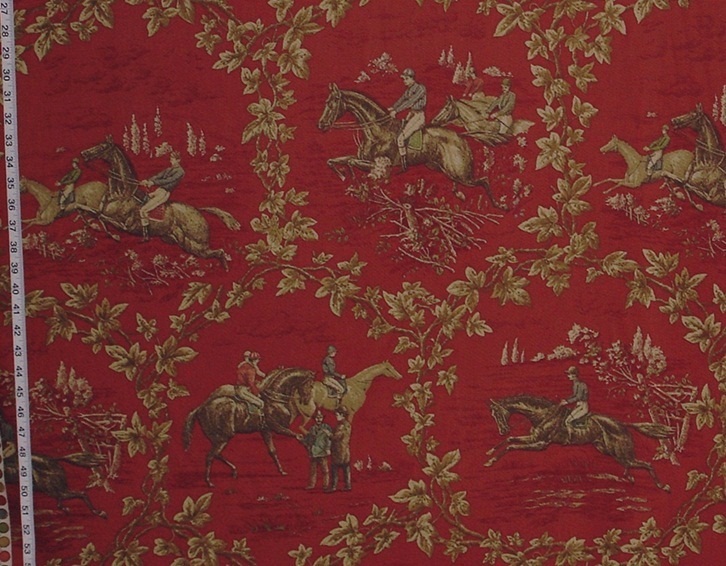 I recently found a piece of the mini coral fabric
on dark blue.
This is a woven upholstery pattern.
What is left is a 1 1/2 yard piece.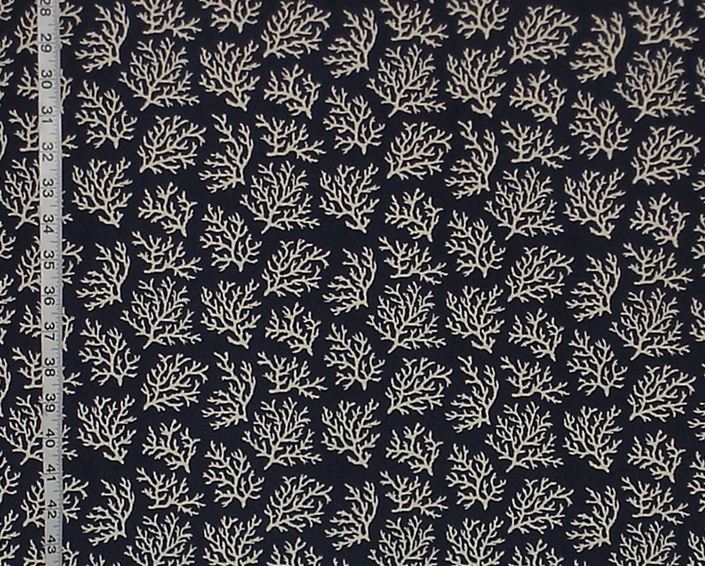 Another ocean fabric that is nearly gone is a Lacefield Design.
It is the dark blue seastars on white bark cloth-
there are 5 yards left.
See all the Ocean Fabrics in the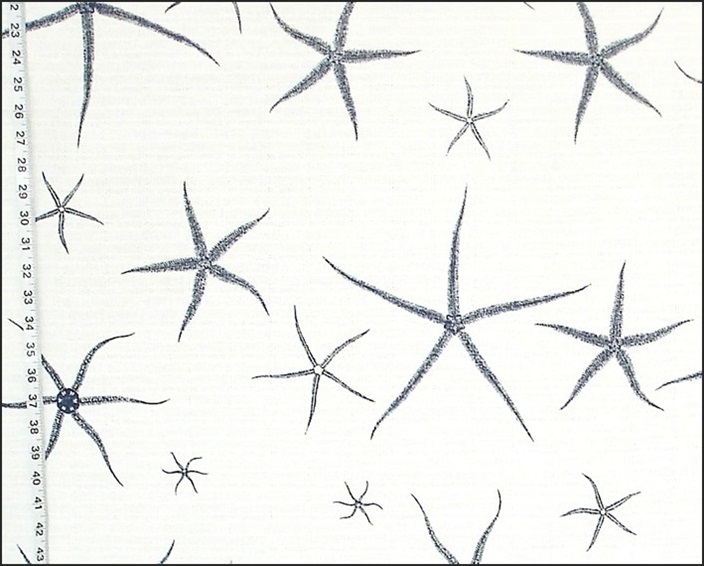 There are 8 increments of the
Purple Pagoda Fabric left.
This is printed on a deep, soft cotton-
it has a wonderful feel!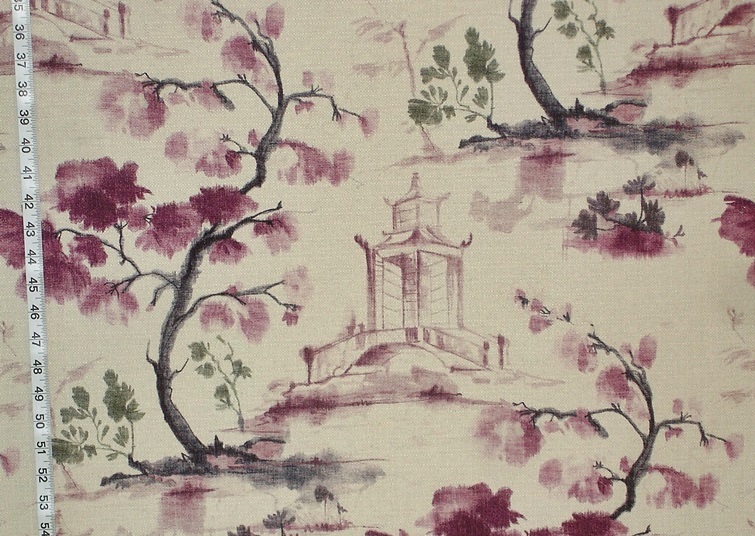 This is sold in 22″ increments,
giving two of the scenes next to each other.
This is also available in charcoal.
Both can be seen in the
There are five increments of the
Peacock Garden Fabric.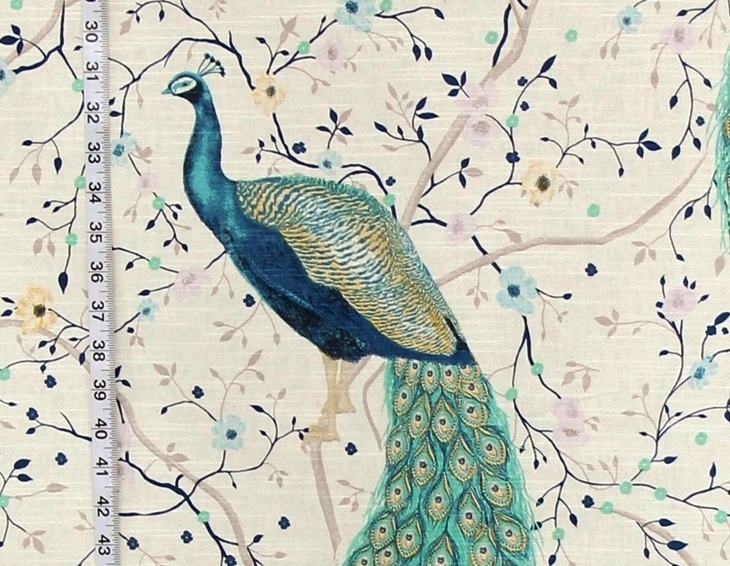 This has a very large pattern,
and is sold in 50″ increments,
so that a person gets a row of the peacocks facing
each direction.
I love the flow of the tail
against the tracery of branches with delicate flowers.
It is my favorite peacock pattern.
A popular Indienne was the
Jacobean red pink teal fabric.
There are four yards left.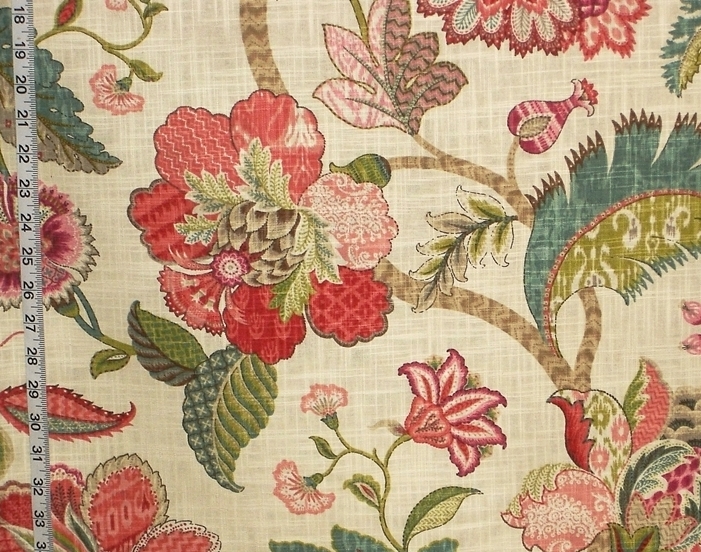 The Indienne in pink and green has a more open look.
The flowers are patterned with delicate patterns.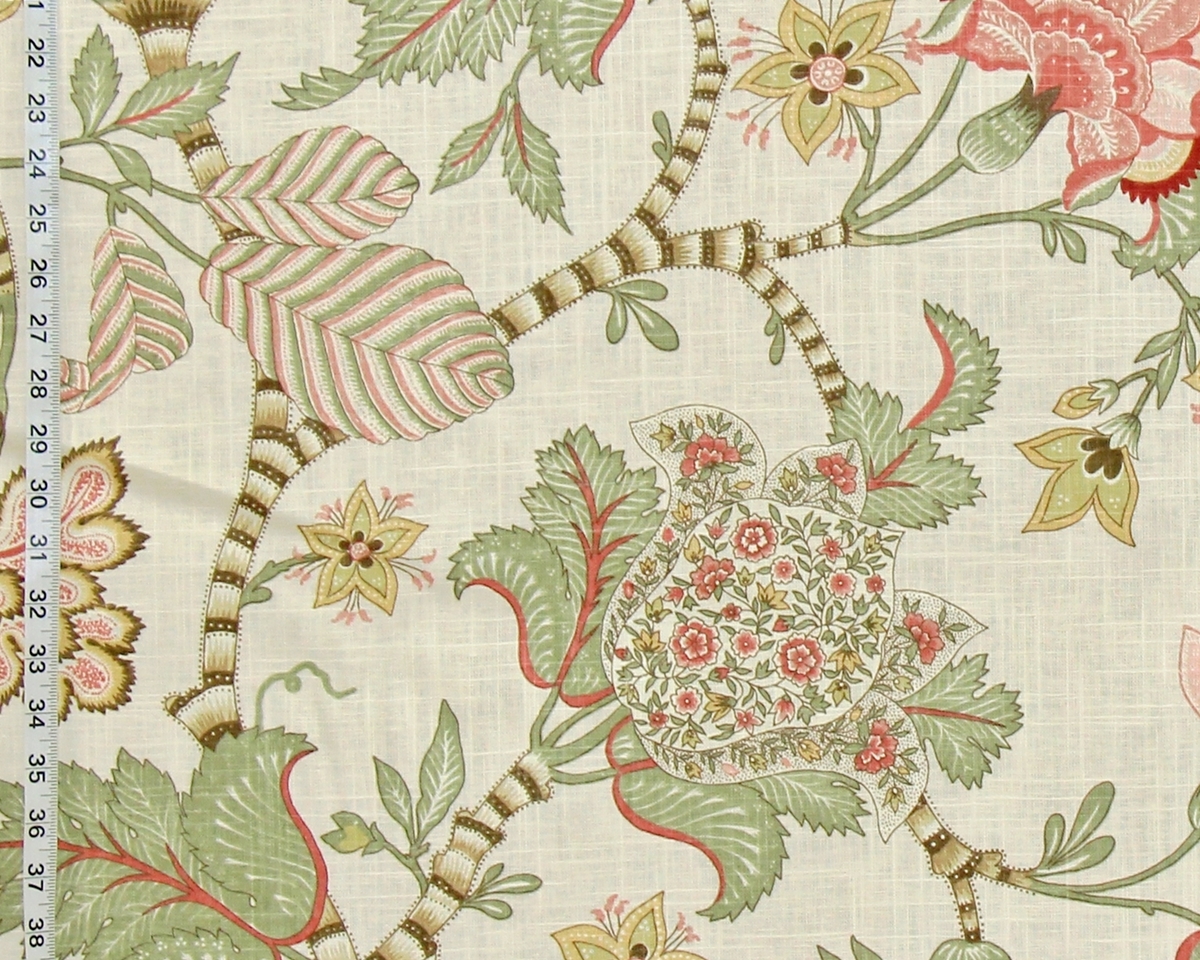 The Indiennes can be found in
One thing one has to remember is that the average life of a fabric, before being dropped by a mill,  is three years.The reason is that the fabric industry is not driven by retail stores. It is driven by furniture manufacturers, who need new looks to entice buyers. So, while a popular pattern may last longer, don't count on it.
We get people calling about fabrics they saw in a magazine, years ago. And, now are ready to use it for decorating. This usually results in loud wails of disappointment. This has been exacerbated by several things, the tariffs applied to fabrics and covid.
The tariffs have pushed the cost of goods way up. This year especially will see huge price jumps. We are getting emails from mills of price hikes for the coming year. One rep told me, be prepared. And covid has created its own problems:  goods not being available, mills working slowly, and companies pulling back on how much inventory they wish to have. It is just plain hard on all. Everyone is being cautious, as no one knows what this year will bring as we all continue to deal with covid variants, and the rising cost of goods.
We are nearly a quarter of the way through the year, and while people are seeing hope with the vaccinations, the reality is for businesses, things are still difficult.
I was told by a guy at the largest Ace hardware store in New England, they would not be getting more canning jars or lids until 2022! And, they are out. I was also told that while seed companies have seeds, they can't get the packaging for them! My point is, if one sees a fabric one likes, don't hesitate- get it now, as it may be gone when you wish to work with it.
__________________________________