Well, the month is more than half over. And it has, so far, been the coldest March on record- with no end in sight!
Every morning for the last week the morning temperature has been barely above 0 degree F. In March! And we are supposed to get snow tonight! While most of us in Maine love winter, by now we expect some warming of the days.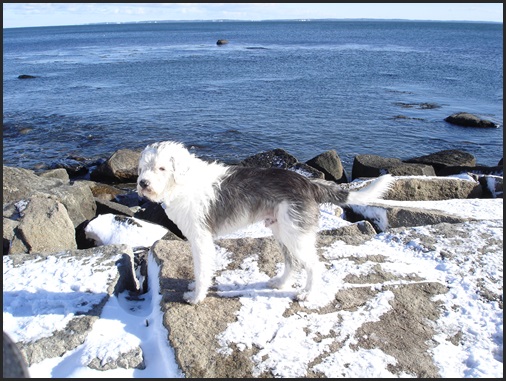 Spot loves the snow!
But, I would like some sun!
___________________________
This week has seen a lot of new fabric arrivals. Getting them all listed in a timely manner is going to be a challenge. Our first priority is to get orders shipped. The second is listing the fabrics! And we have had fabric deliveries fairly steadily for the last week.
CHECK THE FABRIC BLOG!
We have quite a few patterns of which we have added more colors,
the popular seashell matelasse, being one.
We will list them tomorrow.
We have a new starfish, in three colors, and one pattern in a new color, a new coral in four colors, a garden maze design, and more.
And we got word that a huge order from Europe is due in either at the end of this week, or the beginning of next. So, keep your eye on the fabric blog, for info on them.
___________________________________
THURSDAY- March 20, 2014
Well, it did not snow much! I heard the plows on the road last night, and went, oh, oh… but, what we got was more of a wintry mix, which turned to rain. This morning the driveway was slushy, but not icy! We are supposed to get a big blast of snow over the weekend, but am hoping it will not be too bad.
One of the things that happens when things warm up is there is no where for the water from the snow melt to go. The ground is still frozen, and the water ends up going into streams and rivers, which flood.
Or, if the ground is thawing, it is saturated with water, and again, there isn't anywhere for the water to go.
This is what is happening now. – SPRING IN MAINE!
I spent the morning getting pictures of the new seashell matelasse fabrics. Just as I was listing the last of them, the phone rang… it was the trucking company. They were about to arrive with thirty five bolts of fabric! These are the new fabrics that were ordered over two months ago! We drove down the drive to meet the truck, and loaded them up. Taking off the outer plastic was exciting!
The new prints are really exciting! There are watercolor chevron stripes, watercolor florals, and a watercolor under water garden! There are two with exotic animals, and several travel patterns- including one for NYC and also Great Britain!
Getting these all up and listed will take some time, but we will start work on them on Monday, the shell patterns that came in before them need to be listed! And, then there are the Indiennes, as well!
So, watch the
Fabric Blog!