Well, it has finally happened, we hung the sign!
Last year we decided to add to the online store, by opening a brick and mortar store at the Brick House.
And, we had our opening date set for around November 1. Ha! It did not happen! From contractor issues to town ordinances things kept happening to keep us from going B/M. And, to be honest, we are so comfy with being online!
But, today, though not quite organized, we finally took the plunge… we walked down the hill, and hung the sign!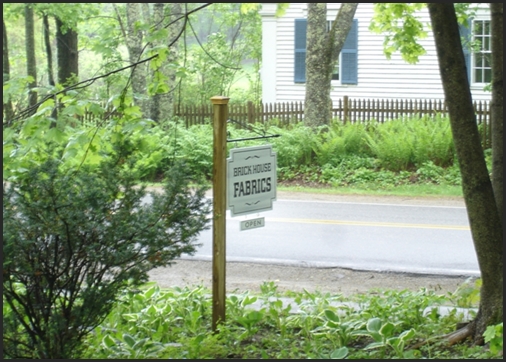 So, if you are in the area, please stop in
We are right off of Rt.1 in Newcastle,
on Rt. 215.
___________________________________
WEDNESDAY- May 28, 2014
We hope everyone had a nice long Memorial Day weekend. Though not the best of weather here in mid-coast Maine, Saturday surprised us with sun and balmy weather! It was wonderful! While since then the weather has reverted to cold and rainy, the plants in bloom say "SPRING". And while most feel it is nearly summer, we will take what we can get as the last two months have been really cold!
Plans for the week include some pictures of the meadows and getting online some fabrics that we have not carried for a long time, but that we felt warranted a return!
So, watch the fabric blog!