The first week of September has been a wild roller coaster ride as far as weather is concerned! Hurricane Isaac pushed a lot of weather up the eastern seaboard.
THURSDAY- September 6, 2012
This week started off feeling like summer, but we have been bouncing up and down with temperatures and humidity changes. Yesterday, Wednesday, was the oddest day. We awakened to what looked like fog, but then we realized that the windows were fogged. And then we realized they were fogged on the outside. It was so hot and humid outside, compared to the house, that all of the windows had condensed- all of them! Like a glass on a hot summer's day, the windows were sweating! I have never seen anything like it. Upon going outside it was hot and humid, with high winds… Hurrican Isaac had pushed a lot of warm humid air north. As it had been in the 50's earlier the day before, the house condensed!
MOST SOLD FABRIC
The most sold fabric last week was the French and English Menu fabric.
We brought in four bolts, and people just jumped on it.
This is now out of print, with not much stock left.
We have ordered two more bolts,
which will come in at the beginning of October.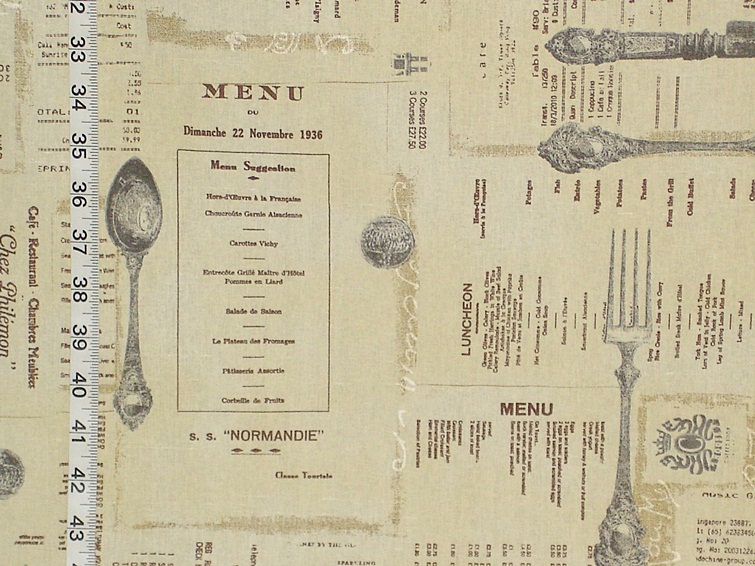 The other fabric that just did not seem to get put away was the older print- the pink angel toile fabric.
Long out of print, we bought as much as we could when it was discontinued. We are down to about 1 1/2 bolts.
When it is gone, it is gone.
See the list of things in short supply here:
END OF SUMMER SHORT LIST
See Sabina's pillows in
Postcards from Away!
While some things have been discontinued,
others still are running strongly.
We have new bolts of these:
The Deer Toile- all colors
The Pheasant Plaid Fabric
The Parrot Peach Fabric
The Paisley Jockey Fabric
The Majolica Bunny Fabric- in beige