OCTOBER 31, 2010   
      It is halloween! Happy Halloween to all!
FALL at BRICK HOUSE FABRICS
As fall days shorten, and the leaves tumble off of the trees, it is a great time, when traveling to see more of Maine than one does in the summer! With the leaves off of the trees and bushes one can see through to the granite ledges and stones that Maine is made of. And one can see also, ponds, lakes, rivers, tidal zones, and the ocean in places that are hidden during the summer. The colors of Maine at this point in the year are the bright yellows of birch trees, with colorful maples, russet oaks, against which the ever greens stand out sharply. Now is a great time, before the snow flies, to explore the byways and smaller roads of Maine.
While many people never go north of Portland, Lubec- the most northern point of the state on the ocean, is only 8 hours north of it. The beauties of the upper coast, the upland plain where Presque Isle is, following the Kennebec River on 201 north of Skowhegan, and visiting the inland lakes are all worthwhile sights.
But how to start? First get "The Maine Atlas and Gazetteer". This book has nearly every road in Maine on it!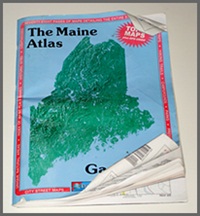 My well worn Delorme map book!
It is put out by Delorme, and available at supermarkets and bookstores. Or stop by Delorme itself. It is located just north of Yarmouth on Rt.1. There you can not only get the atlas, but can also see the worlds largest globe, named Eartha! Standing beneath it, as it revolves on its axis is an amazing feeling!
For more about Eartha see:      http://www.delorme.com/about/eartha.aspx
Just north of Yarmouth, still on old Rt. 1 is the Freeport wooden Indian. He has stood there since the 1960's. Some sources say he is 50′ tall!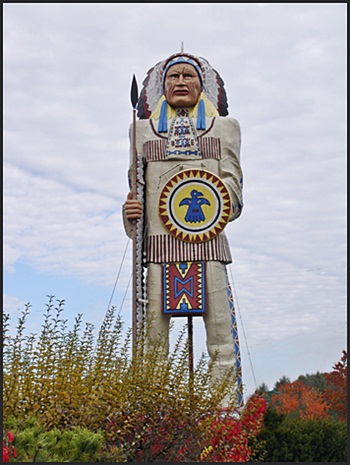 THE FREEPORT, MAINE BIG INDIAN
     Just north of the Indian one hits Freeport, Maine- home of L.L. Bean. For another large item, go around to the left of the main store to see the very large Bean boot!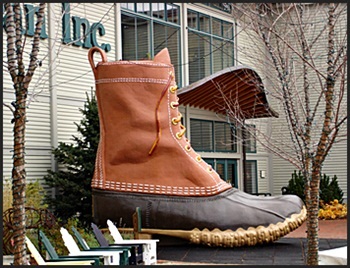 THE BEAN BOOT at L.L. BEAN