We love to see what people do with fabric!
Send us pictures of your projects
so we can add them to this page!
See here for
POSTCARDS- Home Decorating
And for work showing postcards from professionals see
POSTCARDS from PROFESSIONALS
—–
Sabina, who is well known to those of you who watch
Postcards from Away, likes seasonal change.
Pillows, one expects, but she also changes her aprons to reflect the seasons!
Here is the Christmas apron she made in December.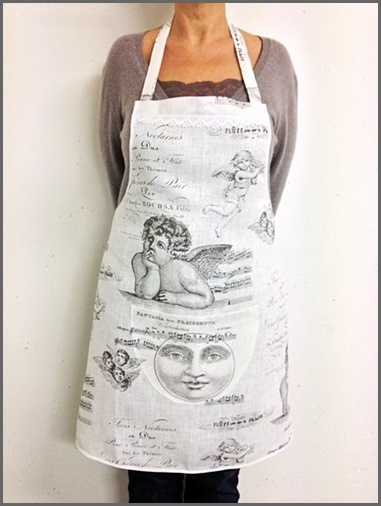 She used the black and white angel music toile fabric,
centering the angel.
For spring and early summer
the vintage teapot fabric and the vintage majolica china fabric were used.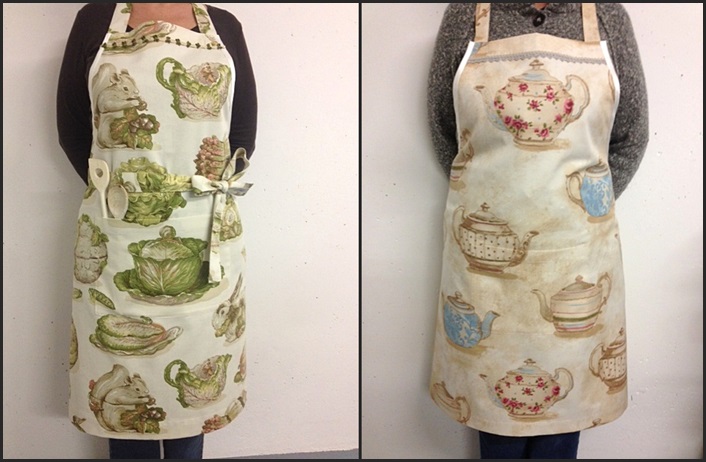 Note the center pocket.
The side tie gives a bit of extra panach!
For her brother she made a longer apron,
using a wine fabric.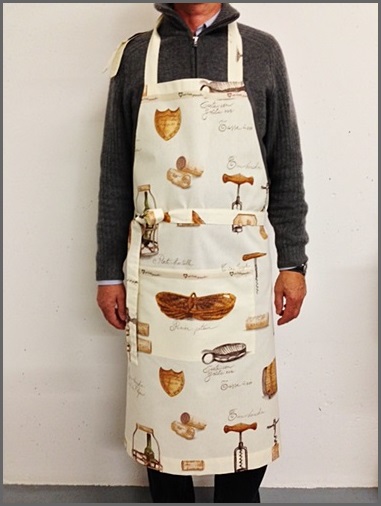 The large center pocket has the bread basket centered on it.
—–
A while back Gil, in California, emailed me with a fabric emergency. His daughter's class was making a quilt with an ocean theme. Each child had to make a quilt block- and hers was to be a seahorse! This was rather late in the project- he needed a seahorse PRONTO!
After several emails back and forth it was decided the embroidered seahorse would work. I sent off a sample- which had all design elements. And Gil sent me pictures back of the quilt block!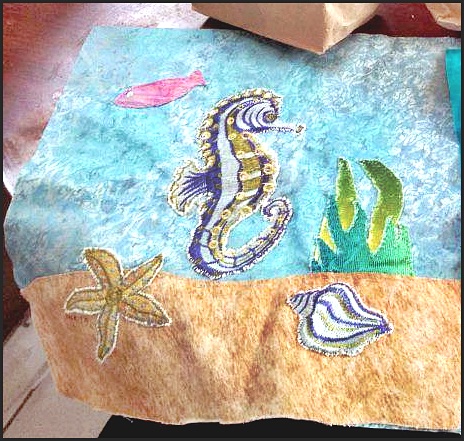 I think it is great!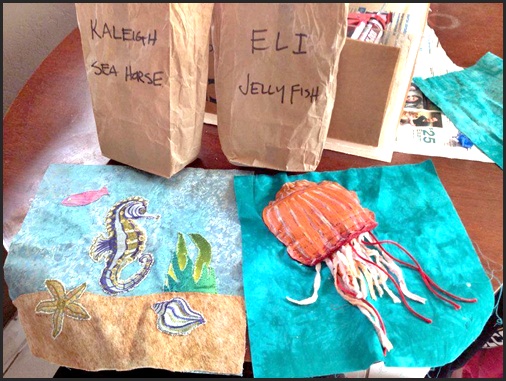 The finished quilt must be amazing!
Way to go!
—–
Sabina, that sewing whiz,
sent a picture of her latest creation-
a classic jacket with black lapels.
But, one sits up and takes notice of this jacket!
The use of the not so classic, retro Madonna fabric,
is a complete surpise!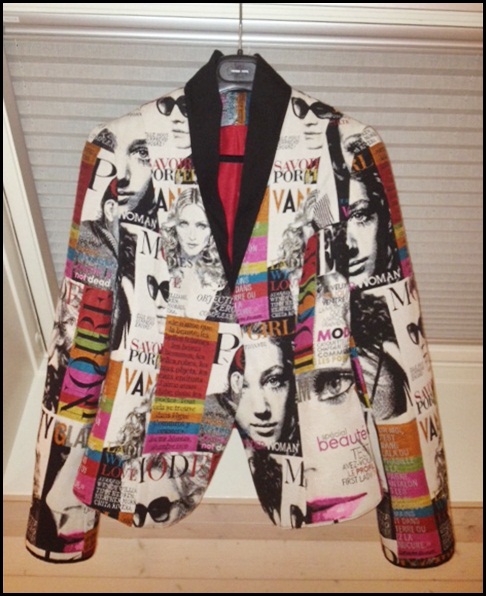 Marcia, in Oklahoma, makes wonderful aprons for cafes, cooks, dog washers, etc. For the Enid, Oklahoma airport cafe she used the vintage look barnstormer airplane fabric.
She wrote: "I finally got a picture of the local airport cafe waitresses wearing their new aprons today. Wanted to send it to you. They all say that they hate to get them dirty with food, but they clean up when washed cold and look good as new. I'm so pleased that they're enjoying them ! Thankyou for your part in this, Marcia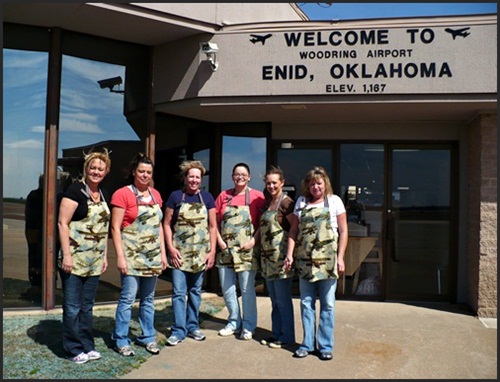 Bobi's grandson loves ducks.
She bought a duck fabric with life like ducks on a faux denim blue background.
After Christmas she wrote:
Barbara,
Just wanted to let you know that I made a pillowcase and a travel pillow out of the duck fabric I got from you. It was a hit! The best thing ever! My grandson loved; now I am the BEST Grammy ever!
Thankyou for the great fabric!
Happy and prosperous New Year!
Bobbi
For other duck fabric see:
—–
Sabina, a phenomenal sewing wizard, send pics of a summer bag she made from three different colorways of the same pattern- a tropical fabric with a toucan and a birds of paradise- white, pink, and mint. She put them together and came out with a fun, pretty, summer bag!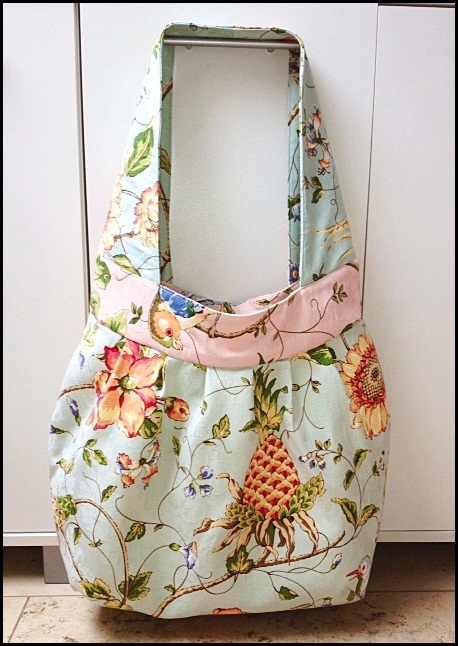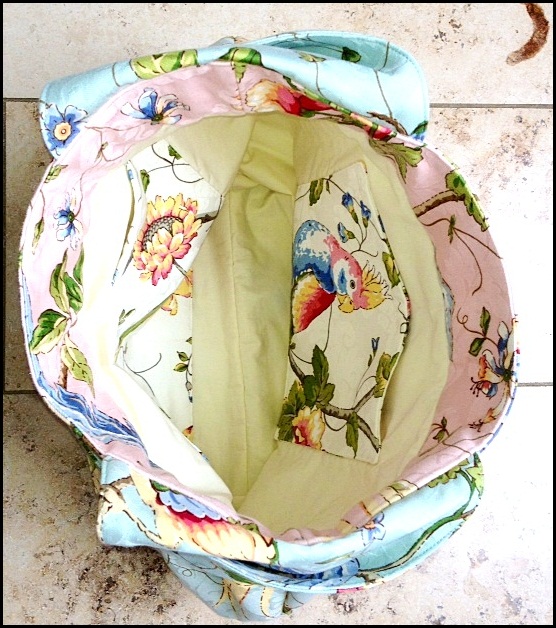 —–
Sabina, who is in Switzerland, is an amazing seamstress! She sent pictures of the Victorian tropical chintz which she turned into a swing coat with princess seaming! Something to aspire to!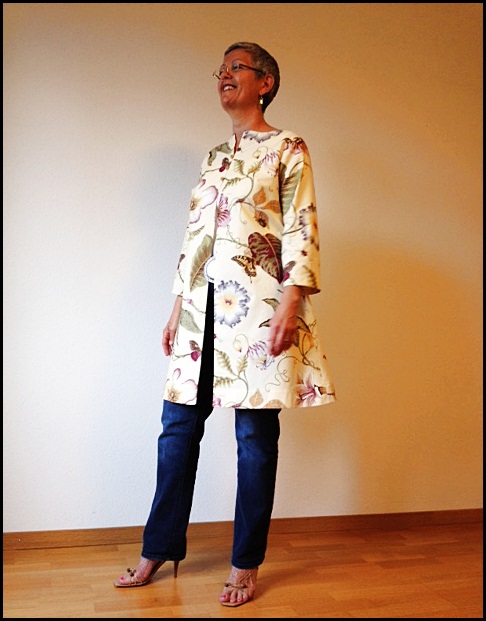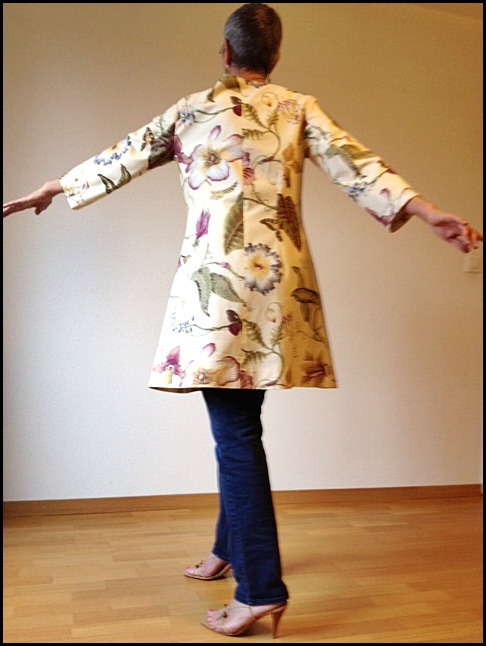 For other things sewn by Sabina see
Postcards- Home Decorating.
—–
Jerome, from Washington, D.C. made a quilt for his father for Christmas. The theme was hunting, and was for his father, a life long hunter. Both the deer and the dog toile fabrics were used, each in the blue and the gold colorways. A reverse mirror image approach makes the quilt have interest from all sides. The backing was a fleece fabric for warmth.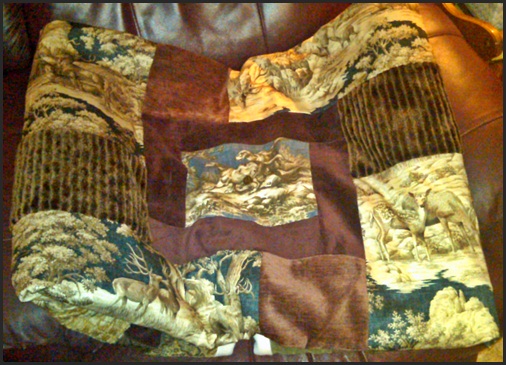 His father liked it,
but wanted to know why it was so long!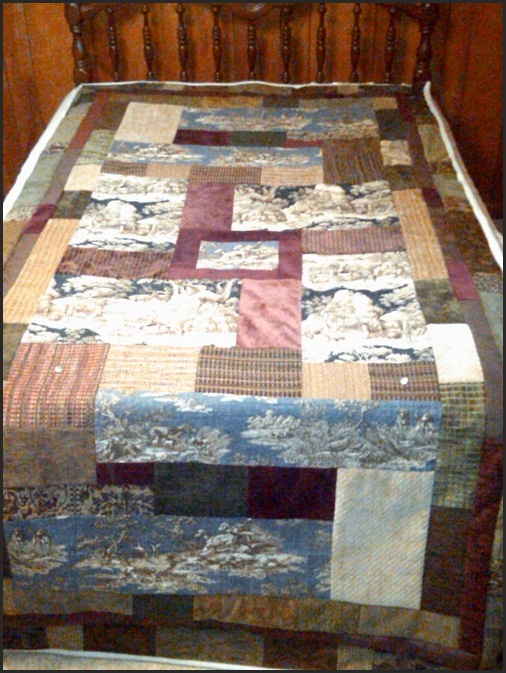 "So it will cover your feet when you are in a recliner!" he was told!
Interest was provided not only by using fabrics with texture,
but also by tacking the quilt's front and back together
with buttons that went with the hunting theme!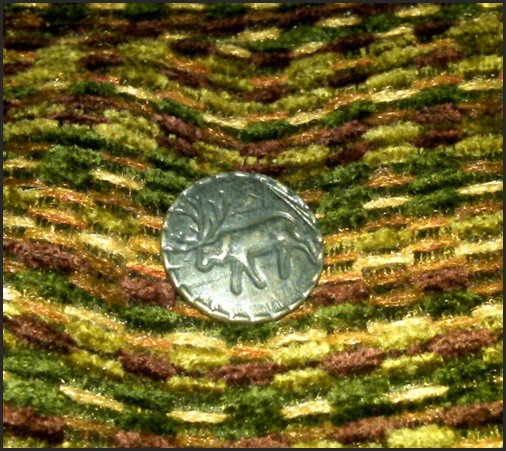 —–
Annie makes custom lampshades,
and used the Venice fabric for these two shades.
You can see them in her Etsy shop
HandmadeAnnie.
See the Venice Fabric in the
France Italy Fabric category
—–
Michelle made a great purse,
using the soldier blue toile seashell fabric,
which has starfish, sea urchins, and sand dollars.
The contrasting bottom is a nice touch,
and practical as well!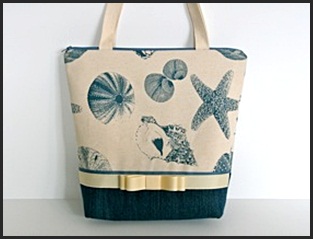 See all of the different seashells in the
Seashell Fabric category