Last summer I was visiting family, and my sister and I went out to lunch. As a vegetarian, who does not care for mushrooms, I often run into the issue of there being very little on a menu that I can eat. This restaurant had a beet salad with pistachios. I decided to try it.
The salad arrived, it was cubed beets, that had been put into a form, and unmolded. It looked as if the restaurant had used an over-sized tuna can for the mold… it was immense, loaded with beets that had been drenched with oil to stick them together, which did not work, the mound fell apart at the touch of a fork. I decided the idea had merit, but that we could do better!
INGREDIENTS
Beets- a 3 1/2″-4″ beet will feed two people, so plan accordingly
Balsamic vinegar
Pomegranate molasses
Pepper
Get your beet- a 4″ beet will do nicely for two people. Wash it, do not trim it, and wrap it in foil. Turn on the over to 350 degrees, and throw the beet in. Let it cook between 1 1/2 hours and 2 hours. Test with a knife at 1 1/2 hours. If it is tender, it is done.
Cool the beet for a few minutes, and peel it. If it is still warm the skin will just slip off, so don't wait! Cool slightly longer, and cut into 1/4″ cubes with a sharp knife. You want the beet to still be slightly warm, to absorb the vinegar added next.
For each beet: put 1 Tb. balsamic vinegar into the bottom of a bowl, and add the beet cubes, stirring gently with a wooden spoon. Add three grinds of pepper, for each beet, stir again, and let sit for 45 min or so, stirring occasionally as you pass by the bowl. The beet will absorb the vinegar. After about 45 min. Add a teaspoon of pomegranate molasses for each beet. (I had made some strawberry marmalade a few years ago, and had considered it, but decided that might be too sweet, without being deep and richly flavored enough.) For each beet add another teaspoon of the molasses in about an hour, and stir it in. Cover the beets. And right before serving add 1-2 teaspoons more of the molasses per beet.
The beet cubes are ready to be used as a side dish or for a salad.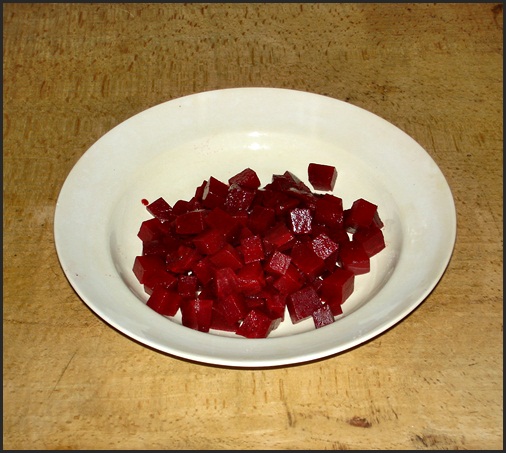 At this point start thinking about how you wish to use the beets.. as a salad? or a side dish? For a salad use a nice large leaf of soft Boston lettuce as a base. Then add some garnish. We have tried several things, many of which we did not care for.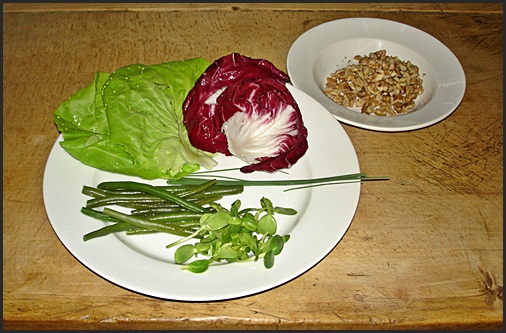 FOR GARNISH: Frisee is nice, endive will do, radicchio is too thick and heavy.
Green beans, blanched for 3 min, and then chilled add a deep green note.
The perfect garnish is not walnuts, but a few sunflower seed sprouts.
SERVE WITH: French bread toast points with goat cheese.
Take a baguette of French bread, cut in half horizontally, cut on the bias, broil them slightly on the back, flip, and broil the top, butter them, and serve with goat cheese with chives pressed into the top. this is a perfect accompaniment.