Maine is famous for its blueberries. And the first cousin to them is the cranberry, like a ruby is to a sapphire! They are both members of the Vaccinium family of plants. While most people think of the cranberry as coming from Cape Cod, Maine also grows them. In fact, five islands off of Mount Desert Island, Maine are called the Cranberry Isles. There is Grand Cranberry Island and Little Cranberry Island.
Like all fruits, whether it is apples or strawberries, there are many varieties of available. Cranberries can range in size from that of a pea to that of a large olive. The Maine cranberries mostly seen in the markets here are quite large.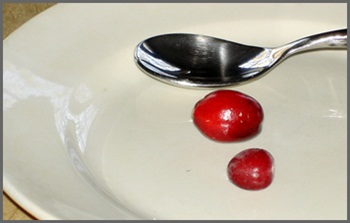 >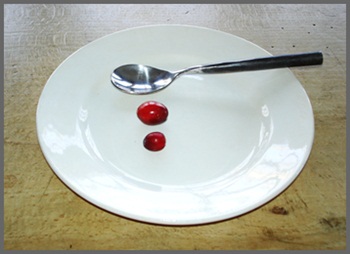 The Maine cranberries in the markets tend to be not only larger, but somewhat juicier and sweeter than most commercial ones. You may need to adjust the sugar and water down in many recipes.
Candied Cranberries
2 cups fresh cranberries- washed and 1 1/2 cups of sugar,
with more needed for dredging them after cooking.
____________________
Preheat an oven to 350 degrees F.
Place the berries in a buttered pie plate, or a baking tin.
Cover them with the sugar, and cover tightly with foil.
Bake for between 45 min. to an hour.
Stir the once, by gently streaking a spoon through them.
Do not be tempted to stir hard- you want as many berries to remain whole as possible.
While they are cooking put more sugar on a cookie tin.
When they are fairly dry, or beginning to carmelize on the edges,
turn them out onto the sugared tin.
Using two forks toss and separate them.
Toss occassionally as they cool to keep them coated with sugar.
Cool completely and store between layers of waxed paper in a tin.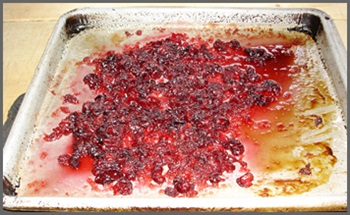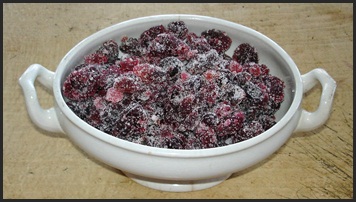 Now that you have the candied cranberries, what are you going to do with them? Well, the first problem is everyone who sees these will want to eat them. No kidding- HIDE THESE!  But, they make a great garnish for holiday deserts. They are wonderful in cookies- thumbprint cookies, in cocoanut macaroons  (drizzle with chocolate), in champagne cocktails, the list is endless!
ENJOY! and HAPPY HOLIDAYS!