So, how does a fabric seller actually get fabric?
We get asked this a lot. It is pretty simple. We have accounts with companies that sell home decorating fabric and once in a while we go and visit warehouses.
Being north of Boston means we don't see many reps. It is too far for them, not cost effective, as the company does not pick up their travel expenses. If we know we have to go south we will try to meet them, but for the most part we have worked out our own method of doing things. Some of the reps will take pics of things and email them. Then, if we like the pattern we can get a header. Others have a fairly good idea of what we like, and just ship the headers to us.
A lady called once, about the green upholstery weight seashell fabric. She wanted to know if it could be used for upholstery. Yes, it was made for that. Then she wanted to know the rubs. I replied I had no idea. She said, what do you mean? I said I did not know, that we aren't given that information. She thought this suspicious…
A typical header looks like this: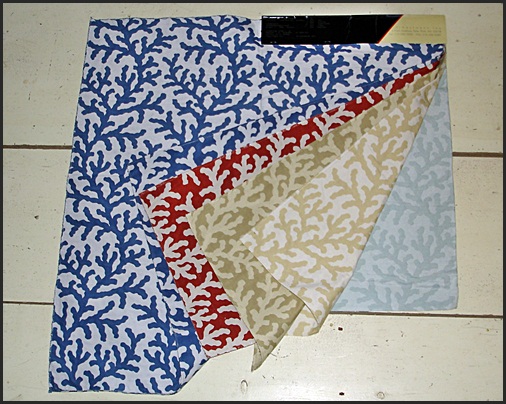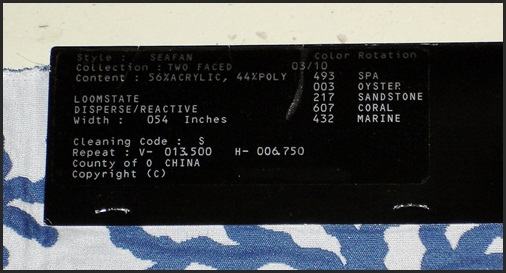 The information on the header gives the name, the collection- if there is one, colors, fiber content, width, repeats, country of origin, cleaning codes, and anything else that is important. It does NOT give the rubs.
One person did wish to know the rubs of the faux leather fabric. I called the rep, he called the companies laboratory (yes, they have labs), the lab dug out the info, and then the calls were reversed. It turned out to be rated for 9,000 rubs. Why don't I worry about the rubs? Because this is home dec fabric, and meant to be used. Yes, some is not suitable for all use, but most is fine for general household use.
Please notice, there aren't any co-ordinating fabrics with this header. Many fabrics do NOT have a co-ordinate. A lot of sewers think every fabric has one; they don't. Not all fabrics are part of a collection.

Once we see the header we decide what patterns we want.
The other way we pick up fabric is by visiting warehouses.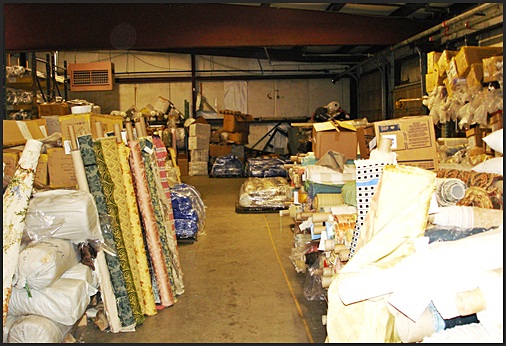 Visiting a warehouse can be extremely dirty work!

People want to know how we choose our fabrics. It is very simple… we need to like them. If they appeal to us, then we are interested in them. The reps know we don't buy plaids, stripes, dots, paisley, or plain fabrics. We just don't. We choose things we like, that we feel will appeal to others, that target people's interests. We just have to like them!
Sometime, about 18 months ago, a fish fabric came out. We could use a good fish pattern. The pattern was fine, but the colors, in our opinion, were ghastly. If it did not appeal to us, would anyone really want it? Maybe, but we are the one's having to look at it! Most of the fabrics we have we actually enjoy!

It used to be a person was limited in buying fabric to what a local company would carry, or what they could order through a decorator, or from a company advertising in a magazine. And, most of the stores were limited to companies that had reps that would come to their area. That has all changed.
Now there are large international shows for the fabric industry. In the USA there are the large shows at Highpoint, North Carolina and Brussels has Mood. There are many other international shows international shows as well. These large shows are where fabric companies unveil their newest products. Again, driven by the furniture companies, they define what you will be seeing on furniture and in magazines. If the Pottery Barn likes something, it will become a trend.
A person can go to these shows to see a huge selection of products and order them, making it easy to have interesting stock for buyers.
We have never gone to one of these shows. What we do is seek out products from companies not often seen here. If we see a fabric, we try to track it down, and write the company for information. In that way we found our embroidered seahorse, and the very interesting coral fabrics. With the internet, the world is literally at your finger tips!
Once we order a fabric it can take between a week to 3 months for it to show up. Some companies have stock of things, others only run the fabric when they have enough orders, and some imported fabrics only come in once a month, if they are in stock over-seas.
Semi trucks are not allowed to go up driveways. So, we meet them at the bottom of the hill to unload bolts into our car. This is not how most companies operate, but the drivers are very tolerant. This gets a bit unpleasant in winter with snow and ice, though!