Some people have done some amazing things with our fabric.
We enjoy seeing what people do, and hope you will as well!
Enjoy!
_______________________
Kim sent a picture of her bathroom. She made a curtain from the striped shell coral fabric. And then added some to her shower curtain. She says that the shell fabric goes with her counter top, but could not find a way to get all three into the picture!
_______________________
Laura K. sent us a picture of a curtain made for her bathroom window. Her sister made a Roman shade, and finished the bottom with a ribbon and row of buttons shaped like sand dollars! Laura added the ribbon for rolling it up. Nice, huh? I love the embellishment of the buttons!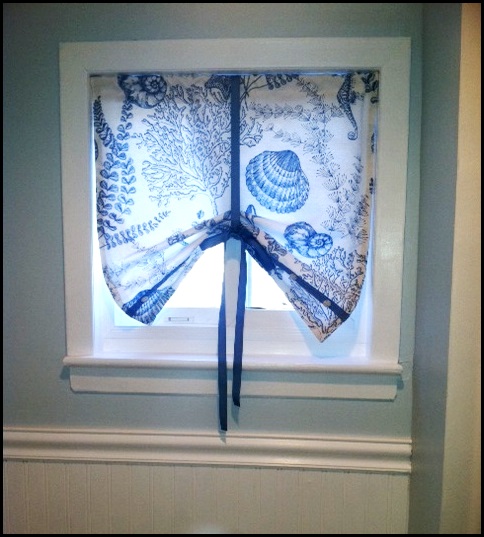 _______________________
Peg sent a picture of the first of a pair of pillows she is making.
They are to be a gift for friends who let her use their mountain house in NC.
In her opinion, they need a couple of pillows for a big dark red leather couch!
The Schumacher fabric with horse chestnut leaves in fall colors
will be perfect!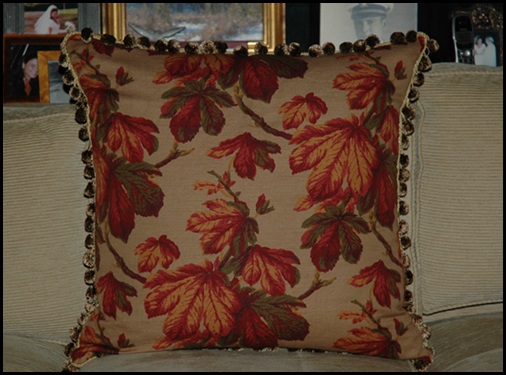 _______________________
Jill, from Australia, bought the reversible starfish fabric for a guest room.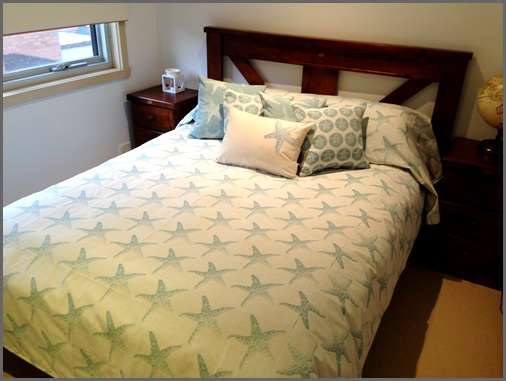 She ended up doing a full bed treatment with the fabric,
using the white side of the fabric for a bed cover.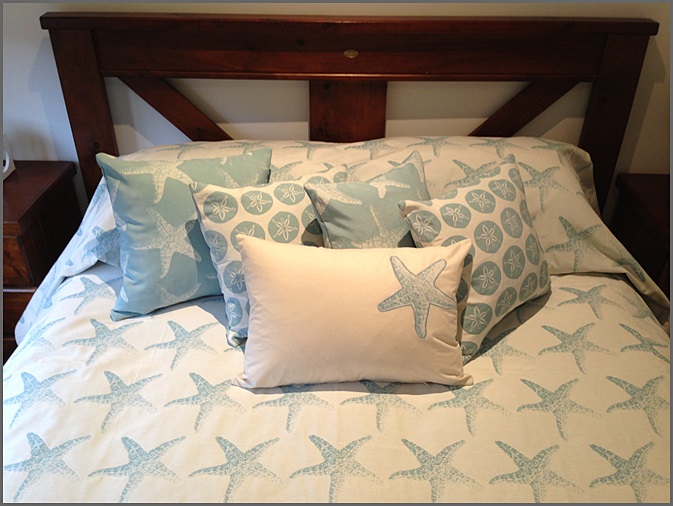 She used the blue side for some pillows.
And she cut out one to applique to an accent pillow.
Jill had never heard of sand dollars,
and bought some of the sand dollar fabric to use for an accent pillow.
It looks great!
I love that the star fish on the pillows are set on a slight diagonal!
Jill liked the effect so much she decided to use it herself,
the guests were out of luck!
_______________________
Way,way back in December Patty wrote. The Minnesota winter was taking its toll… she wanted color, was dreaming of warm days and enjoying her porch. She bought one of the most unique fabrics we have ever had… A fabric with a pattern of porches filled with flowers, statuary, furniture, and more!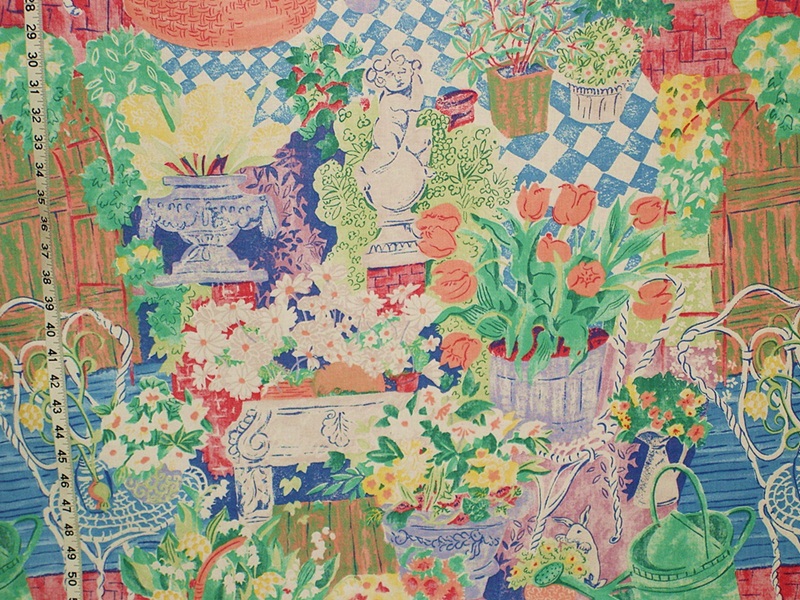 What looks like a jumble
is actually a pattern with many porch floors-
some with rungs, some painted,
covered with flowers everywhere!
My favorite thing is the bunny
behind the watering can!
Well,Patty's porch looks great!
The fabric is wonderful with the white furniture!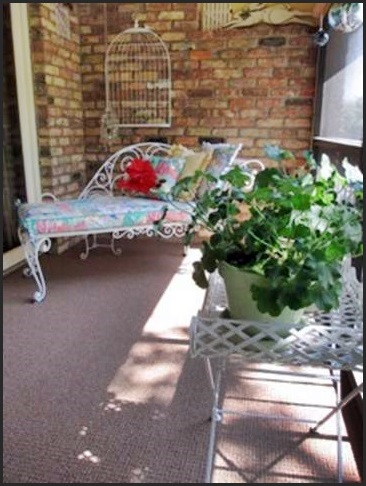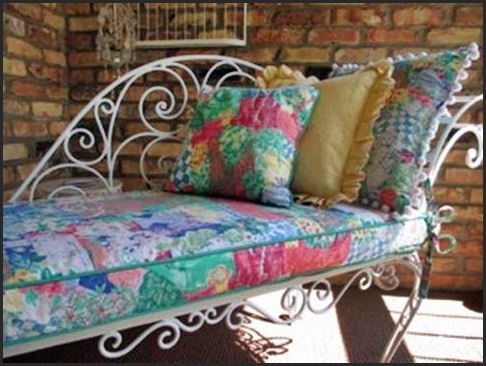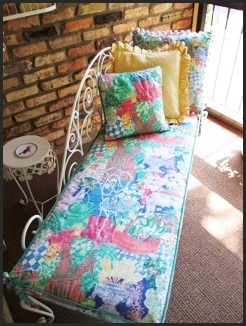 We hope Patty is loving it now!
I just heard from Patty-
she is enjoying her porch!
She calls it her Treehouse!
I love that!
_______________________
Kim sent two other pictures of two new pillows!
She used the Paris music fabric for these.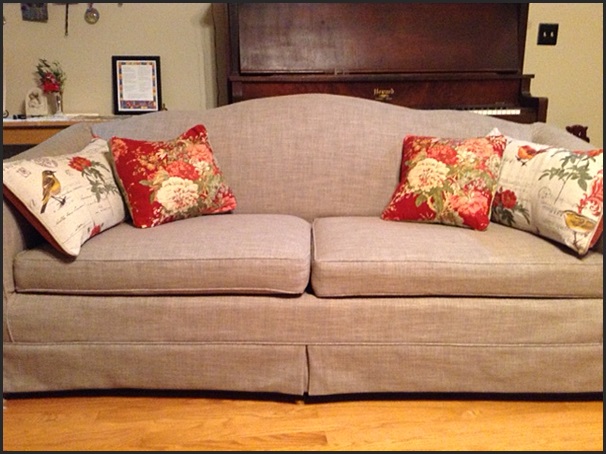 Love the juxtaposition of the red background floral pillow,
with its tight pattern that fills the space,
with the more open pattern of the Paris music fabric.
The red roses on the Paris fabric bridges the two fabrics.
---
Kim wanted some vintage travel fabric for pillows.
She sent pics of what had done.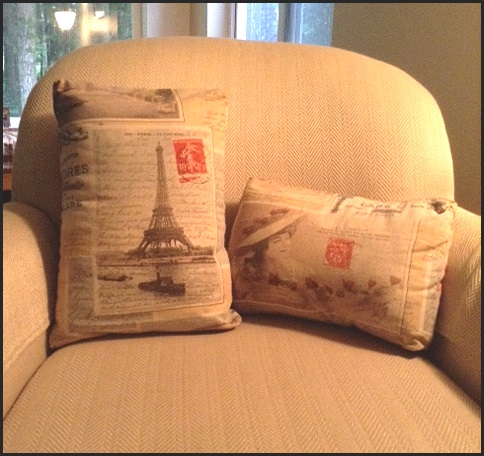 Kim used the French Postcard fabric
for two different pillows- one vertical, one horizontal,
highlighting two of the different vignettes.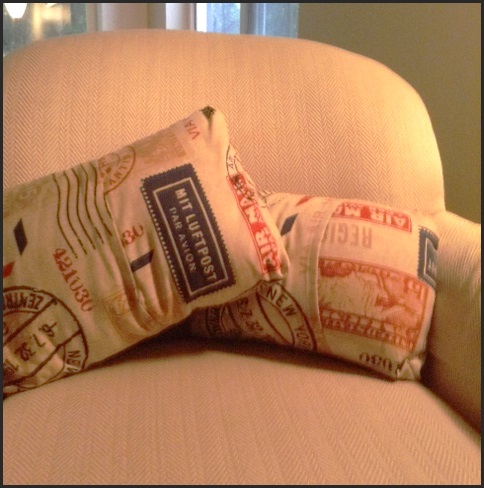 Kim used the travel postage fabric as well.
---
Paula sent pics of what she did with the
orange seashell fabric that has
larger than life shells with seahorses and nautili.
The background is two tones of wavery stripes that run diagonally on the fabric.
It is smashing!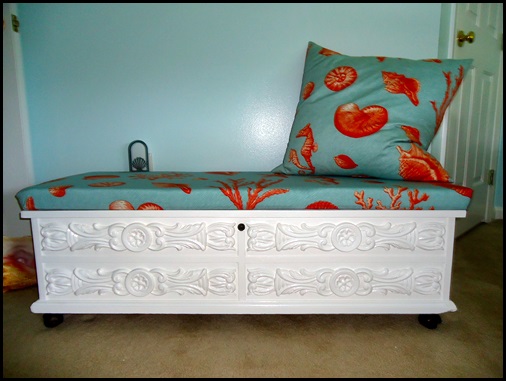 ---
Sabina, from Switzerland,
sent a pic of the pillow she made from the
tea bee fabric.
It has a clean, crisp look.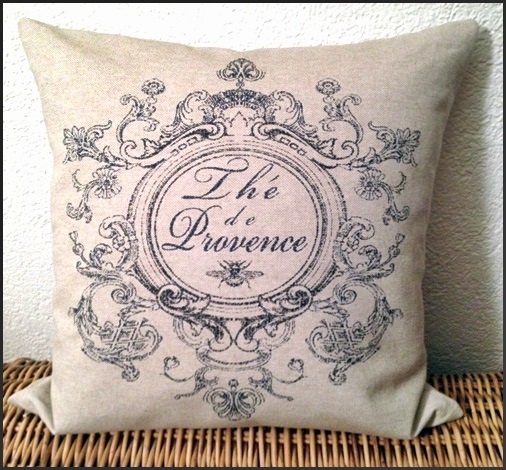 ---
Michele, from California,
has a home decorated with vintage Alpine things.
She did a mix and match with the Swiss heart fabric for variety.
Its lots of fun!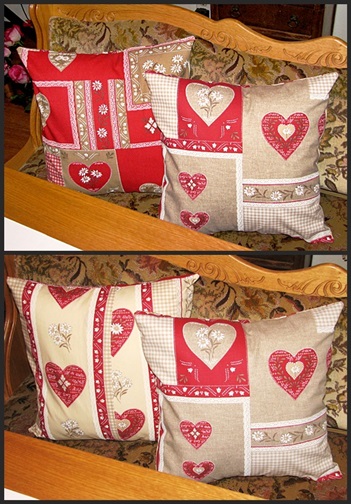 ---
Karen, in Ohio, sent pictures of the curtains
she made from the nautical French document fabric.
The surprise is what she used to hang one of them!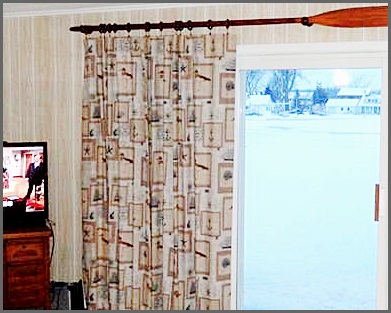 The other curtain in the room is a tab curtain,
using the same material,
but high lighting one specific motif from it.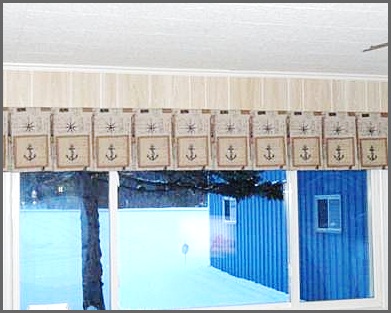 ---
Last year Sabina, from Switzerland, bought some of the bird toile fabric in charcoal. She made four pillows from the fabric. They are different sizes. And each size highlights a different design element. This makes a person really look at the pattern… One sees the butterfly on the small pillow, but where is it on the larger ones?
A knife edge for this pattern would have been boring and severe. The ruffles add the perfect decorating element for the pattern. The pattern is very busy, the smaller pillows in a plain fabric keeps the pattern from getting lost.
Sabina does it again!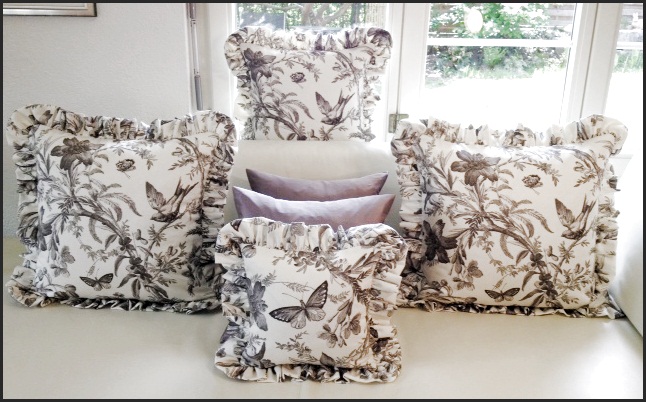 ---
Aneta, from London, bought an apartment in Cannes, France. Being on the Riviera she wanted both a tropical and an ocean theme. When she first wrote for samples she was looking for something strong and punchy. Samples were sent to her in London, but I told her, that most fabrics fade out in bright light and she really needed to check them on location.
But, surprise, surprise! She found that the opposite was true! In her apartment the colors actually got stronger! Off went more samples!
Other considerations were working with two sofas- one white leather, one soft tan, and the fact that she wanted a relaxed look and feel.
She ended up going with three fabrics that had over-all patterns with soft coloring. Two were ocean prints, both discontinued. One had taupe shells on a pale blue background, which acts as a background for other fabrics. The counterpoint for that pattern was a tropical pattern with orchids, shells, and seahorses in green on pale blue. Still an over-all print, it has a stronger look than the over-all shell fabric. Tying it together were large pillows with more shells, which she bought locally. The colors blend, to perfection, with the room's rug.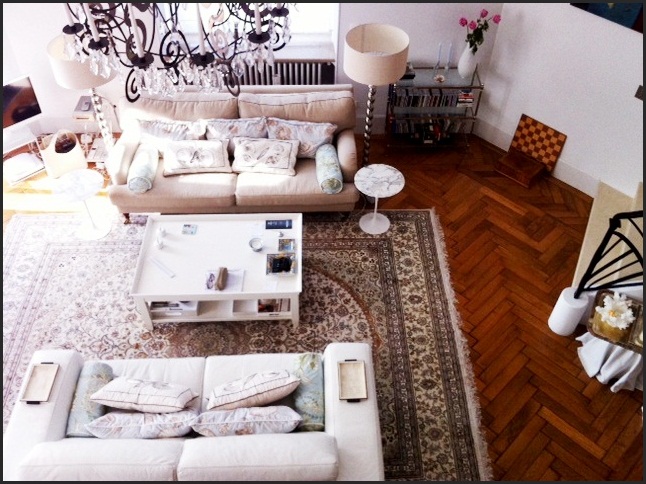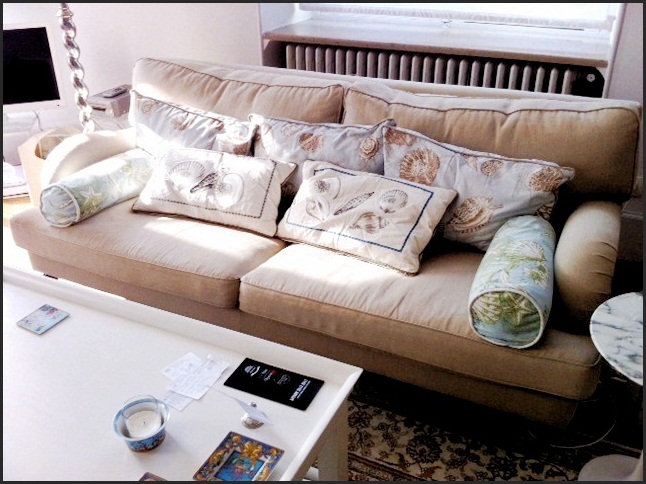 The third print used was Scalamandre fabric with large birds in a bamboo forest. We have it in two colorways- an aqua background and a peach background. Aneta bought some of both for outdoor chairs, to use mix and match. And then used more of the peach for curtains.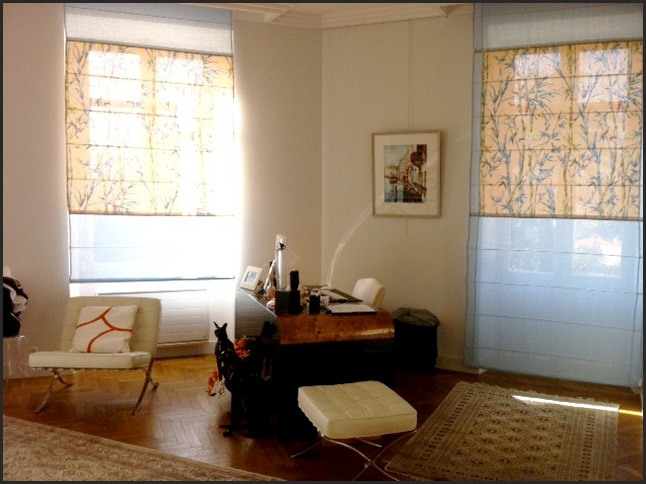 The pale, washed tones of the Scalamandre fabric adds a lovely color to the apartment, and acts as paintings would, giving a focal point against the white walls.
---
I found two pictures that Sabina sent.
She made a tablecloth for her husband's birthday party.
She used the fern lizard fabric as a starting point for the theme.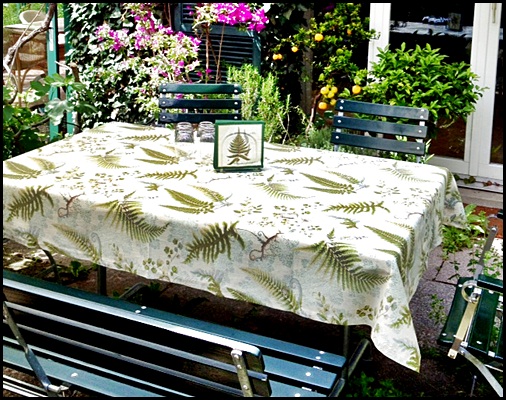 As always, everything is just right!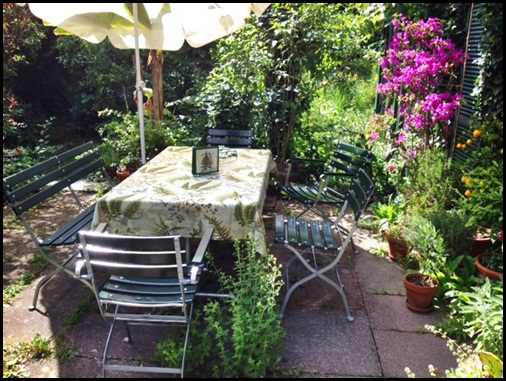 This is the second time, of which I know, that someone used the fern lizard fabric as a table cloth. One person always does a different theme for Thanksgiving. Last year it was a mossy, nature theme. She ran a runner down the center of the table, and had little vignettes of moss and small branches.
---
Sabina, who lives in Switzerland, said the summer had been very warm; but had finally cooled off. She felt it was time to change her home's decor to a fall look! She used the pheasant feather plaid fabric to make two pillows- her dog has taken over the smaller one!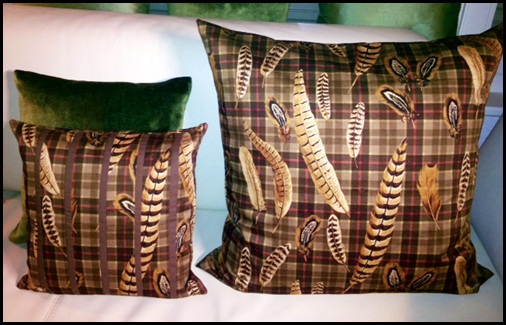 ---
Raul, from Spain, sent pictures of some of the pillows made with a few of the fabrics he bought.
He said- "Better late, than never!"
We are glad he did!
Love the centering of the lion king on the Medieval chess fabric!
And also the placement of the roosters on the French cock fabric.
The monkey moon fabric always makes me smile!
Thankyou, Raul!
---
Jean, from Massachussets, sent this note:
I recently purchased some fabric from you and I wanted to share a photo of the finished product.
I am totally thrilled with the results. I have not found this fabric in this color anywhere else but Brickhouse.
Thanks so much for helping make my summer cottage special.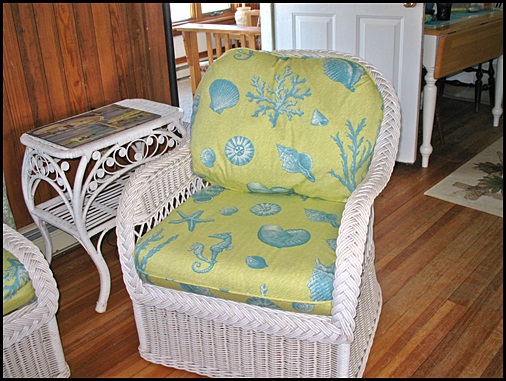 Jean used the turquoise and lime seahorse seashell fabric for her room.
It looks fabulous on the white wicker!
The extra large piping is great with the wicker, adding a bit of texture to the cushions.
And thankyou, Jean, for the kind words!
See it and other seashell fabrics in the
---
Carol, from the state of Washington, wanted to redo her dining room chairs for Easter. She was surprised that she was able to get her project done in time, and sent pictures of the finished chairs.
She used the beige matelasse seashell fabric and they look great!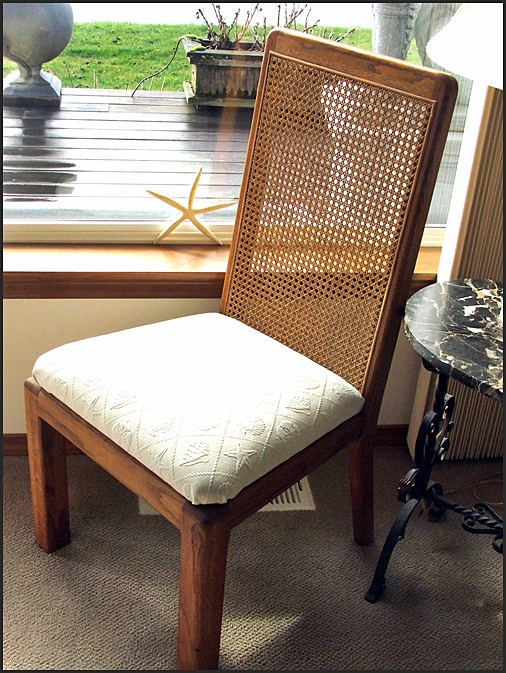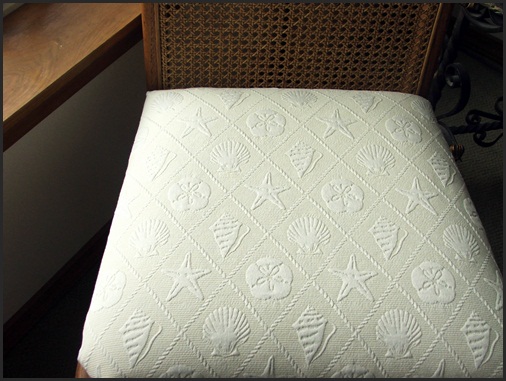 The pattern placement on the chairs gives these a very professional look.
Carol Scotchguarded them for extra protection.
Way to go Carol!
---
Sabina sent a picture of something else she had made with one of our fabrics. It is lovely! She used the lavender rose petal fabric for place mats and pillows!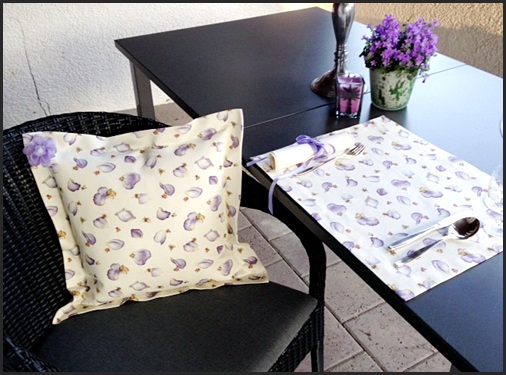 This fabric has a corded weave, which gives a crisp texture. Sabina used this to great effect by making the pillow flanged. The lavender flower softens the look. The table setting is lovely- the ribbon around the napkin and the small vase of purple flowers make it perfect!
---
Sabina, in Switzerland, had had enough of winter!
So, she ordered some of the tulip fabric for pillows,
and sent pictures of the first one!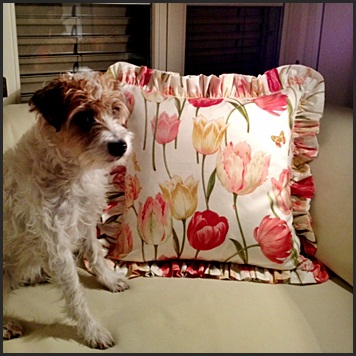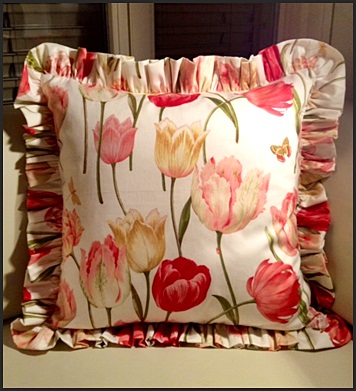 ---
Pamela is a birder.
She fell in love with the bird script fabric.
and used it to cover a small sofa.
It looks great, and she is extremely happy!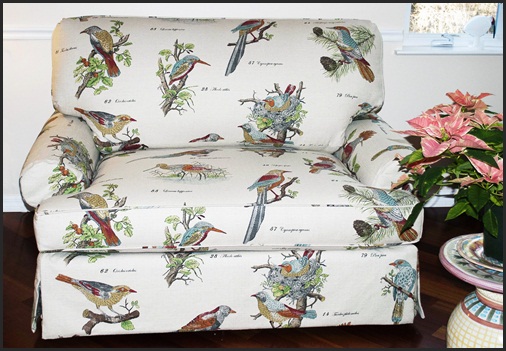 See the bird script fabric in either the
Bird Fabric Category
or in
Document Print Category.
---
We got an SOS from Susan, in Australia.
She had made curtains from the purple dragonfly fabric. She now wanted to finish her dining room chairs to match!
We had just enough fabric left for her to do them!
We had bought the last bolt of the purple dragonfly fabric, and were glad to help out!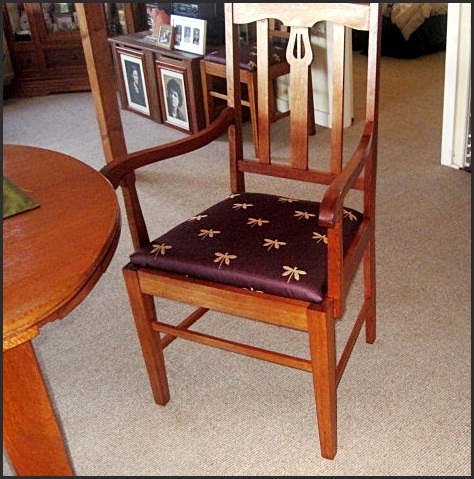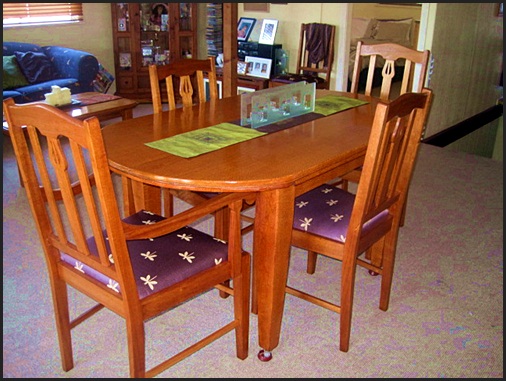 We think they look great!
While the purple dragonfly fabric is gone,
other dragonfly fabrics are in the
Insect Fabric category.
---
Doreen, in Australia, used a Laura Ashley toile fabric for a French chair.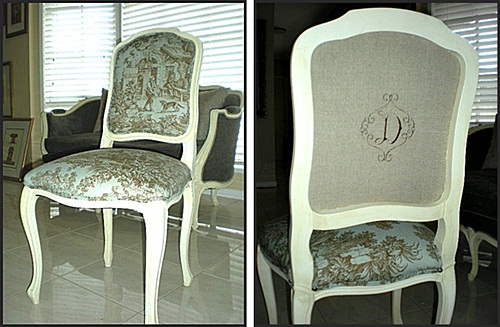 The surprise is the back. She had a friend embroider her inital for a striking, and unique look.
She says: "I am thrilled, to put it mildly- I hope I have created a family heirloom."
For other country toile fabric see:
---
Doreen, in Australia,
used the embroidered dragonfly fabric for her sofa.
She did the upholstery work herself- including all of the piping!
It came out beautifully!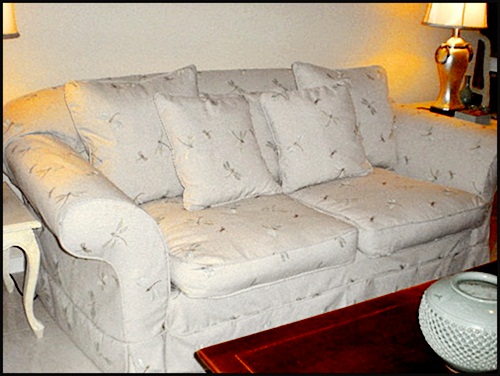 See the embroidered dragonfly fabric in the:
---
 Beth, from Georgia wrote:
Just wanted to send you these photos of my project with the beautiful deer toile.
I just LOVE this pattern and have recovered these older dining room chairs that used to belong to my grandmother.
 I love the new look.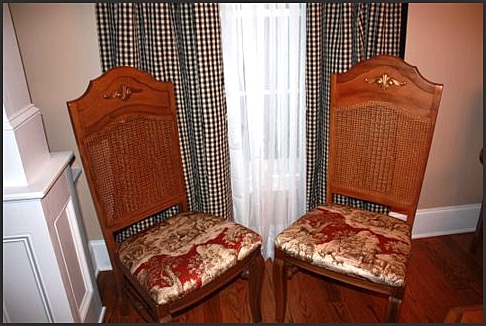 The deer toile fabric comes in four colors: red, blue, gold, and aqua.
 See them in the
ANIMAL FABRIC CATEGORY
---
Michael, of South Carolina,
used the Faux Leather Fabric to recover his antiques chairs.
They came out beautifully!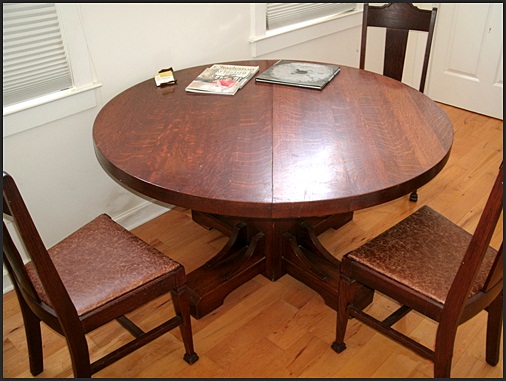 in the Novelty Fabric Category!
---
Shari sent me pics of what she did with the spring floral fabric she ordered. She wrote:
We have four old dining chairs that I recovered and am using in my sewing room.
Love the fabric and how it turned out!
So do we!