When fall comes around everyone thinks of things like cooler nights, colored leaves, and pumpkins. But here in mid-coast Maine one also begins to see signs of Pumpkin Fest! The festival is 5 years old this year, and is dedicated to the growing of LARGE pumpkins… the Atlantic Giant and others.
While Pumpkin Fest begins around the first week of October, preparation starts long before it! After all one needs to GROW the pumpkins! This summer I went searching for a pumpkin in the field.. simple one would think, but not hardly! I saw a nice one growing down at Pemaquid Point in August, but that was it.
I emailed Pumpkin Fest, via their website, asking if someone would let me take a picture of a pumpkin in a pumpkin patch. The lady who answered the email said she had two pumpkins in her patch, and to come on down! I did.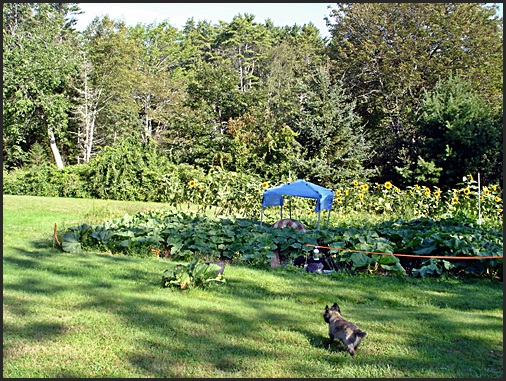 The patch had two pumpkin vines,
each with one pumpkin.
The vines had been carefully trained and filled the patch,
without spilling out of it.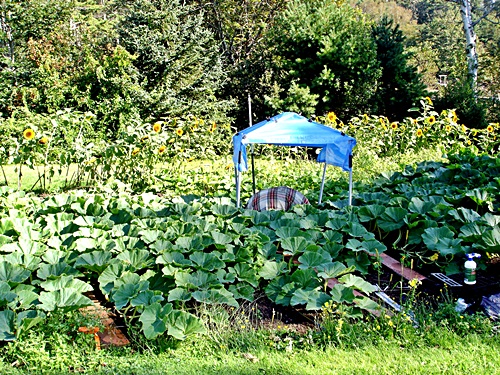 The pumpkins can grow up to 10 lbs. a day, sometimes more.
To protect the skin from hardening, and thus cracking,
they are grown under covers.
They are uncovered on cloudy days.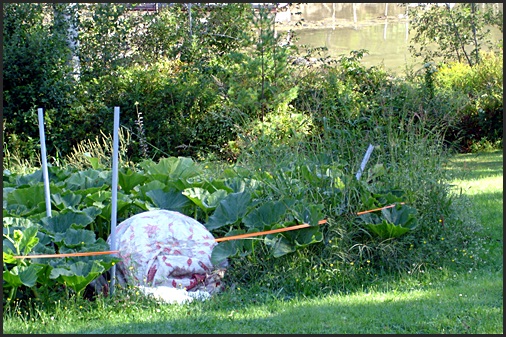 Pumpkin Fest started 5 years ago. The moving spirit behind it was Bill Clark, who had been growing giant pumpkins, and winning giant pumpkin contests. It has now been totally embraced by the community, which plays an active part in making it happen.
There are events of all kinds from a boat regatta- yes, you can paddle your own pumpkin, or even put an outboard motor on it! And this year a pumpkin derby is being added! There is a pumpkin parade, and pumpkins line the streets of Damarascotta. There has been, in the past the giant pumpkin drop- where a huge pumpkin is dropped on an old car… smashing it, and pumpkin chunking remains an active event. This is where pumpkins are launched out of what resemble large cannons. (Yes, there is actually an American Chunker team..) They can go as far as 3000′! The fire fighters use GPS to note the distances. Other things are music, pumpkin desert contests, underwater pumpkin carving, a pie eating contest, a pumpkin pancake breakfast, and a lot more.
Besides all of these fun events Pumpkin Fest is also about helping non-profit organizations be heard. There are two locations that they can set up, giving them exposure and hopefully allowing them to gather donations for their causes.
The other thing that Pumpkin Fest is about is the educating of people on HOW to grow a giant pumpkin. This is no mean feat…last year's champion pumpkin grower was reputed to spend 3-4 hours a day tending his patch.
The headquarters for the Pumpkin Fest activities is Pinkham's Plantation- nursery on the Biscay Road. For much of the season it resembles any plant nursery (Yes, they have good plants, and even some rather rare, hard to get ones.) But, come October 1 and the place is transformed!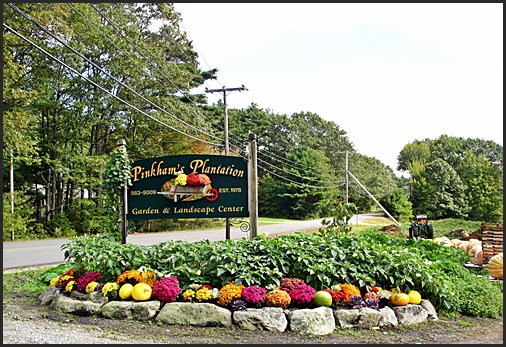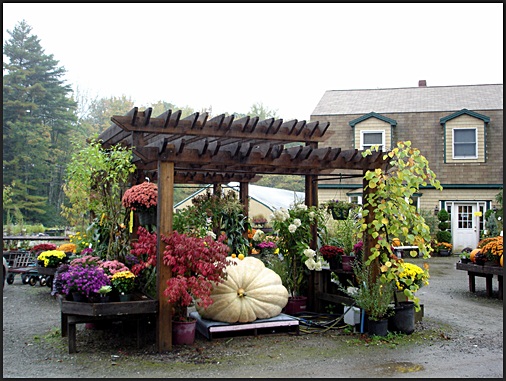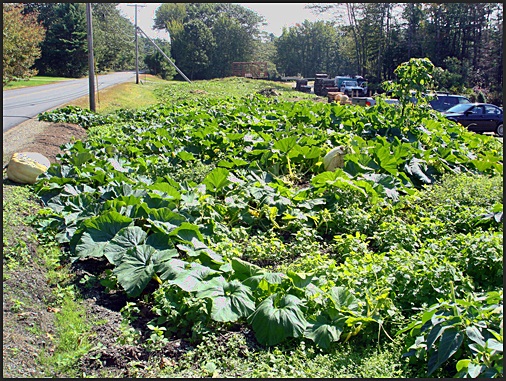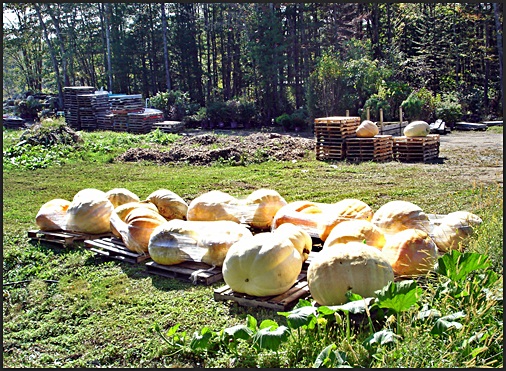 Once a pumpkin has been cut from the vine
they begin to loose weight.
Some of the pumpkins above
have been wrapped in plastic to help keep them
from losing water weight.
The pumpkins above were grown by volunteers,
and will be used for the different events of the week-
lining the streets of Damariscotta, Maine being one of them.
At Pinkham's there are pumpkins everywhere!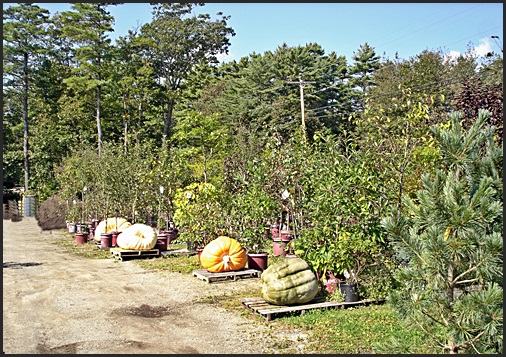 One begins to get a sense of the wide variety of large pumpkins!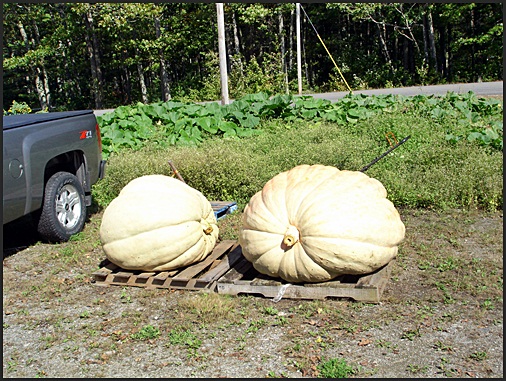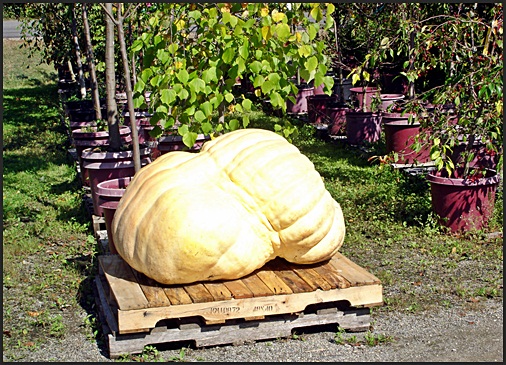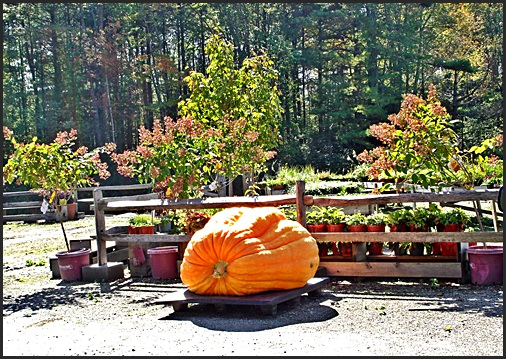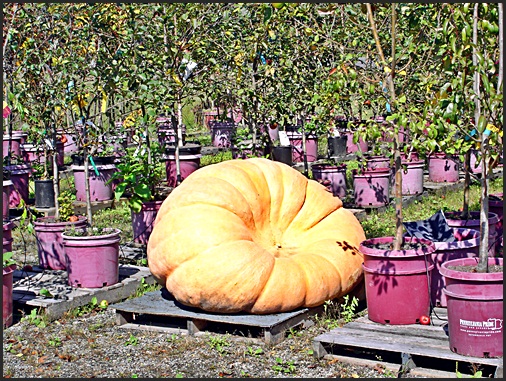 There are several categories for pumpkin and squash growers who want to enter the Pumpkin Fest Growing contest…There a youth division, a volunteer division, and then, for the big ones.. there is a pro-division. The winners share in a $10,000.00 purse, which is divided by class.
This is a sanctioned GPC (Giant Pumpkin Commonwealth) weigh off. This is a global organization dedicated to the growing of giant pumpkins. From their mission statement: The Giant Pumpkin Commonwealth's (GPC) mission cultivates the hobby of growing giant pumpkins throughout the world by establishing standards and regulations that ensure quality of fruit, fairness of competition, recognition of achievement, fellowship, and education for all participating growers and weigh-off sites.
There are also divisions for the growers of squash and long neck gourds.
SUNDAY- October 2, 2011
It has poured rain all day today. We hope to get out tomorrow and get pictures of the winning pumpkins, with their weight.
MONDAY- October 3, 2011
The rain stopped, and we headed over to Pinkham's Plantation
to get some pictures of the winners!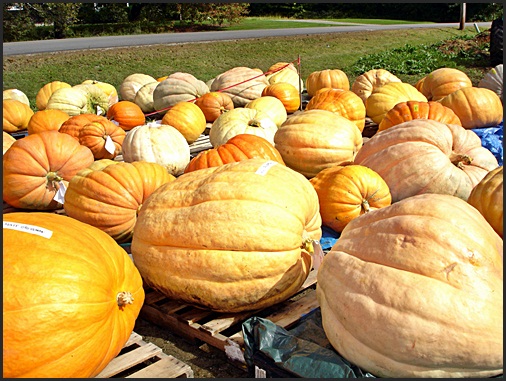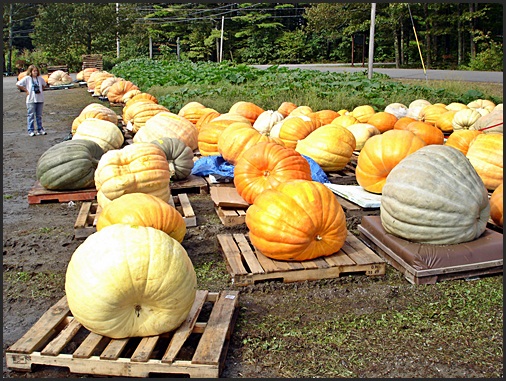 When faced with rows of enormous pumpkins
it is hard to realize
the full scale of these big boys!
There are three classes in which to enter pumpkins:
Youth, Volunteers, and the Pros.
This year, for the fourth time in a row,
Crystal Miller won with a 435 lb beauty.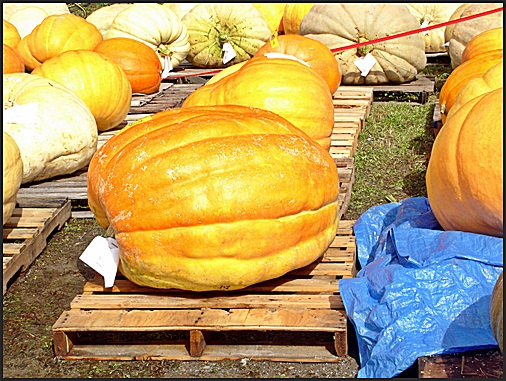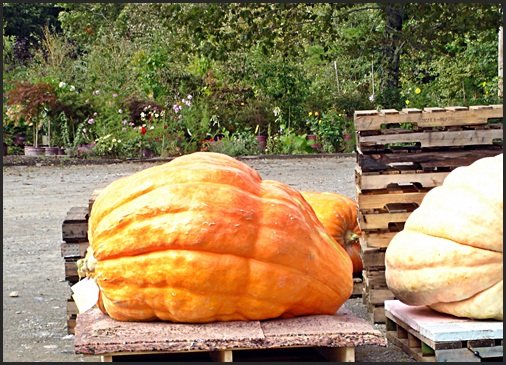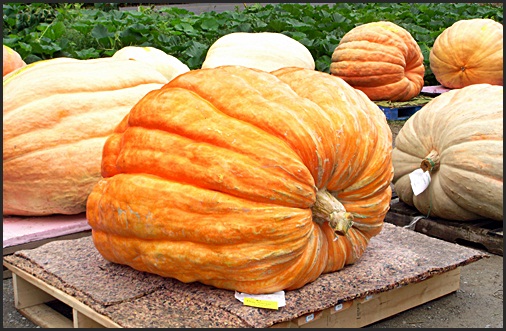 The next phase of Pumpkin Fest
is to harvest seeds from the pumpkins.
This is not as easy as it looks!
The large pumpkins have walls 4″- 6″ thick.
And the cavities can have enough fiber and seeds
to more than fill a 5 gallon bucket.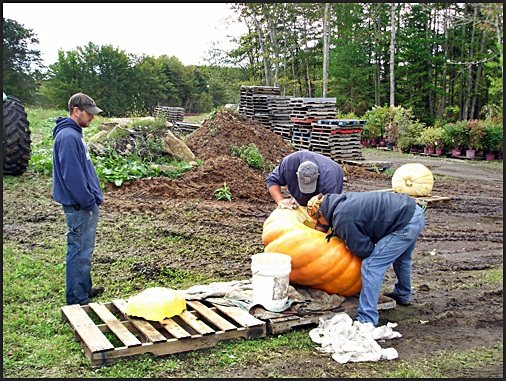 The pumpkins are rolled over, and they are opened on the back, using knives or saws.
The fiberous pulp is pulled out.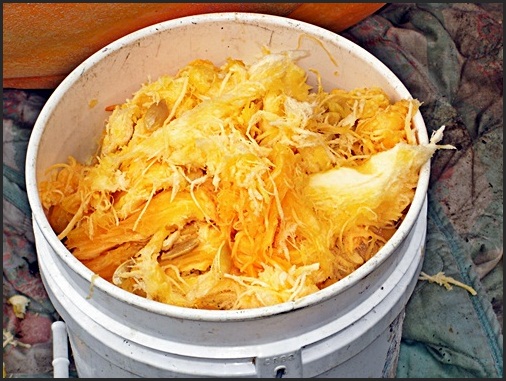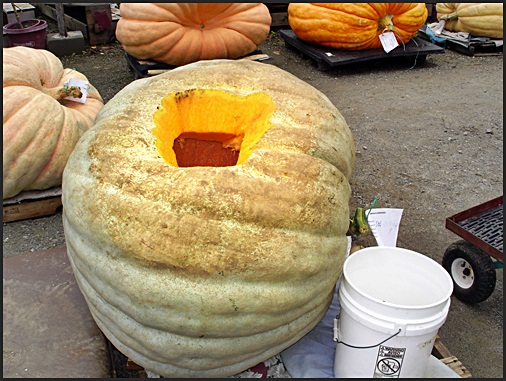 The large seeds are then separated from the fiberous pulp, washed, dried, and stored for next season.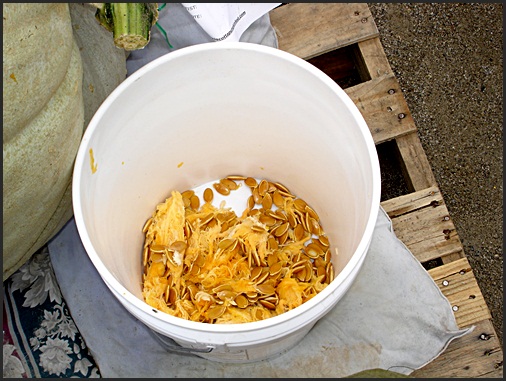 THURSDAY- October 6, 2011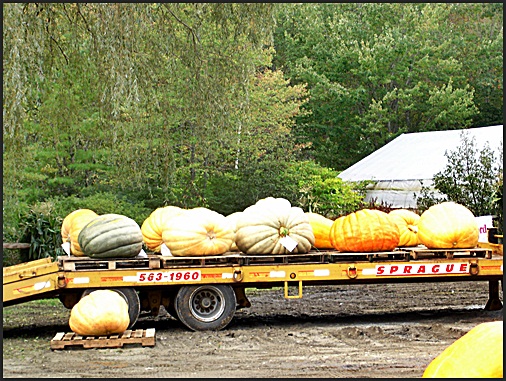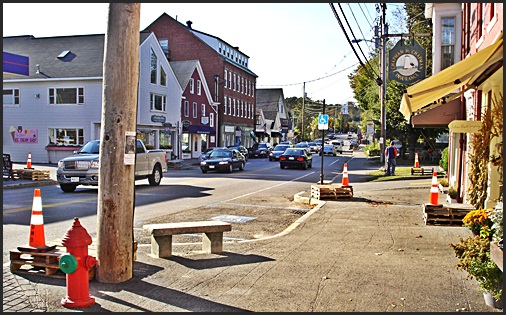 FRIDAY- October 7, 2011
Everyone can relax!
The pumpkins are here, the pumpkins are here!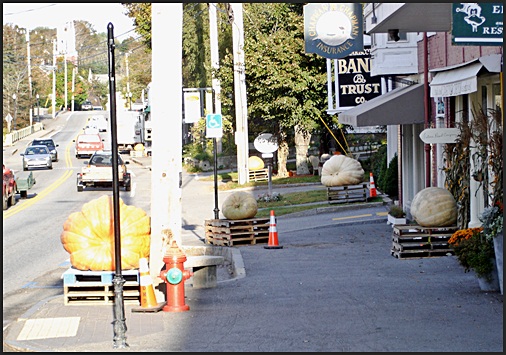 This morning everywhere one looked in town there were pumpkins!
Main Street has a lot!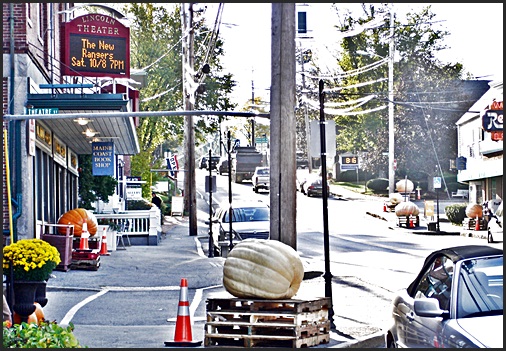 <
While the pumpkins sit waiting to be decorated,
it was a very busy time down at Pinkham's Plantation,
as the boat building got under way.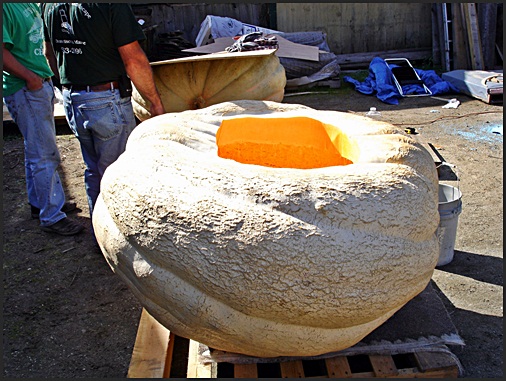 The first thing to do is, of course open the pumpkin up, and clean it out,
and make the hole where one can sit!
Then one needs to decide on the type of boat it will be!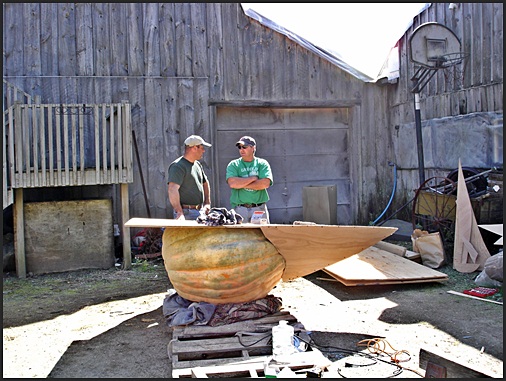 While some might take a traditional yachting tack, others might go for something else!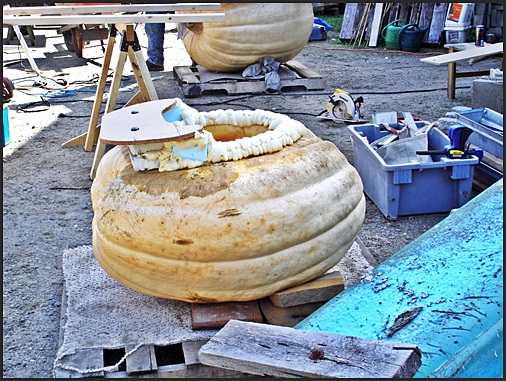 Meanwhile, back on Main Street, pumpkin decorating had begun!
Pumpkin Fest is run on donations. The large donators get to have a large pumpkin to decorate.
What they do is up to them, and they can be very creative!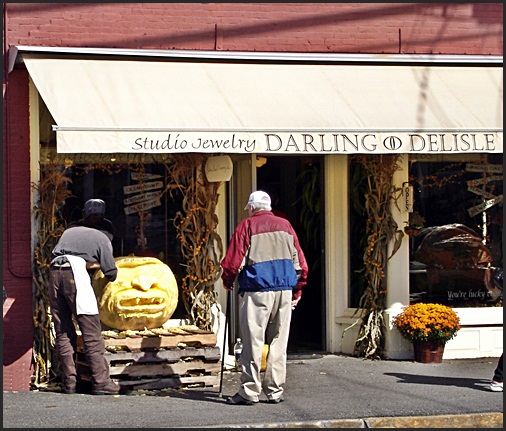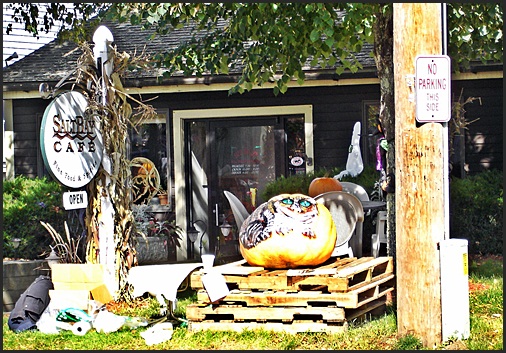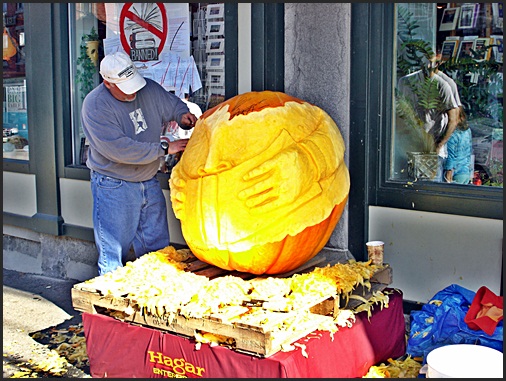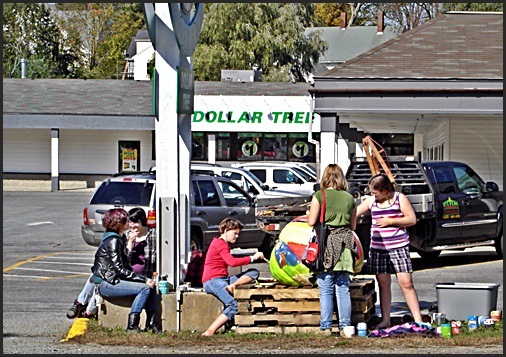 While the boat building and pumpkin decorating was going on, there was also movement for the new pumpkin derby, where people could decorate and race a pumpkin up to 20 pounds! The chunkers were also expected out on the Great Salt Bay. Things were heating up, as the town was filling up with people who wanted to see the pumpkins!
SATURDAY- October 8, 2011
Saturday dawned, a beautiful fall day, and it was expected to hit 80 degrees F… this is the first time most of us remember having this warm a weekend this late in the year! Especially, as we had had a hard frost two days before! But, no one was complaining!
Saturday was a marathon of events! From a pancake breakfast, to more boat building, pumpkin decorating, pumpkin chunking, the pumpkin parade, and the Damariscotta Mills Fish Ladder Restoration Project was having a chowder lunch and a wooden fish race as well! Main street was full of people, pumpkins, and the restaurants were busy serving food on the side walks as well… doughnuts and breakfast things in the morning, and lunch food later on! It was a perfect day for Pumpkin Fest!
The Pumpkin Parade started in Newcastle,
and ended at the dock in Damariscotta.
One thing about a town parade is
anyone who wishes to participate can!
There were children with goats, people with cats!
Everyone joined in!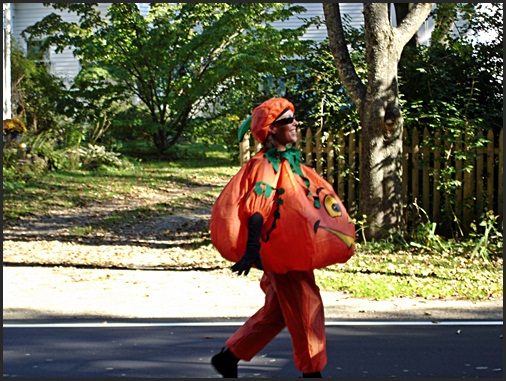 This pumpkin person just floated down the
parade route, enjoyment was evident!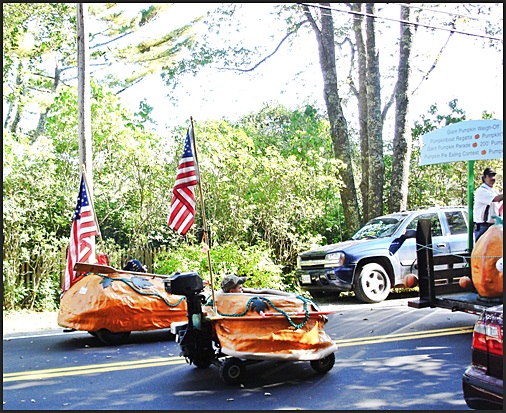 Kids had a great time in their pumpkin cars!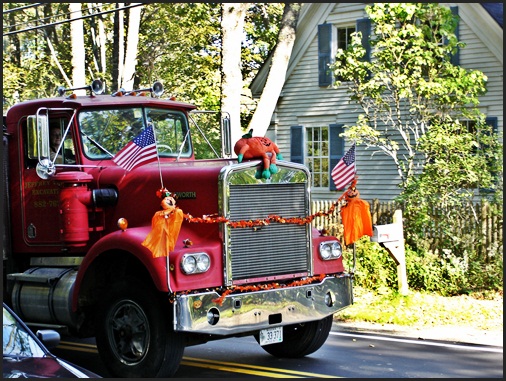 Cars and trucks were decorated appropriately!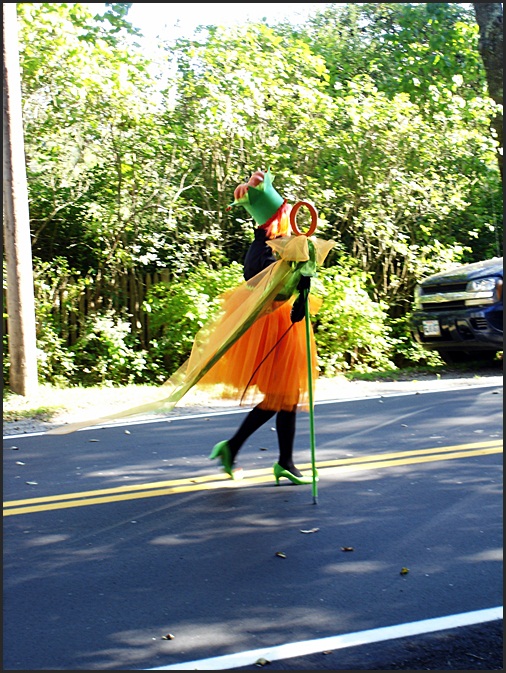 The Queen of the Pumpkins struts her stuff!
We did not go to the Regatta this year,
due to the accident the night before.
The following pictures are from the Pumpkin Fest Regatta, 2009.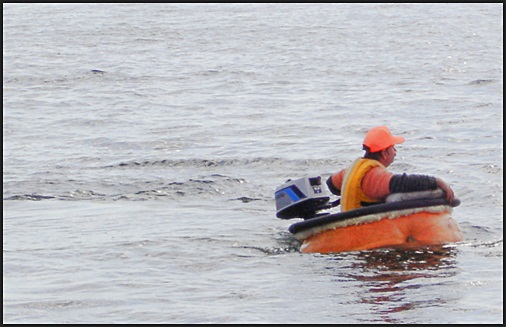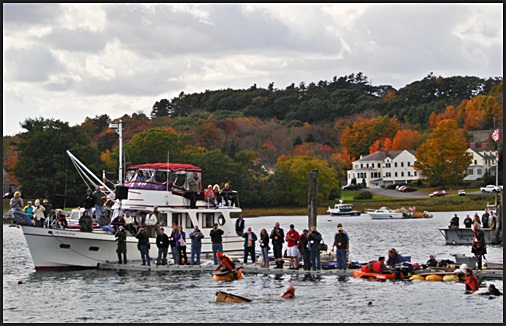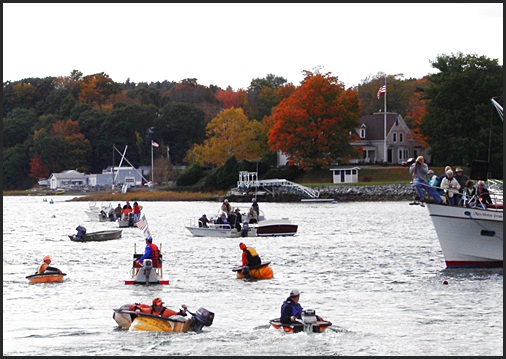 ACTION AT SEA!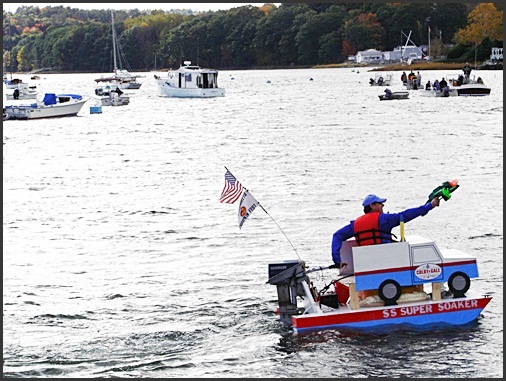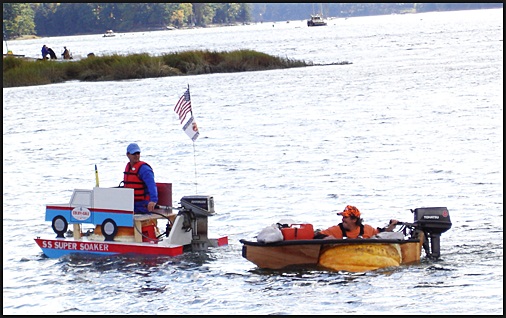 The carved and decorated pumpkins are amazing.
While some are keyed to the store businesses,
others are just very imaginative!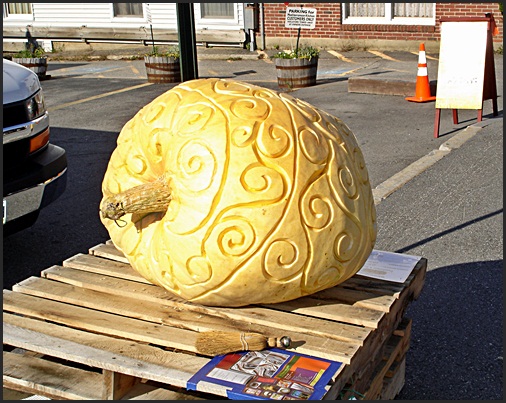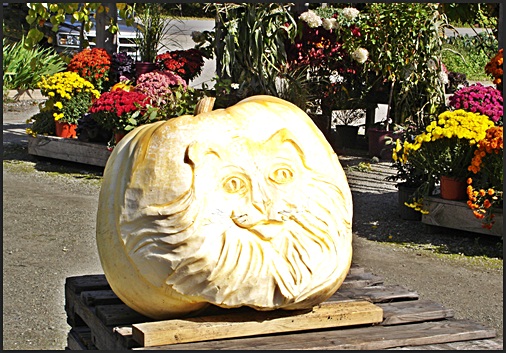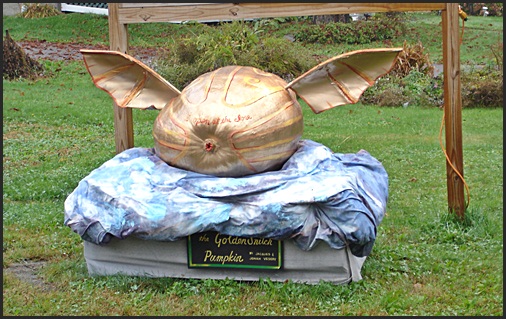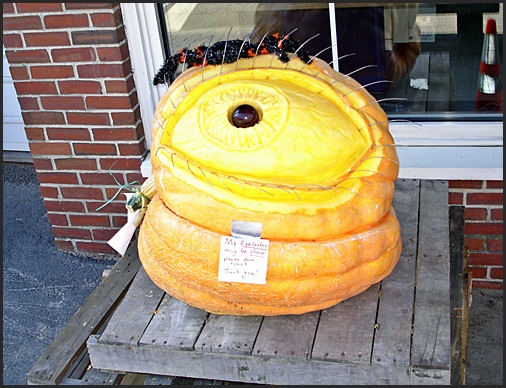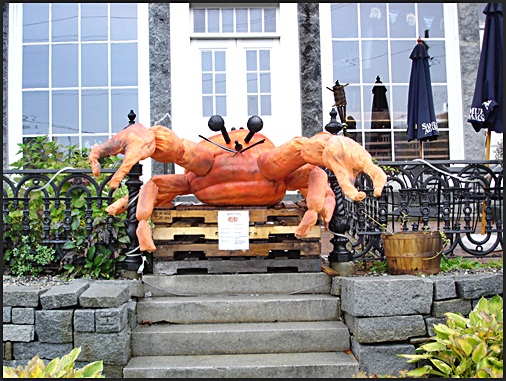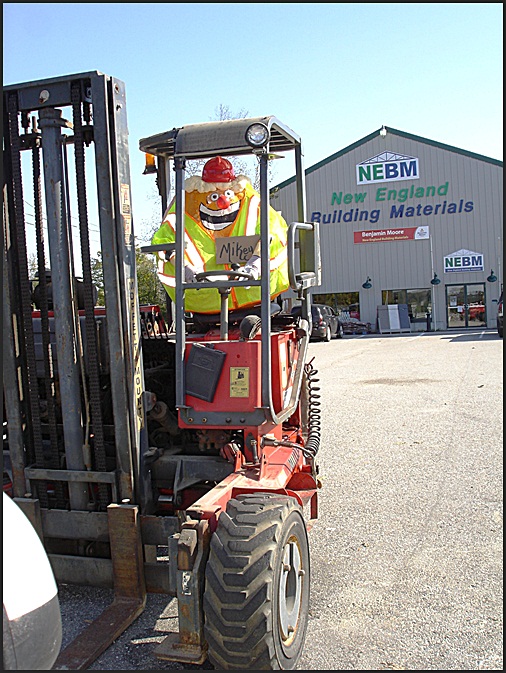 SOME OF THE PUMPKINS
add humor to the community!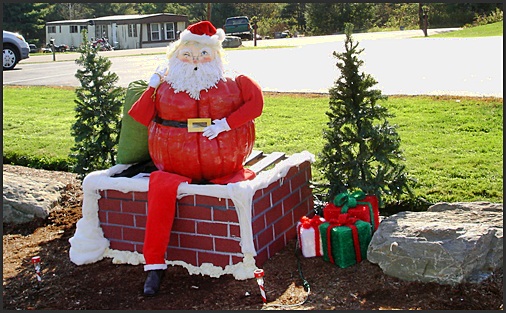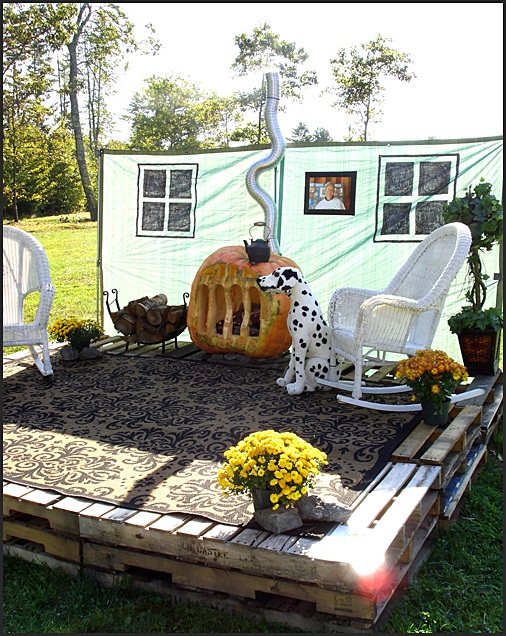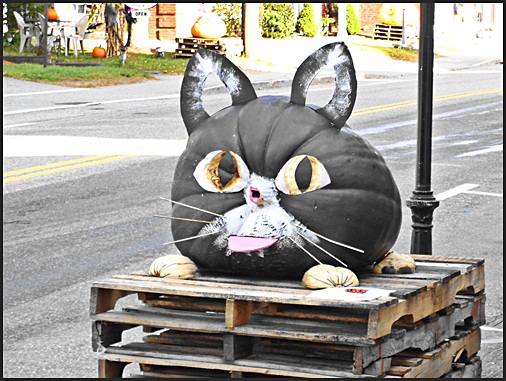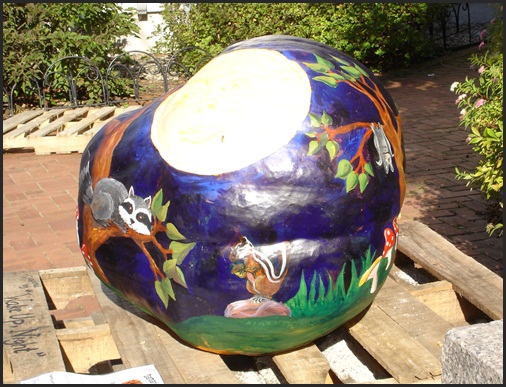 I hope you have enjoyed the pictures of Pumpkin Fest. And, if you feel inspired to grow your own giant pumpkin write to Pumpkin Fest for some of the giant seeds! And, hopefully, if you are in the mid-coast region next fall, you will come and see next years giant pumpkins!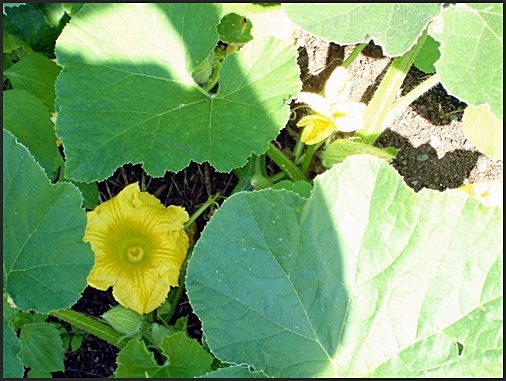 A SAD NOTICE
At the end of the parade there some Shriners on go carts doing stunts. There was an accident, it wasn't anyone's fault. And one of them died. This happened just after we had been talking with them. We did not go to any of the other events following the parade, we just did not feel like doing so. Our thoughts and prayers are with the family of the man who died, and with his fellow Shriners who were in the parade.
On this amazingly beautiful weekend it underscored how fragile life is, and how blessed some are.
RESOURCES and THANKS
First I would like to thank Kathy Anderson for her help, and time with this blog post. She very kindly allowed me to come down to her pumpkin patch, and spent time with me. So, thankyou, Kathy!
For information on Pumpkin Fest and growing pumpkins see:
http://damariscottapumpkinfest.com/
For information on the Great Pumpkin Commonwealth see:
http://greatpumpkincommonwealth.com/index.php
For information on Togus the cat see:
http://www.togusthecat.com/