The red rooster chicken fabric was discontinued last year.
Well, we have had it printed!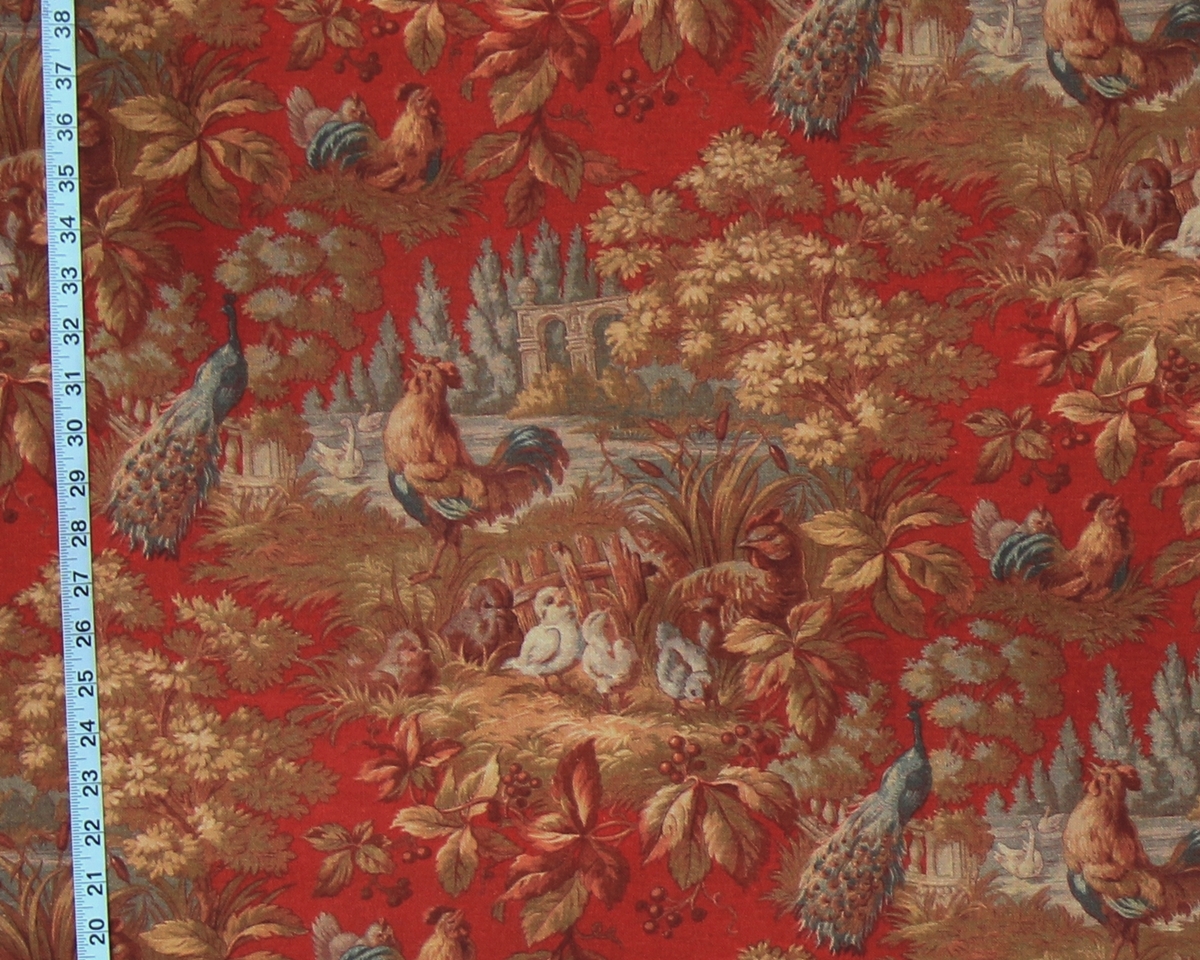 This is not only for rooster and chicken lovers.
It is a complex toile pattern
which works with many genres.
For those who like decorating in the English manor style-
it would work.
It can fit into a room with antiques  or
work well in a library setting.
And, if one needs a fall fabric,
this has that look.
The rooster, hen, and chicks
are not just what this pattern is about.
There is much more to it.
Take a look at P.Kaufmann's
County Fair.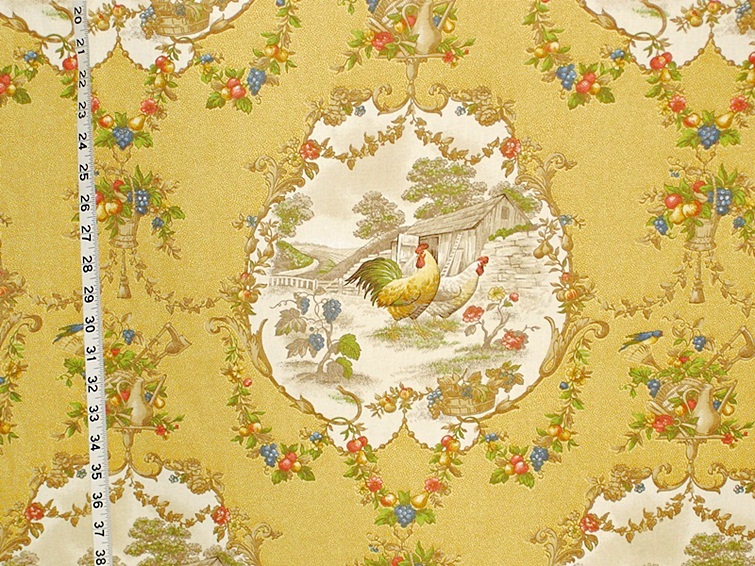 County Fair has a scene,
set in a medallion,
that rests on a colored background.
This focuses our attention on the scene in the medallion.
The details around it
add to the pattern,
but  those details aren't part of the scene.
They enhance the pattern,
giving emphasis to the design.
But those details aren't part of the actual scene.
Here. the rooster and hen are the focus.
The Red Rooster Toile Fabric
is quite different-
it is a scenic toile,
with the rooster, hen, and chicks
part of that scene.
And, that scene has many elements.
The over-all effect is of a great estate or country manor.
There is a lake with swans,
a peacock on a balustrade,
which shares ground with the rooster,
and in the background
are trees surrounding architectural remains.
The rooster and chickens are part of this whole scene.
They add to the country look,
and help define the pattern's message.
But, they are brought into prominence by their size.
They aren't quite as large as the peacock,
but the rooster is close.
All of these different elements effect how one
sees, or reads, a fabric or pattern.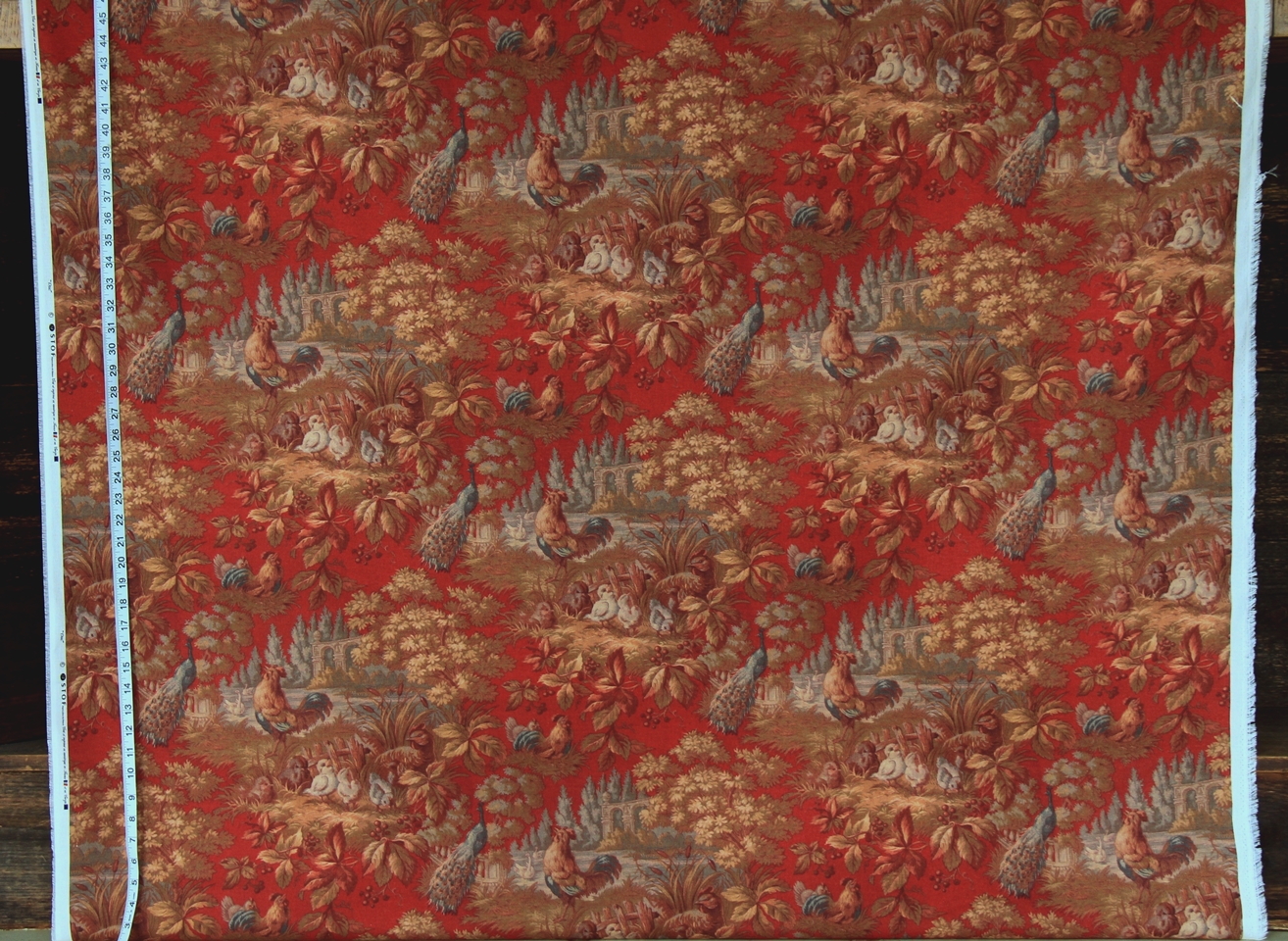 The whole is enhanced by leafy vines and berries.
Just as in County Fair these embellishments
add to the look and feel of the pattern.
They say fall,
and they say country.
The background is a unique red that has coral orange undertones.
The muted vintage tones of the design and
the reddish background give an autumnal feel.
You can find this,
and all our rooster and chicken fabrics in  the
Rooster Chicken Fabric category. 
_____________________________________