The first ticking stripe fabrics have been listed.
We decided to offer some of the basics we have been asked for. And we found a mill willing to sell by the yard, as it is impossible to carry everything available. We were sent literally thousands of samples to chose from. And the choice was over-whelming. It took a while to really mix and match what went with what and what of those things would work with what we carry.
So, we then sent in an order for yard cuts to be able to photograph the fabrics and to cut samples. To that end we have been photographing and editing pictures like mad. This is not as easy as it sounds. Stripes and checks tend to pixalate in pictures. And, many just don't photograph well colorwise, as they are monochromatic. We have come to realize this is a work in progress!
But, we did get one of a group of ticking stripes listed this morning.
These have a dark mid-line thread, bordered by two thinner, lighter stripes, giving a slightly ombred look to the pattern. The colors are mostly muted, and they work with a good number of other fabrics we have.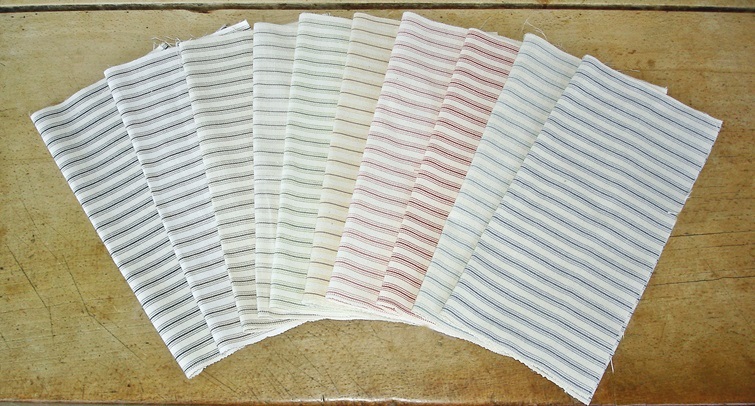 These come in
black, chocolate brown, brown/grey, grey
sage green, yellow, pink, red, and
seaglass blue and blue.
See them in the
Basics, Striped Fabric category.
We are currently working on the pictures of an embroidered paisley fabric
and also a series that is similar to Madras plaids from the '60's.
We hope to have them up in the next few days!