As many know, I have been trying to catch up with getting small pieces or pieces with flaws online. Some of these have been waiting to be listed for quite some time. As each needs to be inspected, measured, and photographed, the process has given me time to reflect on many aspects of home decorating fabrics.
We have always focused on novelty fabrics. At one point we did carry a lot of checks, stripes, and plaids, but we made a decision a few years ago to go back to our roots- to novelty fabrics.
A lot has changed from when I started on the net, over twenty years ago. Not only has the net changed, but fabrics have, in many ways. Patterns that people want to live with, the scale of patterns to meet the different needs of the size of furniture and houses, the process of applying patterns to fabric, the actual ground cloths, and the finishing of the fabrics have all changed.
In recent years many companies have moved away from printed fabrics, as the focus has changed to easy care fabrics.
For a while, the scale of fabrics got very, very big- to fit big furniture in big spaces. While large scale fabrics are still available, we are now seeing more fabrics with a smaller scale than we have seen in quite a while.
While screen printing has always been the main way to apply color to printed fabrics, the companies are moving away from that to digital printing.
And instead of a large choice of ground clothes, companies have moved to a few that work for both use and the dyeing methods.
As for finishing, with new regulations, some companies are no longer finishing their fabrics.
_________________________________
When a pattern is shown to us, there are several considerations, the first being, do we like it.  But, what it is that catches our eye is interesting. It is a combination of the subject, color, groundcloth, and the actual printing. Some companies come out with several hundred new patterns every year. So, there has to be something special about a pattern for us to get it. What makes it stand out to us, from all of the other patterns produced?
When a new fabric comes in, the first thing I do is hang it for photographing it. By doing that, I feel it, and really look at it. My job is to give people a sense of the pattern.I have to decide how to give people  the best sense of what the fabric is about;  what elements need to be centered in the photograph. This gives me a chance to really get to know the pattern and color, how the pattern is set up, and how the color moves on the fabric.
I then have to write a description, noting color, scale, and use.
It is when I am deciding on how to cut it that I begin to really understand a pattern. As many know, we don't sell all fabrics by the yard. The reason for that is simple, we want the buyer to get the design so that it useable. If a buyer is buying an increment of one, what would they get. For many fabrics, if they bought a yard, at some point, as it came off of the roll, that yard would have the main pattern element cut incorrectly. Our favorite analogy is no one wants a horse with the head cut off.
______________________________________
So, back to how this subject started-
I have had the opportunity to revisit a lot of patterns,
to see and feel a lot of fabrics,
while getting the smaller pieces on line.
So, I thought it would be fun to look at a few fabrics,
and note what, in my opinion, makes them unique.
And, I wanted them to have two attributes
that contributed to making them so.
And, one thing I think it is important to ask while doing this is-
does the pattern have a concept?
And, if so,
does the fabric deliver that concept.
_______________________________________________
One of our most popular fabrics is one that I just cut,
so, I am going to start with it-
the Venice fabric.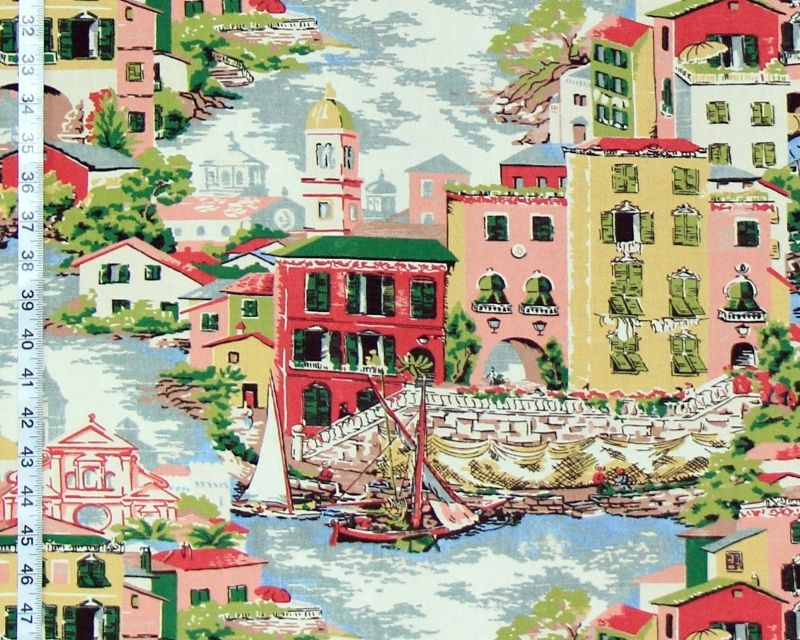 I first saw this fabric years ago-
and I was instantly captivated by it.
I love the colors- bright, bold, fun.
as well as the details- laundry blowing from a landry line,
a restaurant on the quay being set up for dining.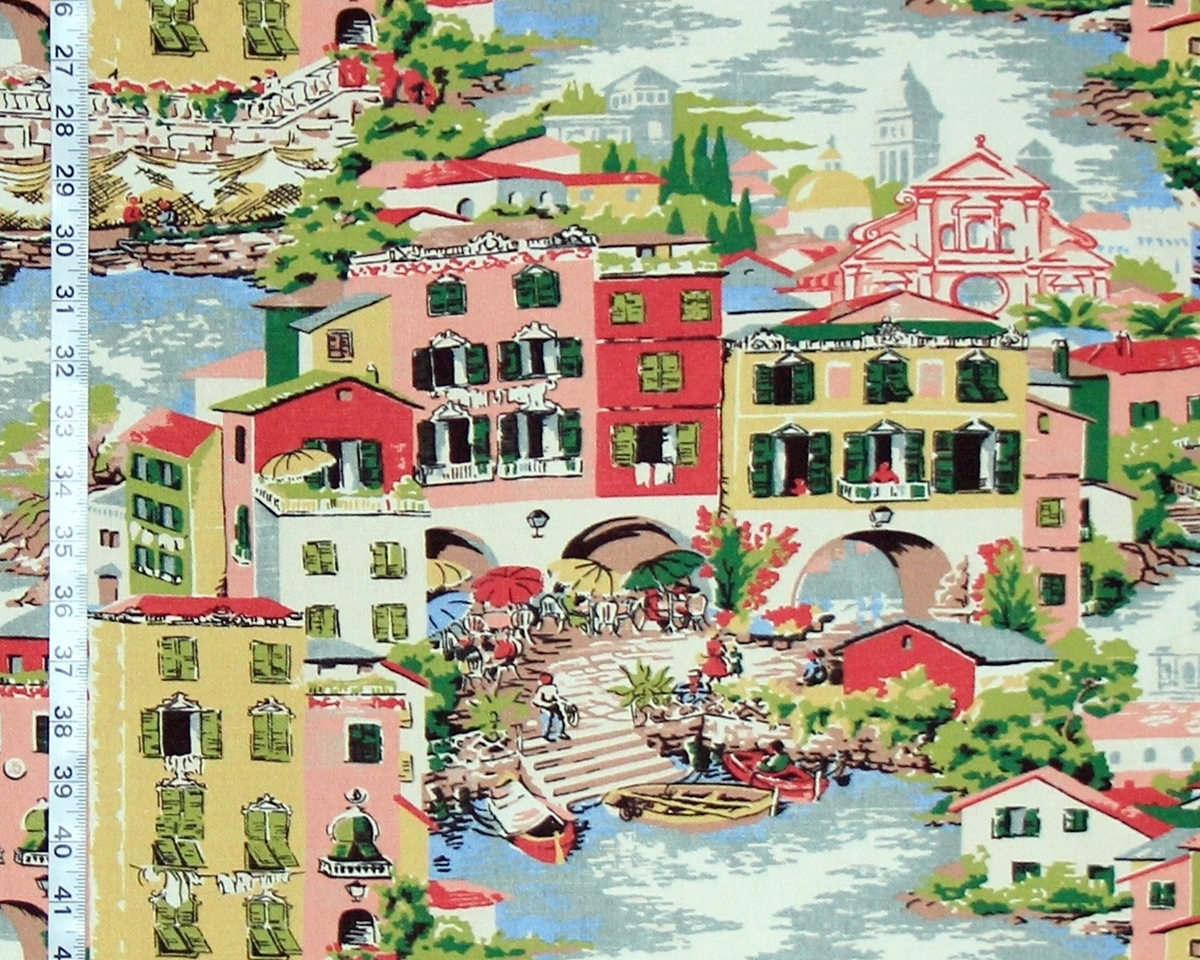 I also like the juxtaposition of the
coloreful, very detailed elements of the pattern,
with the more simplistic background line drawing and silhouettes.
And, the scale is small enough to be easily used.
So, for me this is a unique fabric that does have a theme,
and delivers it well.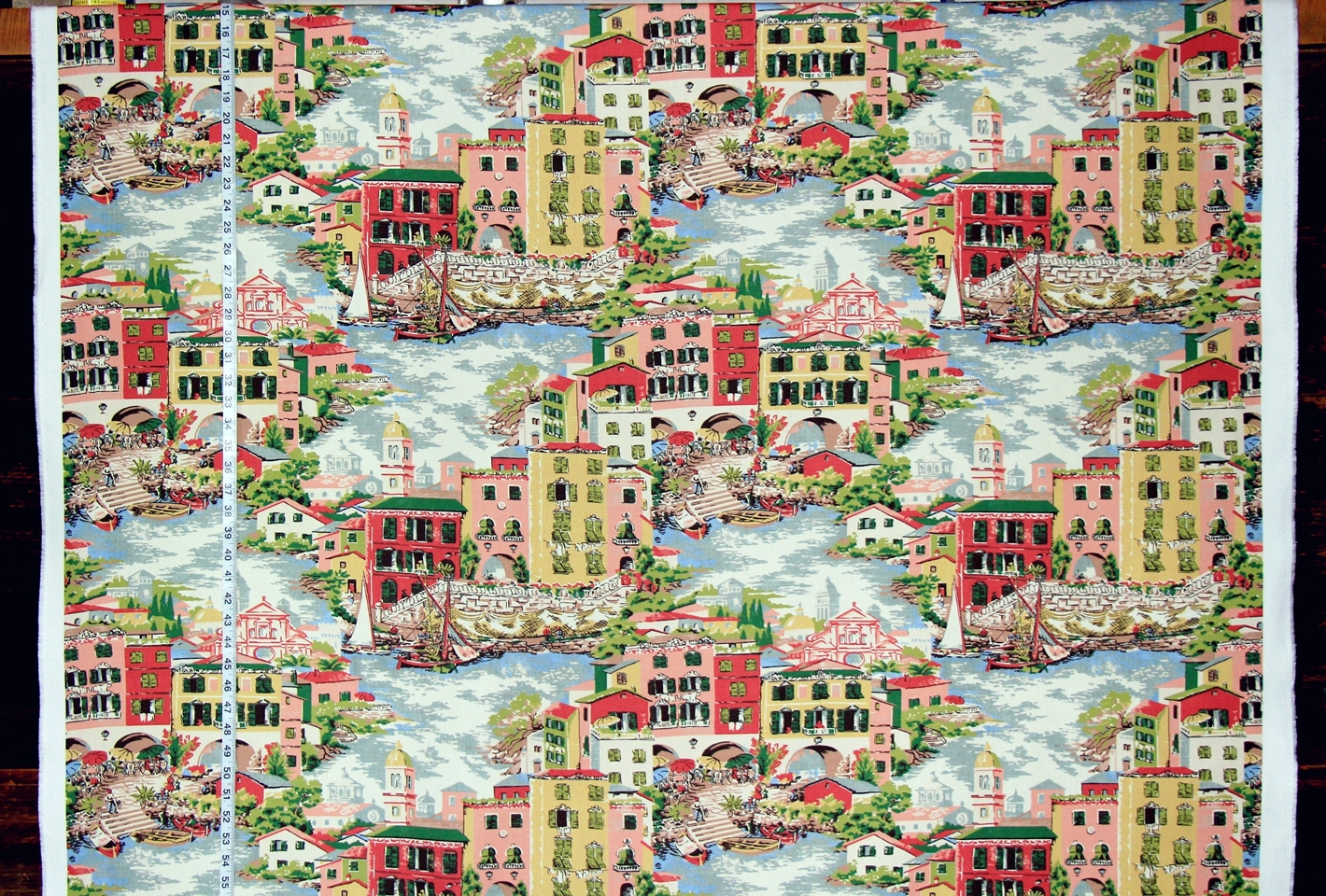 We also have another Venice pattern,
in two colorways.
It is very different!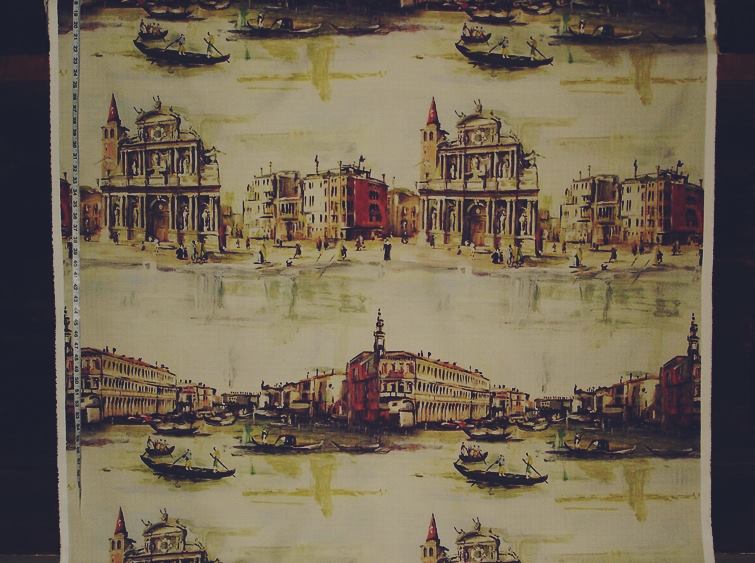 This has the look of a painting done by
an old master.
It is truely an interesting fabric.
This has two different scenes, set in rows.
Unlike the other Venice pattern,
the elements on this are not integrated,
making it much more difficult to use easily.
So, what do I like?
Its uniqueness for one.
The concept, coloring, and application of the pattern
are interesting and well done.
The idea of actually having a scenic pattern
done as a painting with the coloring of
a painting by an old master intrigues me.
And the ground cloth is a wonderful, soft cotton.
One customer wanted to cut it between the rows of patterns,
and seam it to make a valence,
certainly do-able.
One could do the same for a bed skirt.
And then cut for pillow or shams.
This also comes in an all blue colorway,
which gives a whole different look.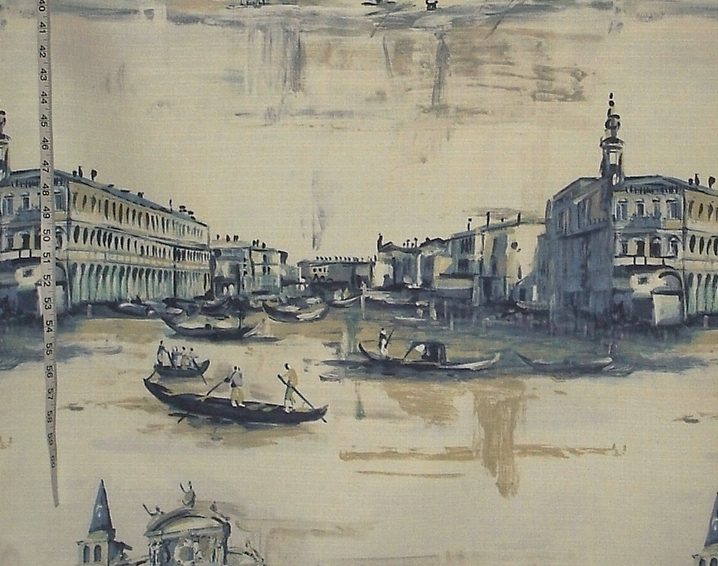 The same ground cloth, which is wonderful,
is used on the snapdragon fabric.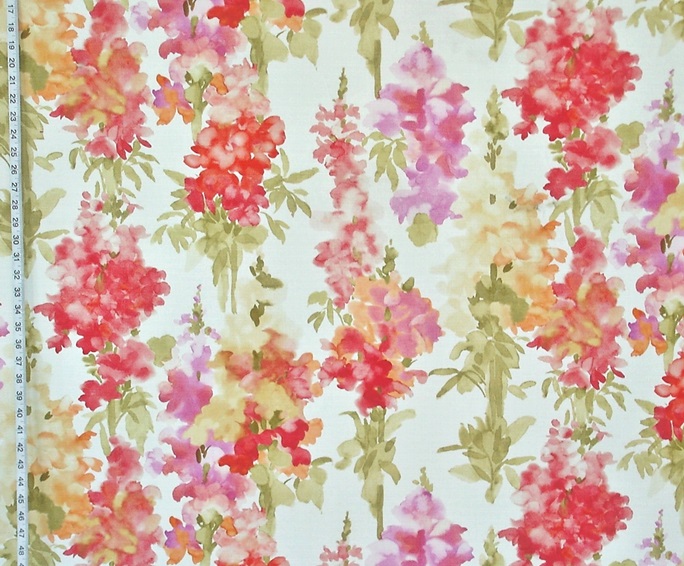 This is almost the opposite of Venice Painting Fabrics.
It is easy to use, one really doesn't need
to worry about the repeat,
as it is the randomness of colors that gives this its verve!
The coloring, the blending, and the ground cloth
set this apart from the majority of home decorating fabrics.
Also bright and bold is the
elephant, cheetah, monkey, horse fabric.
It was the whimsical nature of this pattern that
caught my attention.
That and the bright, bold coloring.
One thing that is interesting about this is the
upside down horse.
This is not a multi-directional fabric,
but the upside down horse is a
departure from most home dec fabrics
which are usually done so the pattern has one direction.
Some seashell patterns, and an occasional  floral
depart from this,
but not many patterns do.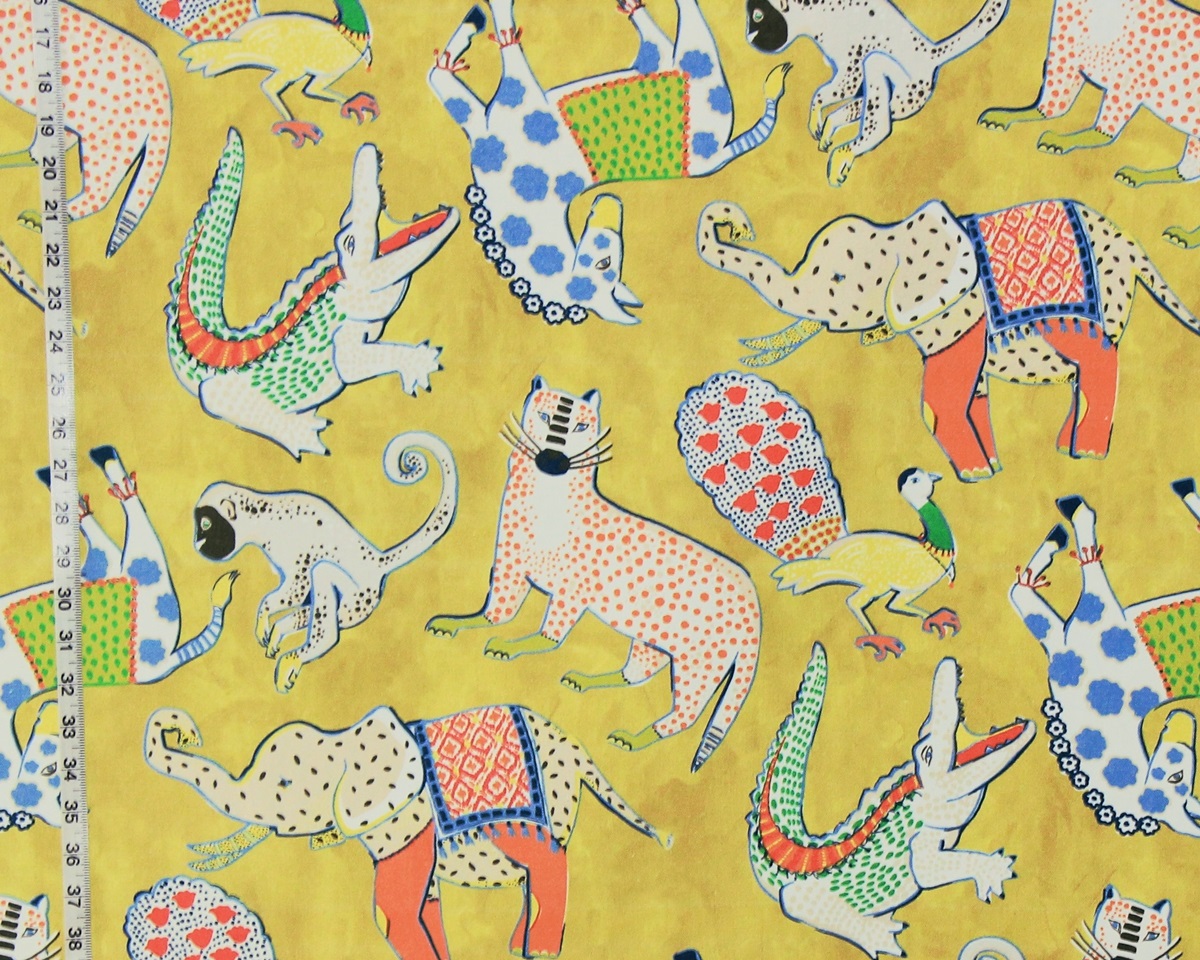 I love the patterning of the animals-
the horses mane is flowers,
and his body is covered in more floral shapes.
I also liked the tonal coloring of the background.
Being tonal makes a fabric able to be used with
a broader range of colors.
One is not trying to match one color,
it can be used across a broader color range.
We have this in a spritely green,
which accentuates the dots on the alligator.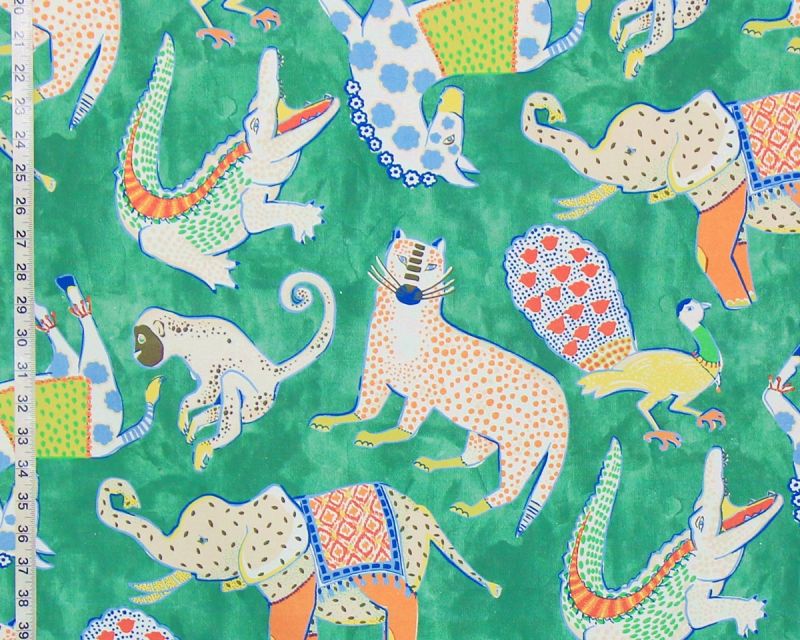 And there is also a neutral grey background colorway.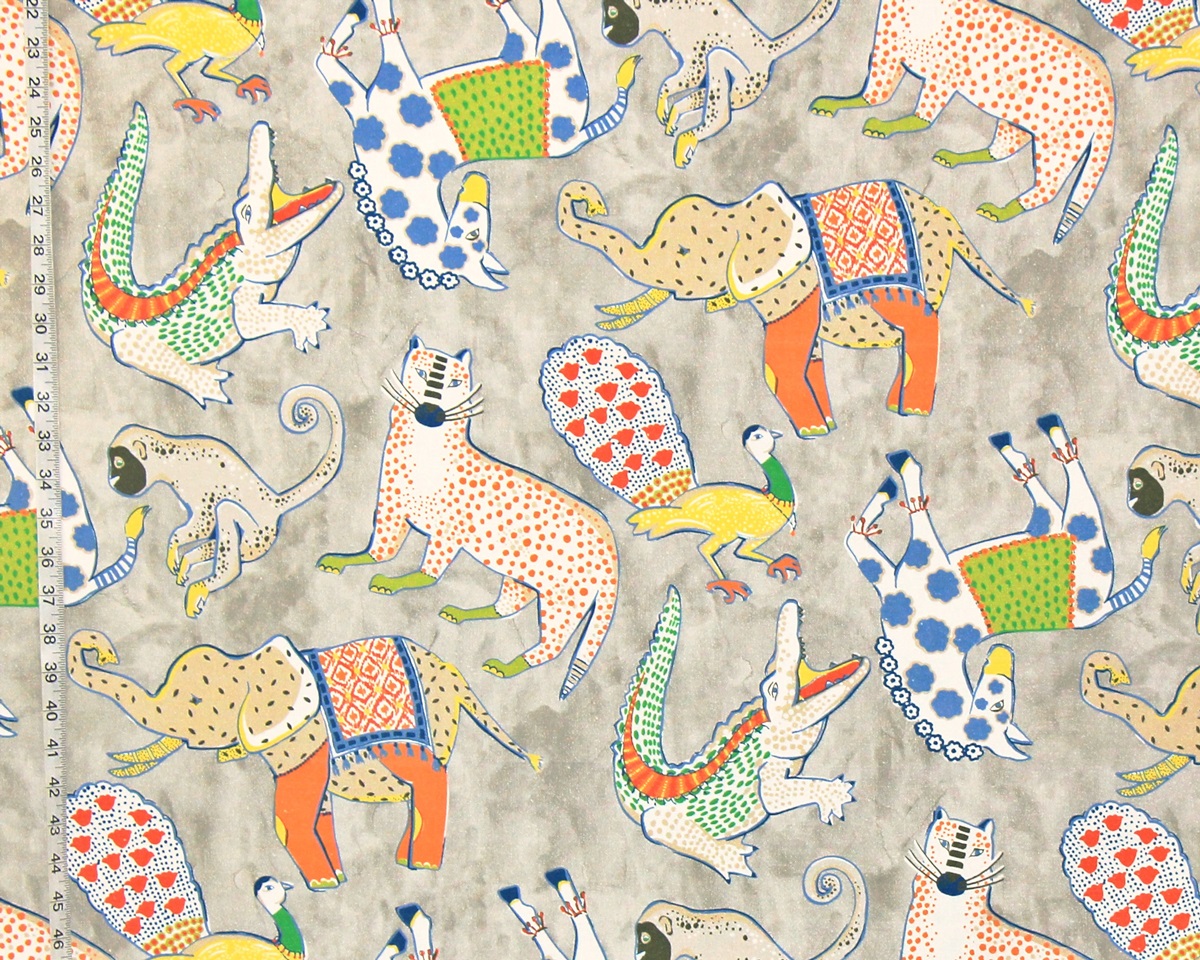 The coloring of the birds and animals
remains the same on all of the colorways.
But, the impact of the pattern, of the animals,
will depend on the interaction of
their coloring with that of the background.
Another whimsical animal pattern is the
tropical jungle fabric with leapards and beasts.
This is an interesting cross over of an animal pattern
with an Indienne.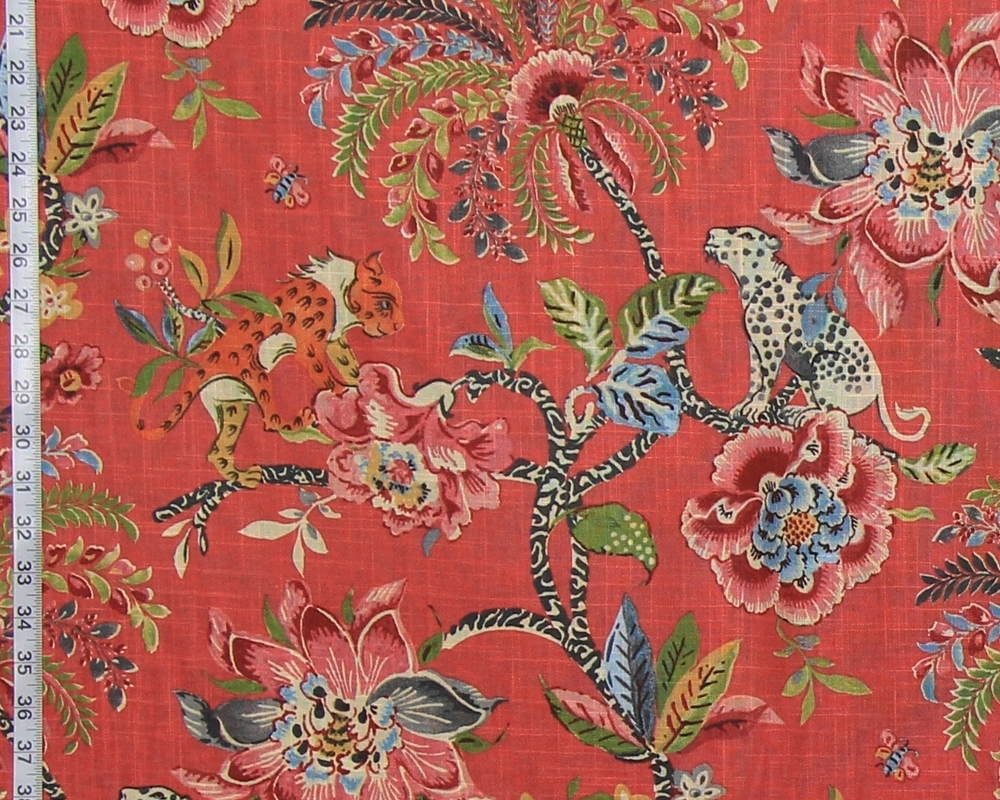 Indiennes are Tree of Life patterns.
And, this one has two things that,
for me, make it stand out from all the other Tree of Life patterns,
of which there are thousands.
When doing a description of an Indienne,
at times it is hard to come up with anything new…
Stylized flowers, blooming from tree branches.
Great.
But, what sets it apart?
Well, this has several things.
The first is part of the pattern.
It has a tropical tree, reminiscent of a palm,
blooming from the main tree branch.
Second, parts of the branches and trunk are patterned
with what reminds one of an animal hide pattern,
echoing the exotic animal motif.
Third there are the leaopard and the beast!
I love the soulful look of the leopard,
as well as the intent stare of the beast.
These animals have been given distinct personalities!
Other positive things are the ground cloth-
it is woven with a slub,
which gives variation to the texture,
and also to the colors as the slubs take dye differently.
So, there is a slight variation to the coloring.
And, the background color is a luscious coral tone.
As it is rendered,
it is rather unique in the fabric world.
And, the scale is not too big-
it is a very useable fabric.
Another unique fabric,
based on the Indienne pattern,
is the
Seashell Indienne fabric.
Here the flowers are formed of shells!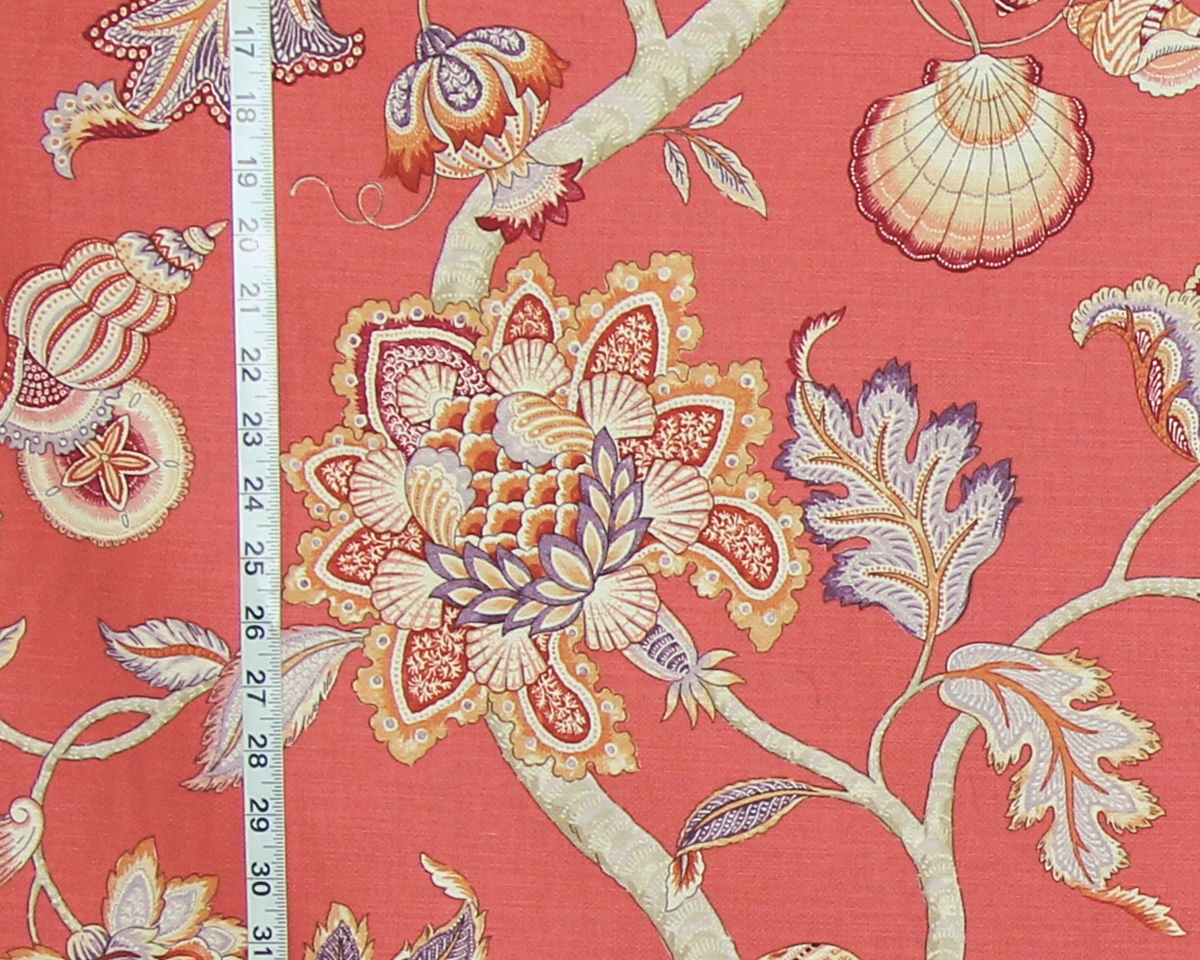 This also has been woven with a slub,
though a lighter one than the
Tropical Jungle Beast Fabric.
What do I love here?
The idea of the use of shells,
which changes it from a Tree of Life pattern
to an Indienne.
I also like the shells dangling from
branches and twigs.
Not only do they emphasize the shell motif used for the flowers and leaves,
but they fill space,
making the whole pattern more integrated.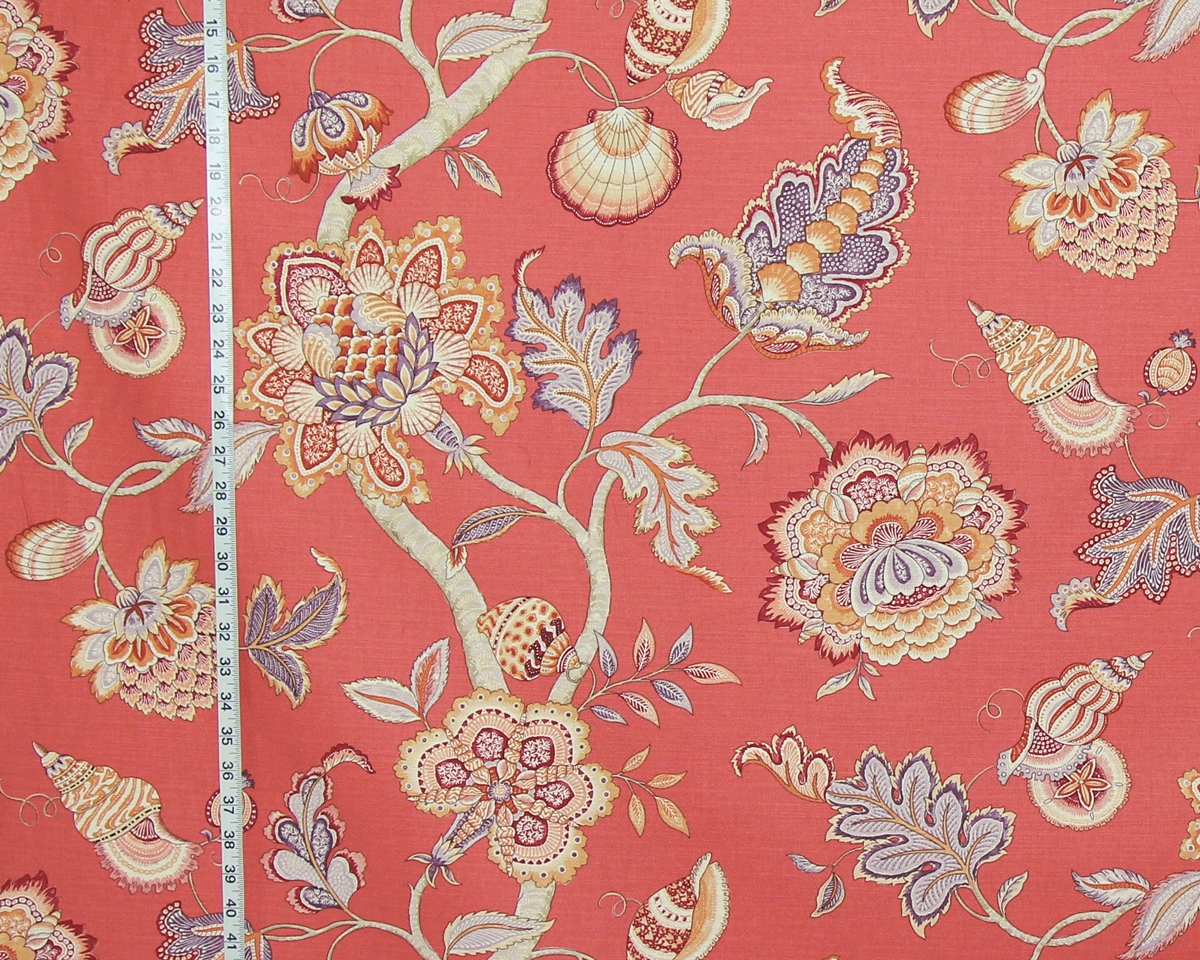 And the coloring is again unique-
tones of purple, orange, and maroon are seen
against a salmon orange background.
Again, the pattern is useable,
it is not too large.
We have a lot of animal patterns.
Every year many exotic animal patterns are produced,
but do any stand out?
I think the exotic animal fabric with
extinct birds and beasts does.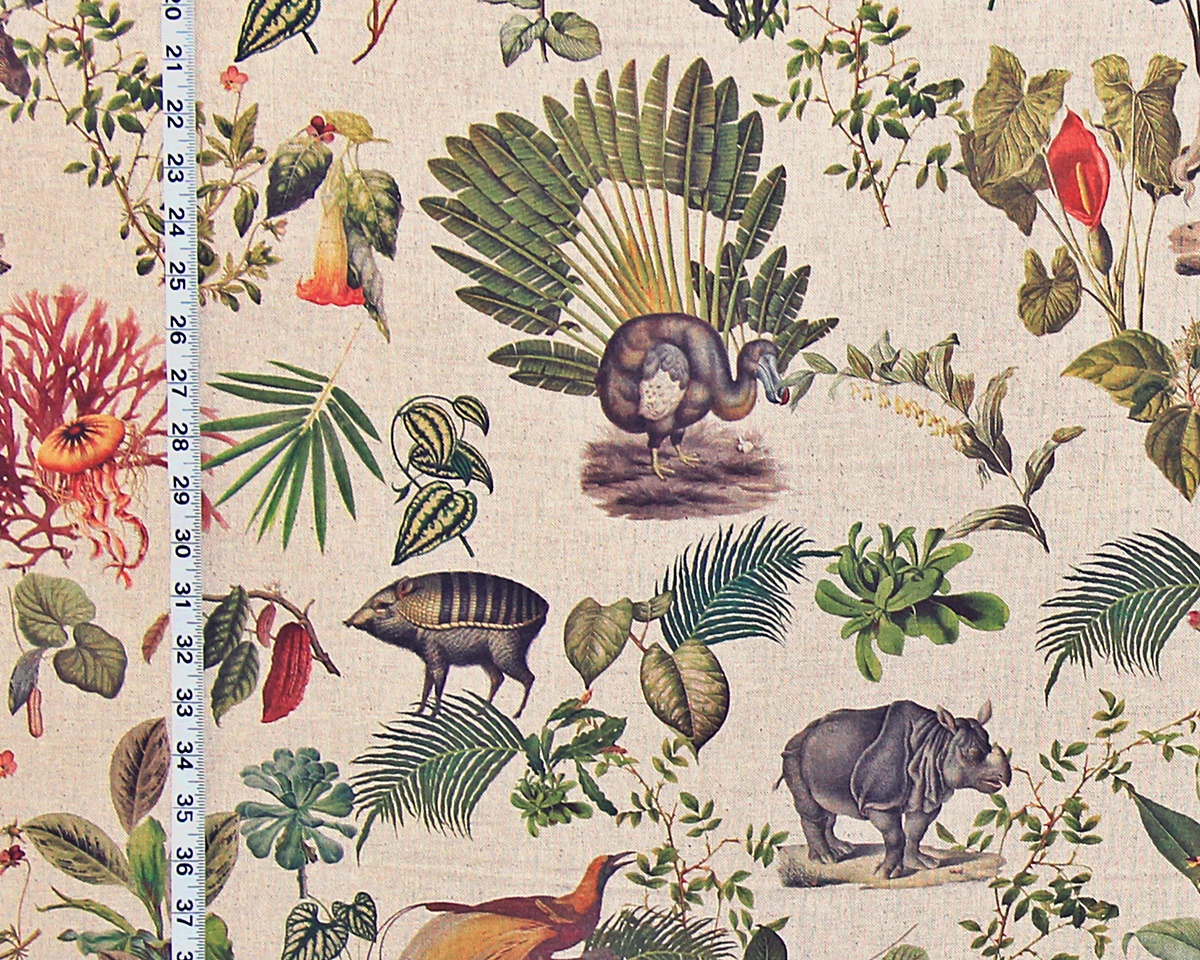 This stood out to us for a couple reasons.
First, it is a showcase of extinct animals and birds.
There are quite a few animals,
all accurately depicted,
which are now extinct.
Darwin's monkey and, of course the Dodo,
are shown, as well as others.
And, the coloring,
along with the oatmeal background,
gives this a vintage look,
in keeping with the total concept.
And, this has a small scale,
making very useable.
The polar bear fabric is another unique animal fabric.
There are not that many patterns with polar bears.
We have had three others.
What I liked about this was the idea of a polar bear,
out of hibernation,
coming across snowdrops blooming up through the snow.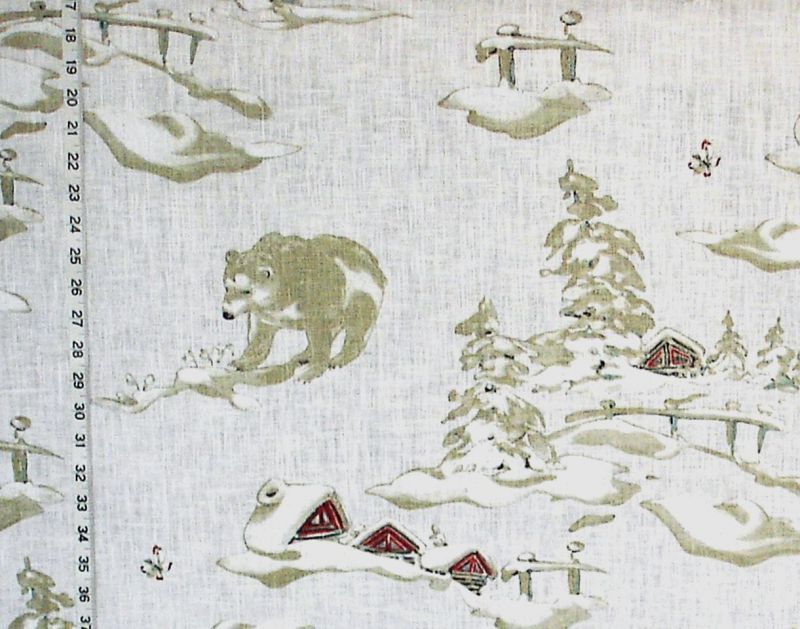 I just liked it.
The houses and trees are snow covered,
and yet,
here is a bit of spring-
what we all look for in late winter.
The fabric is a really nice bleached linen.
The snow is white, printed over it,
which gives more depth to the pattern,
and emphasizes the feeling of snow.
This also comes on a natural linen.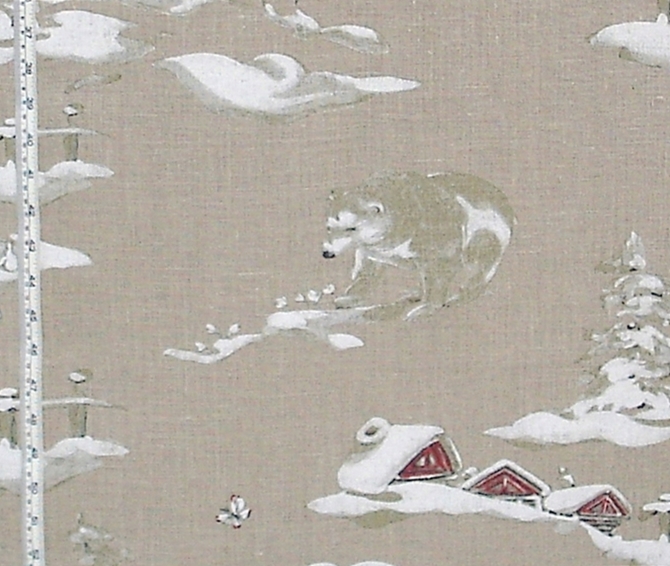 I like Greek key patterns.
They are usually a woven pattern,
but, we have one that is embroidered.
This is an impressive fabric for several reasons.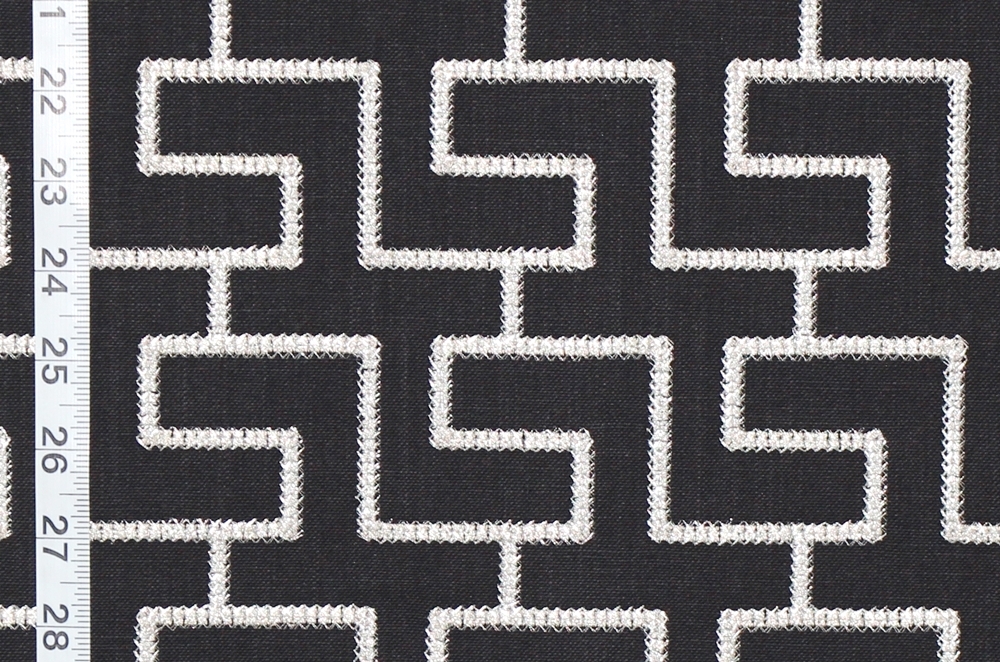 First, the coloring- it has silver grey embroidery,
with stitching over it,
which has some shine,
on a matte black background.
So, there is a lot of contrast between the design
and the background.
The embroidery is slightly raised from the background,
which gives even more definition to the design.
Second, the scale for a Greek key pattern is fairly large.
And, third, this has a really crisp look to it.
It is a fabric is for those that want to make a statement!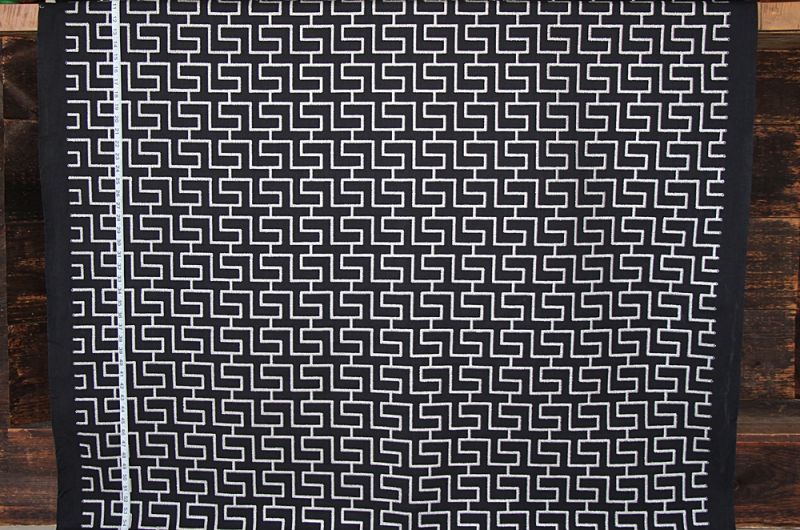 One of the most impressive and unique fabrics
we have had is
the Imari fabric.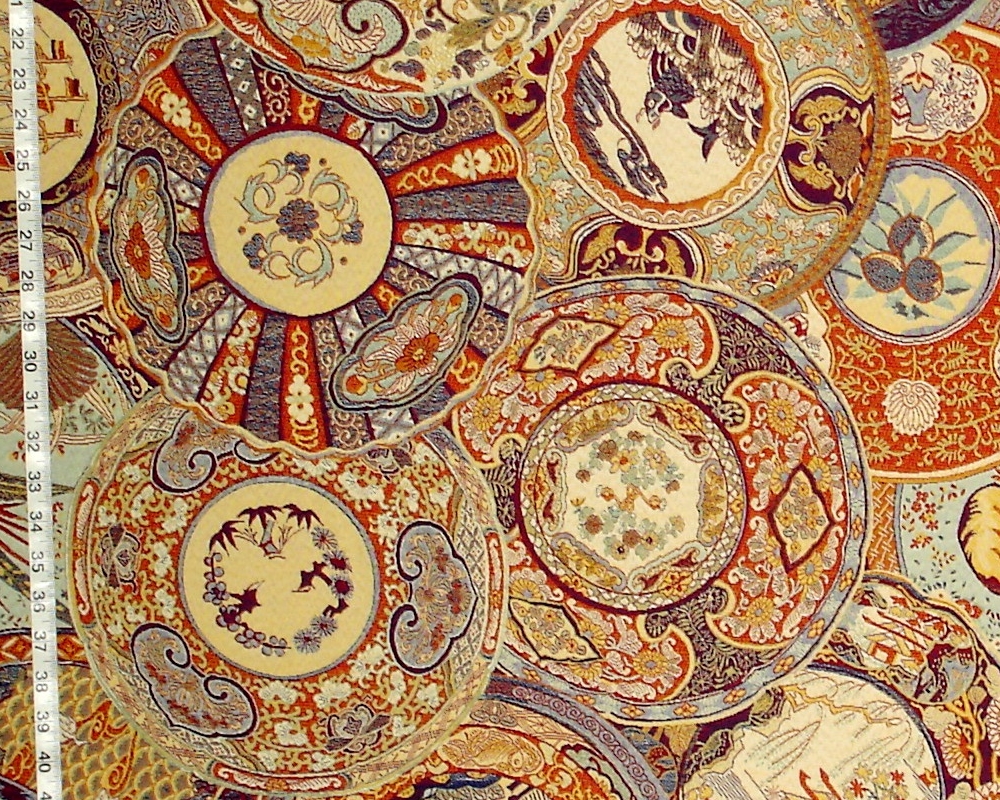 This is a woven upholstery weight fabric.
The design has layers of antique Imari porcelain plates,
each with an intricate pattern.
This being a woven,
with the number of colors used,
and the intricate designs,
is what makes this unique,
and impressive.
Truthfully, we have never seen anything
else like this.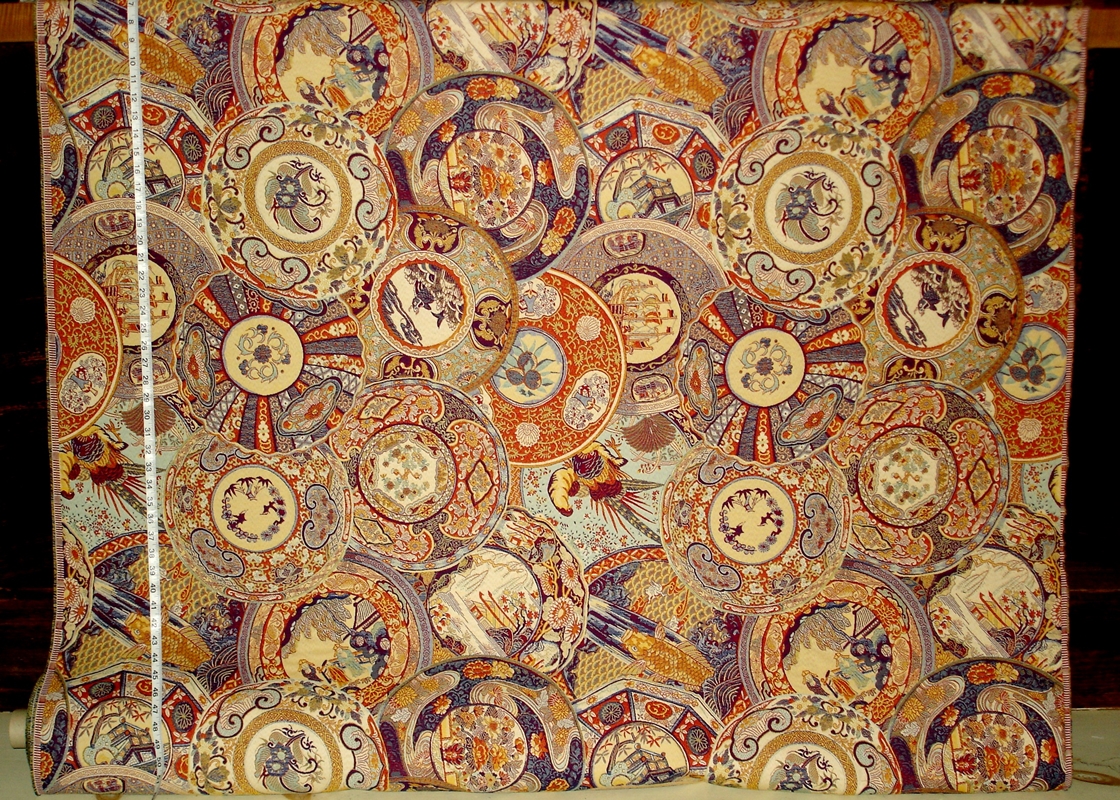 I hope that this look at why some fabrics
stand out from the crowd will
help people looking for home decorating fabric
find what they truely want in their life.
_______________________________________