Whelp, we thought we were going to be able to move all of the fabric without any interruptions to shipping, but as is life, it just didn't quite go as planned, and new orders will be delayed in their shipment.  We've run into an internet issue at the new location in Brunswick, ME and there have been some hiccups getting all of the fabric moved.
To make up for the delay, we're having a sale! – 15% off most IN STOCK Fabrics – With coupon code
Read below for details on how this will effect orders for the next week and for information on how to take advantage of the discount!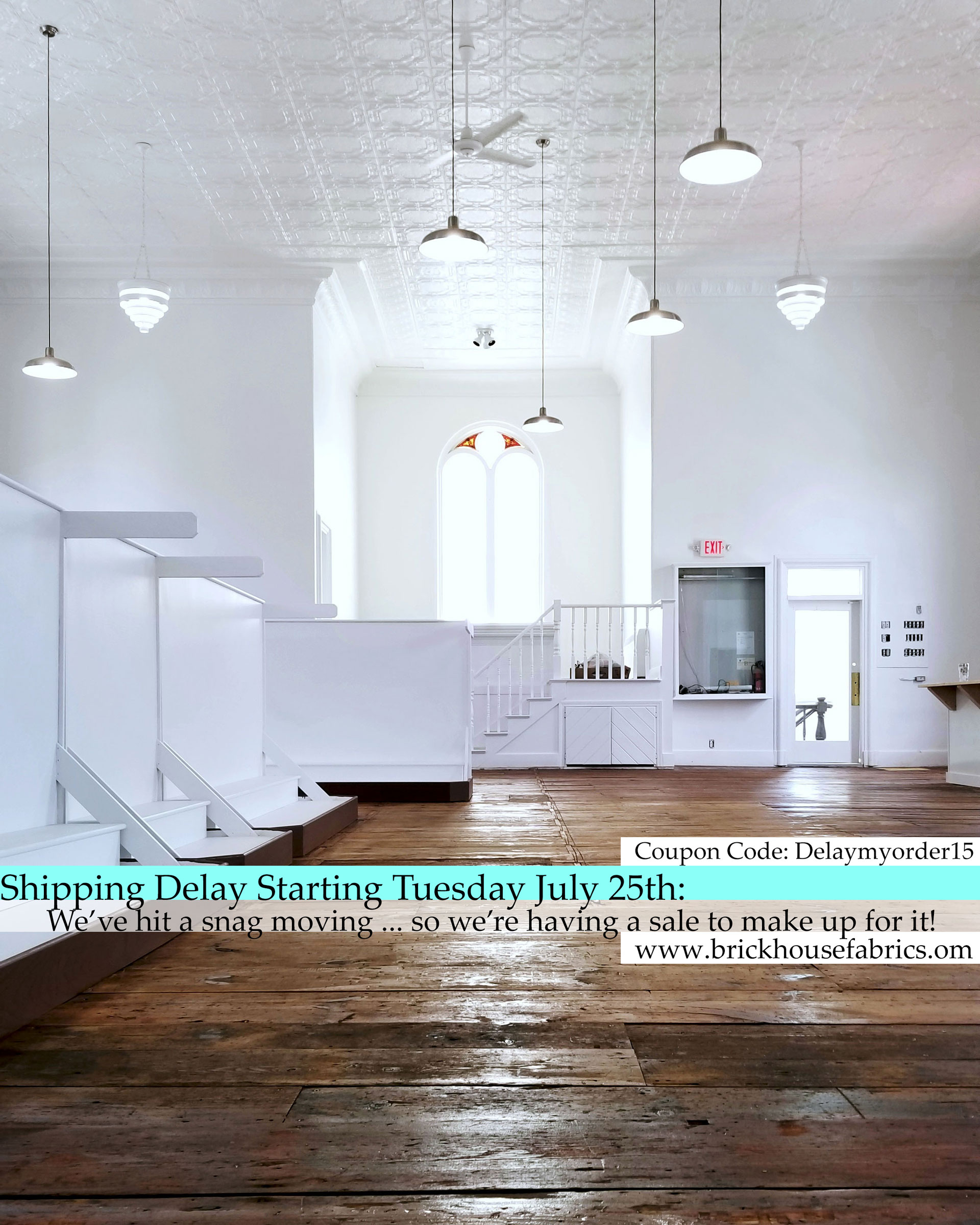 First things first: If you placed your order prior to the posting of this article, your order will ship as usual. There are no current orders that are effected by this delay. So if you ordered yesterday, your order is all set!
Going forward: I expect to begin to resume shipping on Friday July 28th – Orders will be shipped in the order in which they were received and I expect to be fully caught up on orders by the end of the day Wednesday August 2nd. – But, plan on your order not shipping until Wednesday August 2nd.
Im extremely sorry if this inconveniences anyone.  If you are in an absolute rush, and need something shipped within 1 business day, it MAY be possible to accommodate your needs, so please email prior to ordering : info@brickhousefabrics.com and let me know what fabric(s) you're looking at, and I can let you know if its possible to get right out.
Sale Details:
To make up for the delay, we're having a sale!
MUST USE COUPON CODE AT CHECKOUT : Delaymyorder15
Take 15% off most IN STOCK fabrics. This includes most fabrics,  including fabrics already labeled as "On Sale" and Destash pieces.
Sale ends  Wednesday August 2nd, 2017.
Exclusions:
– All fabrics in the "Basics" Categories and sub categories. Checks, Buffalo Checks, Stripes, Plaids, etc.
– Any special orders
We are still offering FREE BASIC US SHIPPING on US orders over $75.00! 
Again, we're sorry about the delay, but we're excited to be moving into the new space! The transition should allow us to better serve everyone with new fabrics, faster shipping and some exciting new projects!
Thank you!
-Taber