Yep, we have two  new chicken rooster toile fabrics.
Well, one is more of a farm fabric-
but, it does have chickens!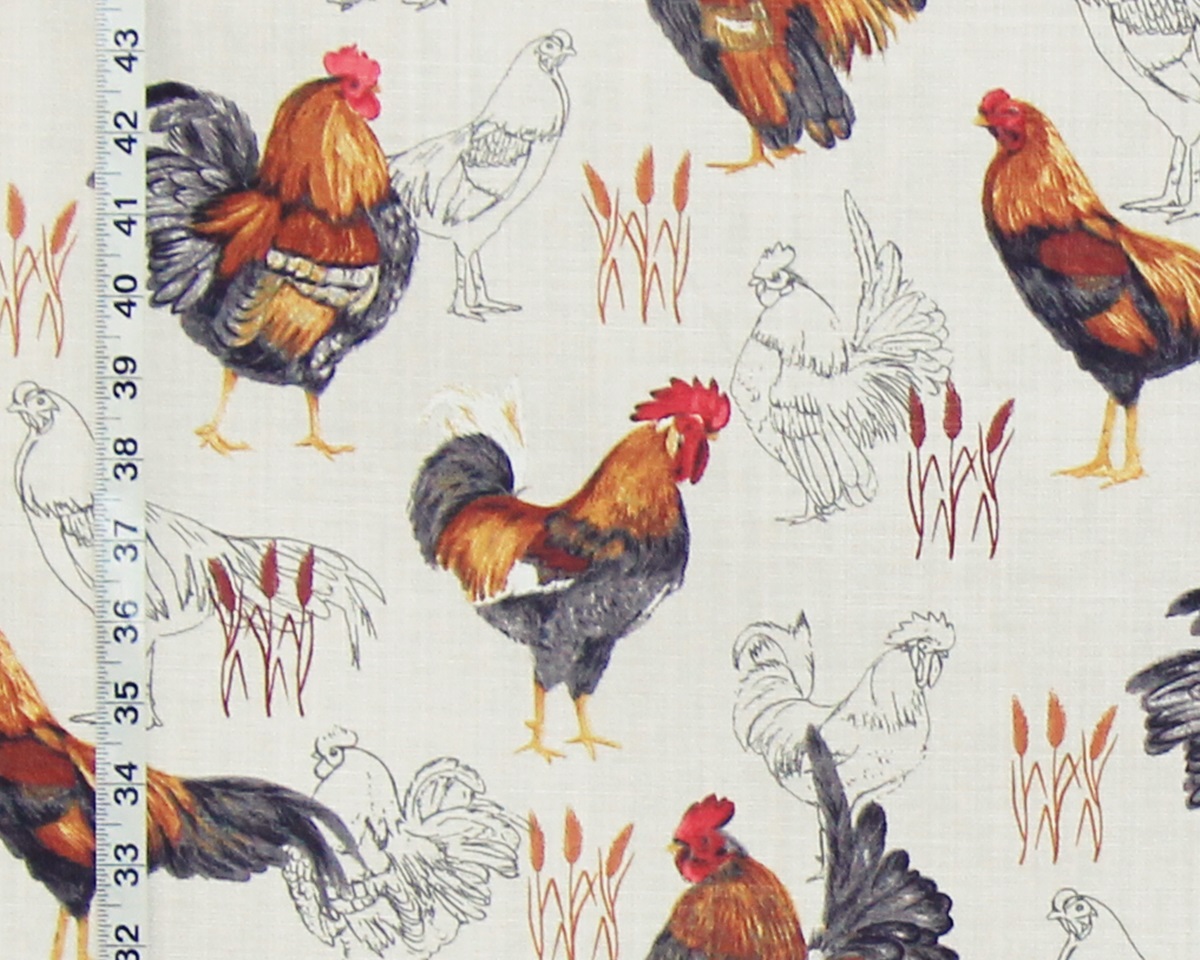 The first is a rooster toile.
The scale is a really nice smaller size,
the coloring is fall,
and the pattern has an interesting design element.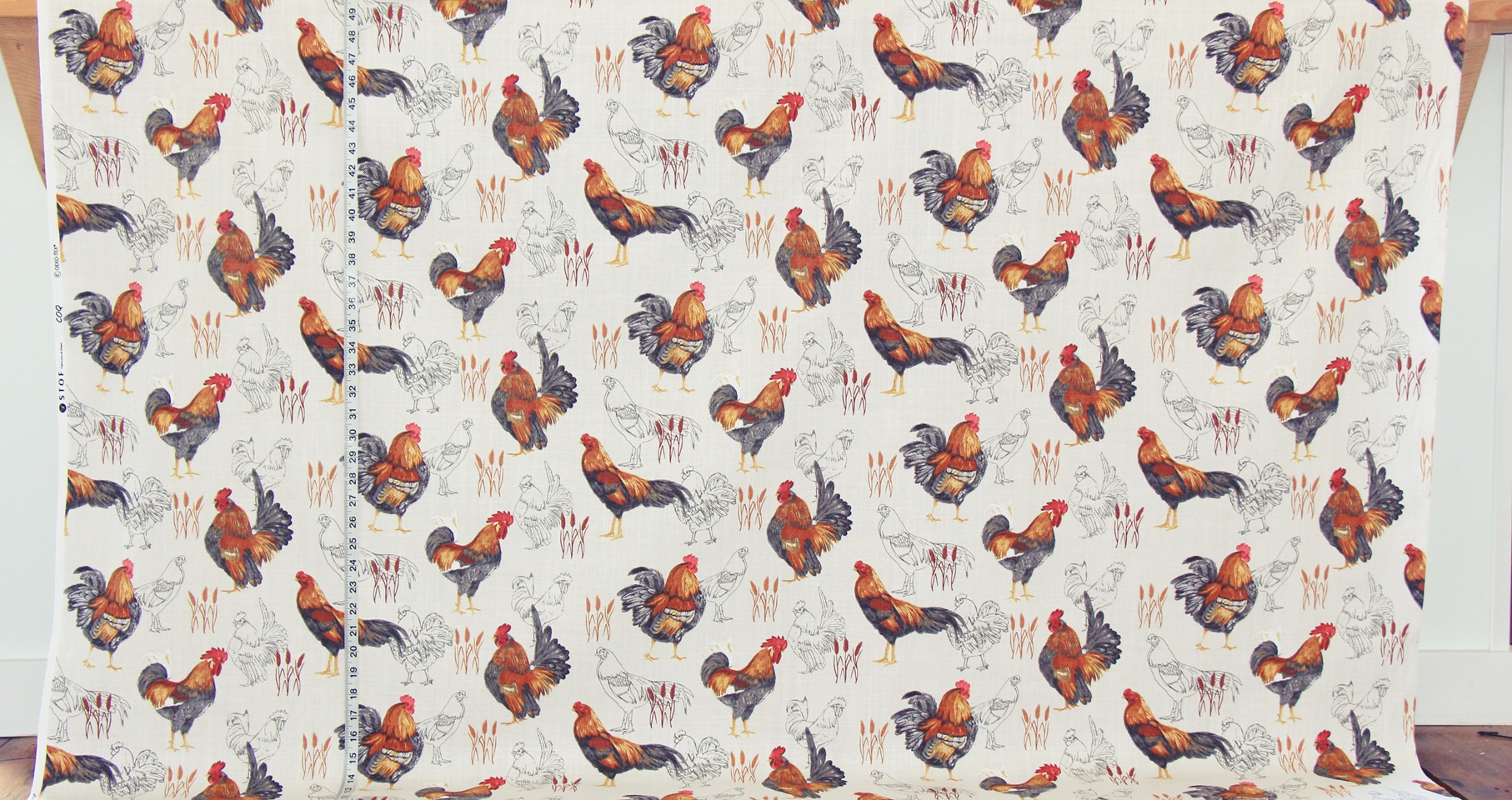 Over the last ten years,
the scale of patterns has gotten larger and larger.
That means there is a lot of waste when pattern matching.
This pattern is a welcome change, as the scale is quite small-
The large colorful rooster looking left,
with the tail feathers going down,
is about 5 3/4″ ( 14.605 cm. ) across.
And the repeat is also not too large- the vertical is 12 1/2″.
The coloring is very different.
This rooster fabric goes out of the way to say "Fall".
Not only is the plumage of the roosters tones of russet and gold,
plumes of grass done in the same colors give an autumnal effect.
What is interesting about this pattern, though,
is the drawings of the same roosters,
done as toile line drawings,
used as the background.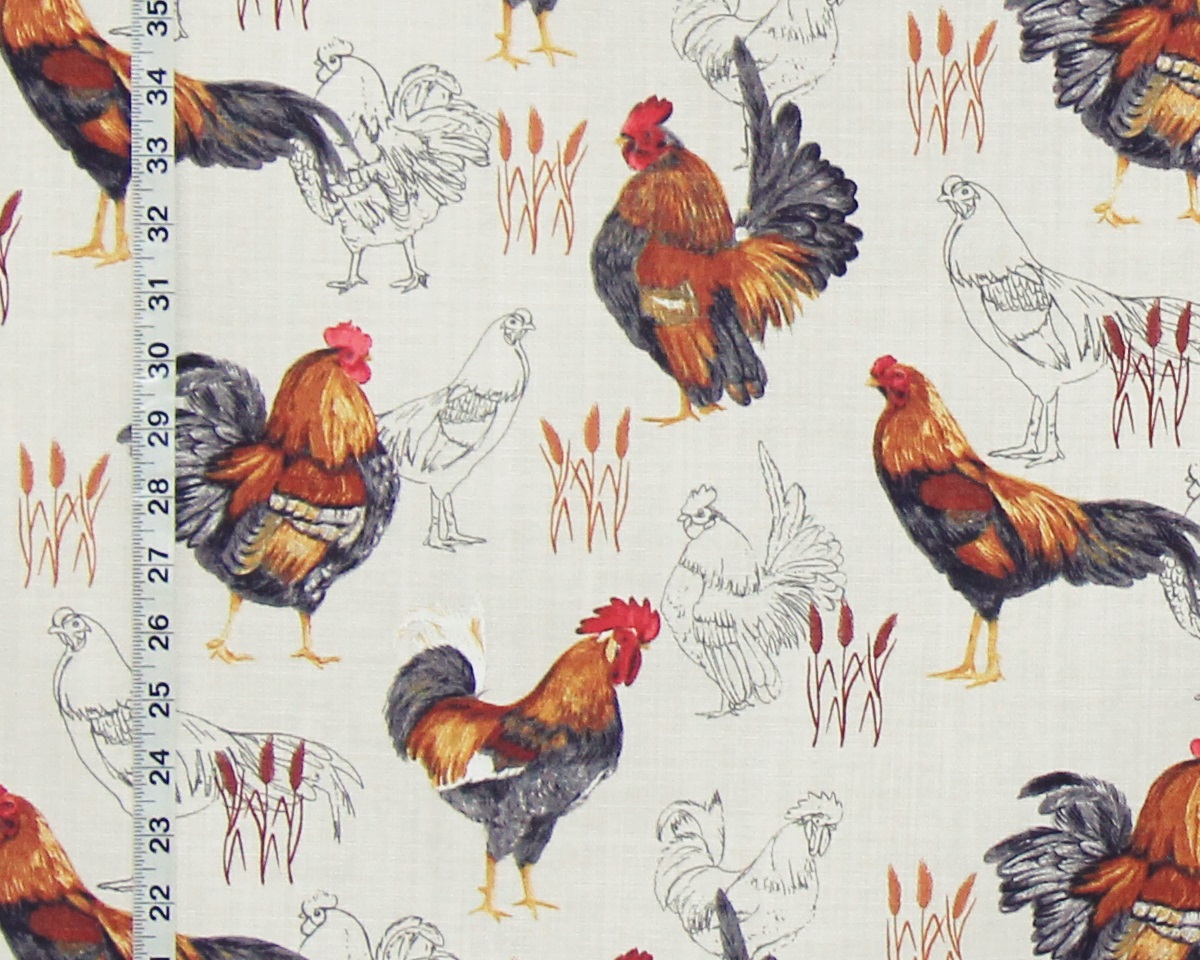 The other new fabric with chickens has more of a farm theme.
This has a design with vintage postcards,
that interplay with many items French and farm related items.
There are chickens, roosters, cows and sheep-
done in a variety of styles- colored images and line drawings.
There are grain sack seals,
and postal marks,
along with French writing.
And, also, what looks like an old photograph
of an old farm house,
which adds another dimension.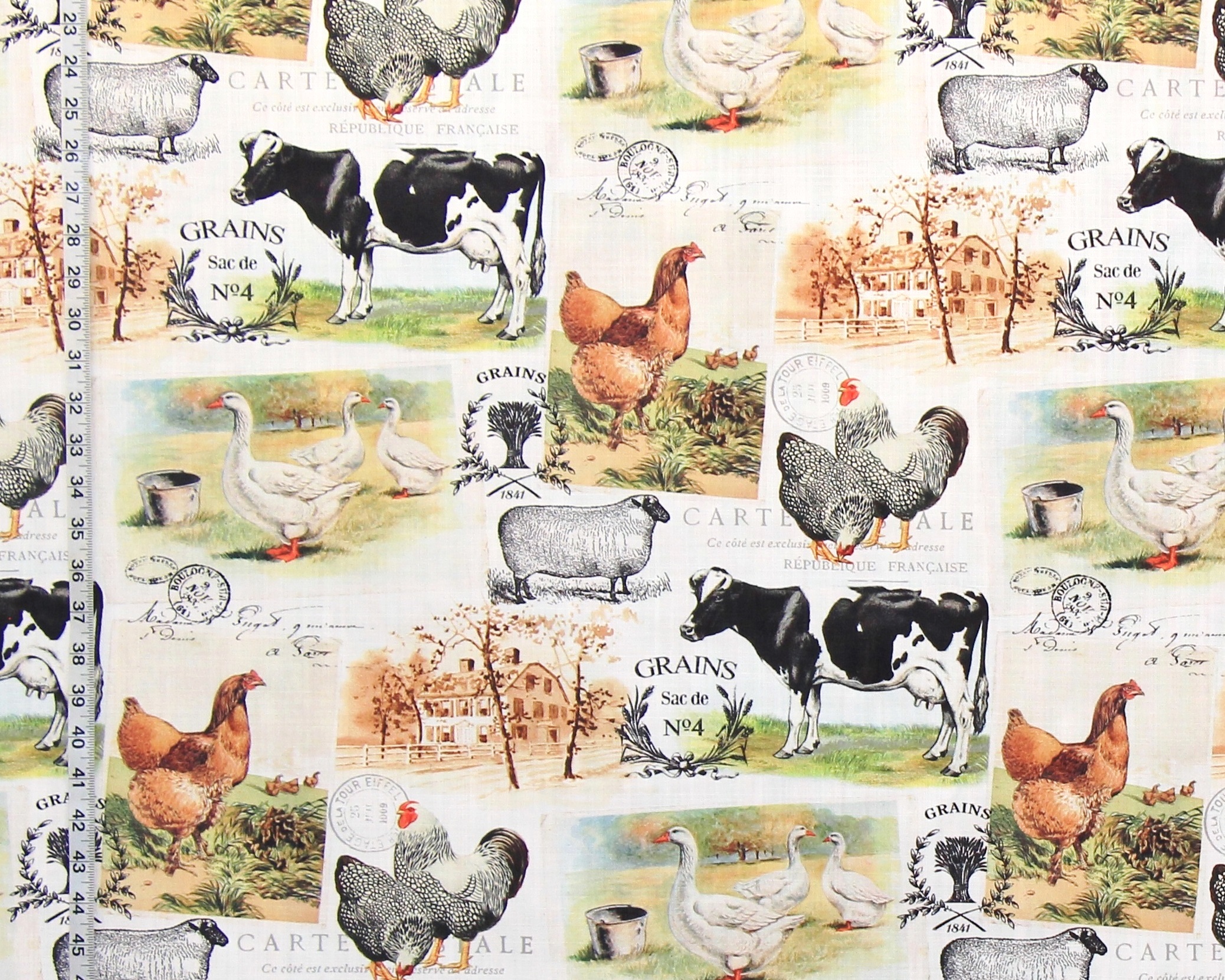 This fabric also has a fairly small pattern with a small repeat.
When you look at it from a distance one sees
the pattern elements were laid out in irregular rectangles.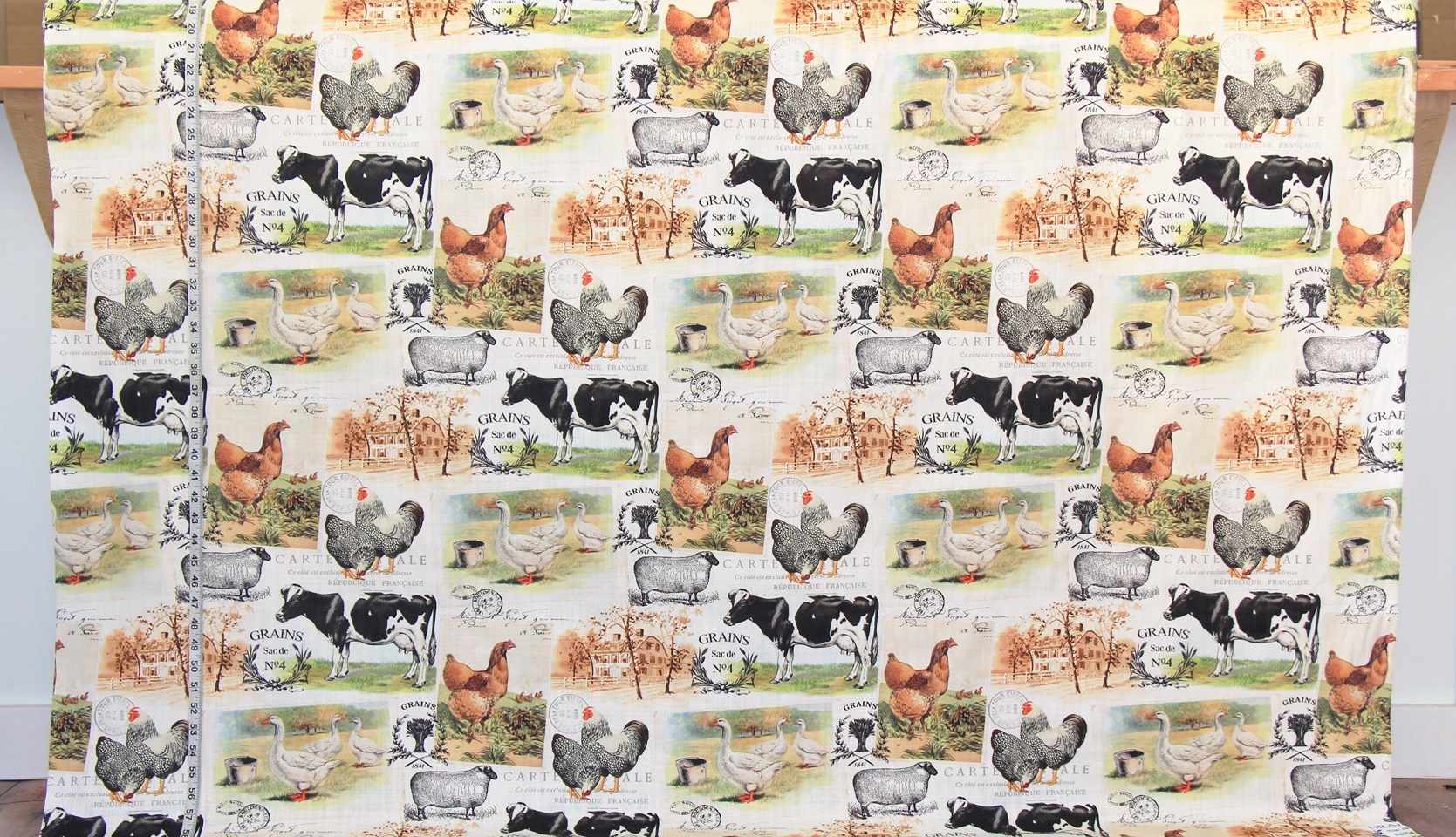 We do have another new chicken rooster fabric on the way-
it should be here soon,
and I hope to get it photographed right after it comes in.
So, keep checking the
Rooster Chicken Fabric category
or the
to see the new fabrics as they come in!
Wishing all a Happy Thanksgiving next week,
and a safe, holiday season!
____________________________________