Brick House Fabrics
supplies fabric to many different professional people.
And we are happy to do so!
Below are some pictures that different companies have kindly sent us.
We are love seeing their work!

Margarita has a shop on Etsy. She used the French double wide model fabric for a shower curtain. She trimmed it at the top with a black and white polka dot fabric. It contrast well with the fabric, and picks up the polka dot element used in it. A perfect choice!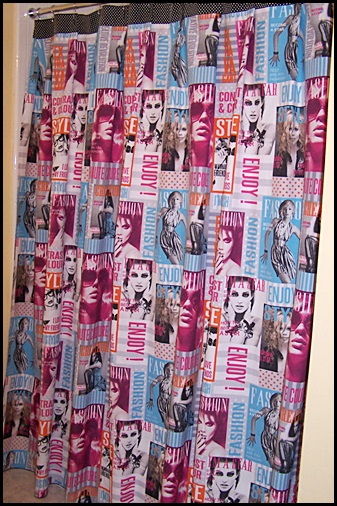 See her shop at
https://www.etsy.com/shop/PeeledBananasToGo
---
Sometime in January an email came in from a Kathy, in South Dakota. She who wanted to use the Madonna fabric for skirts for a musical. The Madonna fabric is a light weight woven, but still- a bit heavy. There was an alternative, though not the same colors, it did have the same effect.
It is a printed double wide fabric with a lot of zip, with fashion magazine covers as well.
Again, a fabric emergency, they needed this ASAP, to make 25 skirts for the show!
The fabric was in stock in Europe, and we got it ASAP, cut it, reshipped it… and heaved a sigh that it would be alright.
Well, Kathy sent a picture of
Friend de Coup, of little Mitchell, SD
one of the top 20 Show Choirs in the nation!
And the girls look great, as do the skirts!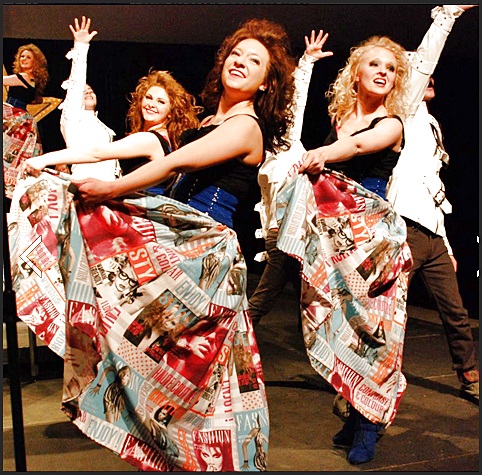 ---
Trey, in Texas also wrote needing a fabric ASAP. The Texas Repertory Theater was doing a production of "The Lion in Winter". They needed the Medieval Beast Fabric for the tapestries. The set looked great!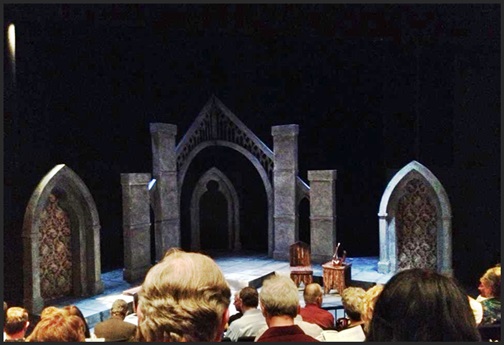 ---
Barbara, of Classic Attic Furniture had some exciting news! Classic Attic Furniture did the The Big Heap, which is a large show in Arizona. She took the pink caned chair, that featured the Madonna fabric on it.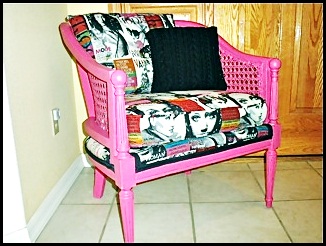 The chair got picked for Brit's Pick. I had never heard of "Brit's Pick", so, Barbara had to explain it.
It turns out there is a television program called Design Stars, where people complete to have their own show. A local designer, Britany Simon, was in the finals of the show. She, and the other runner up, are given a room to decorate in a short amount of time, and in compliance with the show's rules. She went to the Big Heap to find things for her room. And, one of the things she picked was the pink caned chair, with the Madonna fabric!
---
We got some more pictures from Barbara of Classic Attic Vintage Furniture. The first item used the Madonna Fabric on a caned chair. She matched the paint for the chair to the lipstick on the fabric. She says it is not as bright as in the picture!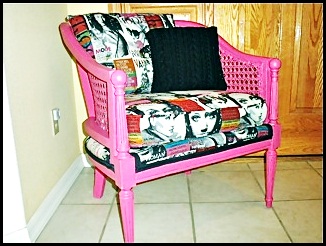 Having a little extra of the Madonna fabric
she used it on this small stool,
which she painted black.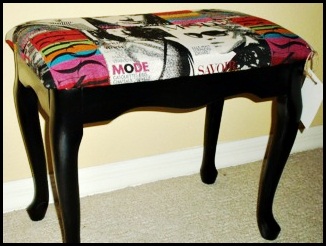 A third project entailed giving new life
to an old beat up Lane chest.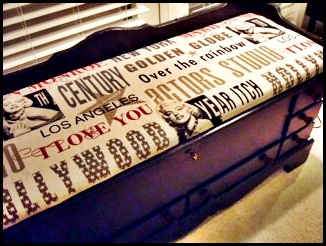 For this she painted the wooden chest black,
and used the retro Marilyn Monroe fabric.
New red nobs complete the piece.
---
Barbara, of Classic Attic Vintage Furniture has been at it again. She sent a picture of one of the chairs that she has refurbished. She used the tan Paris Postcard fabric. This is mostly tans and greys with a bit of red and muted blue. She had found the exact color match of the blue. And was going to paint the chair that color. But, her daughter convinced her she needed to make a bolder statement, to make things POP!
Turquoise chair
with the tan Paris Postcard fabric.
---
We got an email from Barbara, of Classic Attic Vintage Furniture. She is part of a duo who revitalizes and sells vintage furniture, and has used our fabric for some of the projects. She kindly sent us pictures of three of them.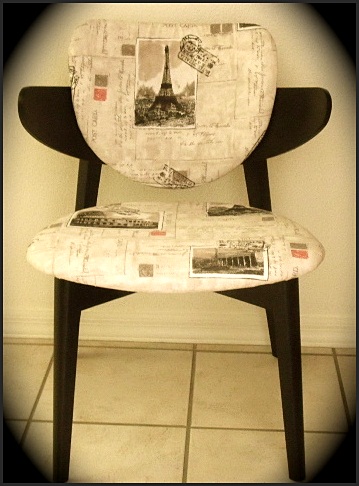 Note the placement of the Eiffel Tower
on the back versus the seat of the chair.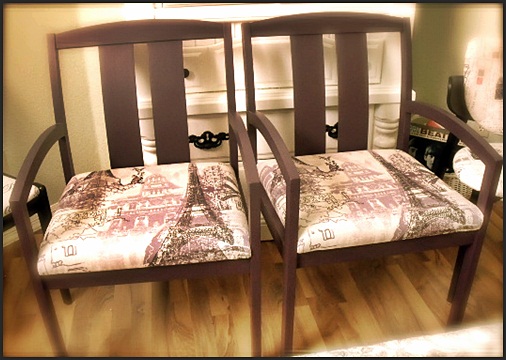 I love that the Eiffel Tower is offset, giving the chairs a different twist. Most would have centered it, it is great to think out of the box!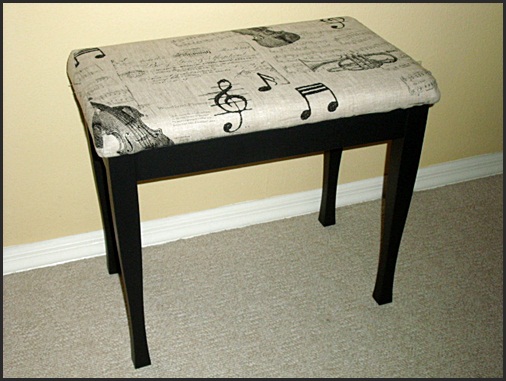 To keep up with all that is going on with
Classic Attic Vintage Furniture
visit their Facebook page:
https://www.facebook.com/classicattic2
and their blog!
classicattic2.blogspot.com
---
As many of you know, I am always saying:
BUY ENOUGH FABRIC FOR YOUR PROJECT!
With the economy the way it is, fabric companies do NOT run fabric for ever. They can't if they wish to stay in business. Here is a case in point. It is also a tale of how someone can turn what might be a disaster turn into something wonderful!
Right before Thanksgiving we received an SOS from
J & J Drapery Workroom
in San Diego, California.
They had an order for curtains in the blue chicken wire fabric. They had an order to do some curtains for a lady, and when they had gone to order the fabric it had been discontinued, with no stock left. This is something that makes one's hair curl… right before the holidays, a client expecting the curtains, and what to do? Well, these guys went on the net, and found Brick House Fabrics. Yes, we had some of the blue chicken wire fabric left. It was not enough, only 14 yards, and they needed 24, but it was better than nothing.
They called the client who drove in, to see what could be done, and they came up with a plan to use a gingham as an accent for part of the project.
The results speak for themselves! What they came up with is, in my opinion, better than if they had just used the chickens!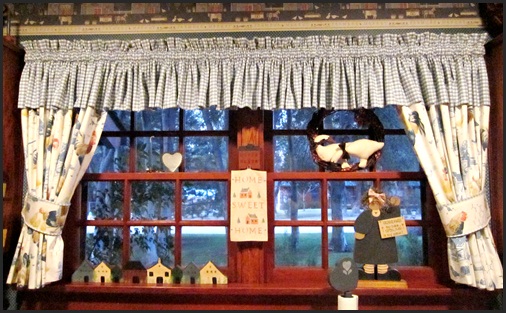 Small things matter!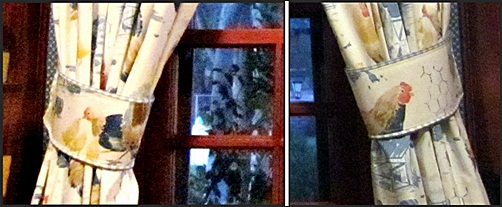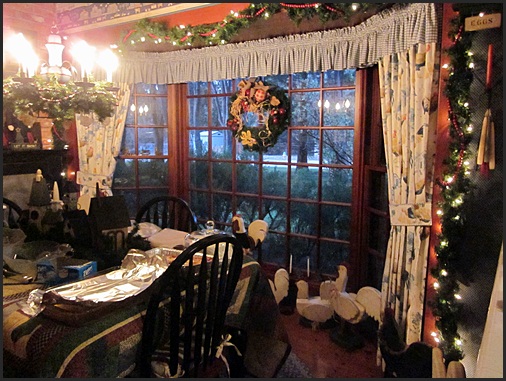 Kudos to J & J Drapery Workroom in San Diego!
---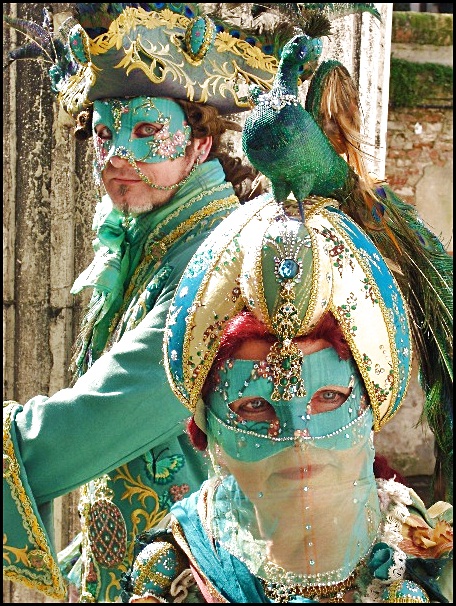 Horst Raack used our Faberge Egg Fabric on his costumes
that won the Venice, Italy Carneval, 2011 costume competition.
For more about Horst Rack and his costumes see:
SEWING NOTIONS, Interesting People.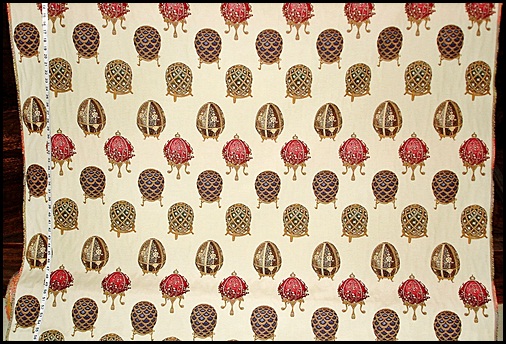 ---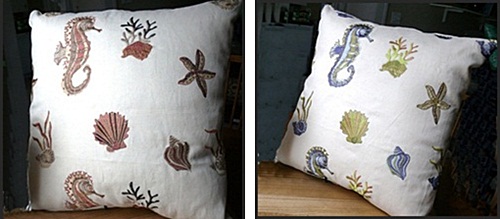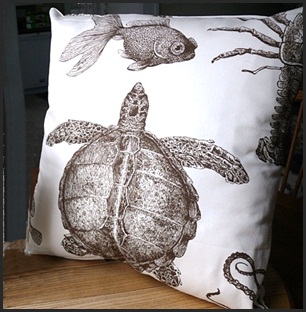 ---
Annie makes custom lampshades and used the Venice fabric for these.
You can see them in her Etsy shop:
HandmadeAnnie.
The Venice fabric is in the
French Italy Fabric category.
---
My Raggy Obsessions believes every baby needs a handmade blankie!
The pink and green owl fabric was used for one of their unique
sensory baby blankets.
You can see them on Etsy at:
MyRaggyObsession
The fabric you can see here is in the
Children's Fabric category.